Robin van Persie was mobbed by hundreds of Fenerbahce supporters as he touched down in Turkey on Sunday night.
The Dutchman has yet to officially leave Manchester United, for a fee around £5million, but a deal appears to be all but done.
Speaking to the club website, Van Persie has revealed that former Liverpool forward Dirk Kuyt, a long-time national team-mate, convinced Van Persie that joining Fenerbahce was the right move.
"I cannot wait to meet the fans. I am coming to a fantastic and wonderful club. It is a great honour for me," said Van Persie, translated from Turkish.
Robin van Persie arrives in Turkey
Robin van Persie arrives in Turkey
1/7 Van Persie

Van Persie took a private jet to Istanbul

Twitter/Fenerbahce

2/7 Van Persie

The striker pictured in the cockpit

Twitter/RVP

3/7 Van Persie

Fenerbahce fans await the arrival of their hero

Getty Images

4/7 Van Persie

The Dutchman walks out of the airport

Getty Images

5/7 Van Persie

Van Persie is handed a Fener scarf

Getty Images

6/7 Van Persie

Meeting the supporters

Getty Images

7/7

Getty Images
"We played with the national team for 10 years. We have a long friendship. I found the time to speak [to Kuyt] before I came here. Because of our friendship in the national team I asked his ideas. [He gave] me very positive opinions [about Fenerbahce]. Kuyt said that this place is a big club and talked about the fans here. I cannot wait to meet the fans as well."
The Turkish giants announced on Thursday that they had entered into negotiations with United and the Dutch striker over a potential move and they are clearly confident that the deal is done.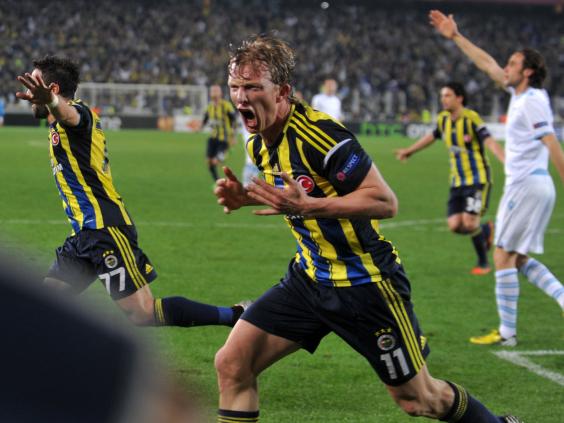 United have remained silent on the developments surrounding Van Persie's apparent departure since boss Louis van Gaal implied on Friday that talk of the deal was premature.
Asked whether he was looking for a another striker because Van Persie was leaving, Van Gaal said: "When you say that it is not all true.
"When we feel we can say he is gone you shall hear it from Manchester United. We don't have the feeling yet."
Van Persie scored 30 goals for United as they won the league in 2012-13 following his £24million move from Arsenal.
His impact since then, however, has been muted due to a series of niggling injuries, and he was limited to 10 goals in 29 appearances under compatriot Van Gaal last season.
Additional reporting from PA
Reuse content