Romelu Lukaku has made up his mind to go to Chelsea, and is set to turn down Manchester United for a return to Stamford Bridge that will cost upward of £80m.
The 24-year-old on Tuesday gave a number of clues to his future while on international duty with Belgium, stating that he "knows what's happening", and significant progress has already been made on a move to the new champions.
The Independent understands that United made an enquiry last week and, while they were not given a firm "no", the Old Trafford club were told that a deal with Chelsea is very close.
With Lukaku said to currently be on wages of £80,000 a week, that figure is likely to be doubled in a move back to London, although the Stamford Bridge hierarchy will hope to pay less than Everton's asking price of £100m.
There is a belief that can be brought down to £80m, although the Goodison Park club are in an exceptionally strong negotiating position since their recent takeover.
Sources also say that Everton would actually prefer to do a deal with Manchester United because they are interested in players coming the other way, especially Sergio Romero and Chris Smalling.
Where next for Romelu Lukaku?
Where next for Romelu Lukaku?
1/6 Where next for Romelu Lukaku?

Lukaku stunned Everton when he rejected the offer of a contract extension after a training session, but where will he go now?

Getty

2/6 Chelsea

Chelsea are in need of another world-class striker, especially given Diego Costa's volatile nature. Lukaku is a self-confessed fan of the club and idolizes Didier Drogba, but would he return to the club which failed to give him a chance?

Getty

3/6 Manchester United

A move to United perhaps makes the most logical sense. But any approach from United hinges on their summer pursuit of Antoine Griezmann, while Jose Mourinho has previously criticised Lukaku's "mentality and approach".

Getty Images

4/6 PSG

Following PSG's dismal capitulation in Barcelona, there is an appetite in the French capital to revolutionize the squad ahead of the new season. PSG have the cash to afford Lukaku, but it remains to be seen whether the Belgian would be happy moving to a less competitive league.

AFP/Getty

5/6 Juventus

The Italian champions are desperately trying to assert themselves on the European stage once again and crave a marquee signing this summer. But Juventus would only be able to afford Lukaku if they first cashed in on their talented young forward Paulo Dybala.

Getty

6/6 China

Interest from teams in the Chinese Super League is guaranteed. But given Lukaku's determination to play in the Champions League, it is high unlikely he would follow the likes of Oscar and Hulk to the Super League.

AFP/Getty
When pressed on how his agent Mino Raiola "likes to do business with United", Lukaku responded:  "I"m the player, I will take the decisions."
Several sources close to Everton, United and Chelsea feel that Lukaku is now almost certain to go back to Stamford Bridge, having gone on loan to Goodison Park in 2013 before signing a permanent deal in 2014.
A huge Chelsea fan and someone who sees Didier Drogba as an idol to try and emulate, he was asked about his future on Monday.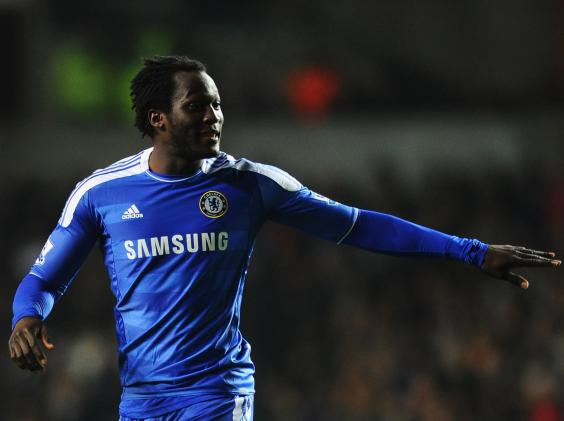 "I know what's happening, but I can't tell you anything more," Lukaku said. "I know what's happening. I know what's happening, but I will leave the talks to my agent."
"The most important thing is: I want to win trophies. We are now talking to the club. As for the rest… I'm looking ahead. What I would like most to play in the Champions League and try to win the Premier League once. Or better: a few times. That would be the most beautiful thing.
"That's important for my progress as a player. I don't want to stay at the same level. I want to improve and I know where I want to do that."
"We'll see what happens."
Reuse content