Kyle Walker, left on the bench again yesterday, has decided that his future lies away from Tottenham Hotspur.
Barcelona have joined Manchester City and Manchester United in pursuit of the right-back and Walker, having fallen out with Mauricio Pochettino once again over fitness and selection, wants to leave.
Pochettino and Daniel Levy are in no rush to sell any of their players but if any of the Spurs first team are to be sold this summer then Walker is the likeliest. He would cost at the very least £35million, if not closer to £50m, money which would be invested back into the team and ensure Spurs do not need to sell their crown jewels Harry Kane, Dele Alli and Danny Rose.
Players who could replace Kyle Walker at Tottenham
Players who could replace Kyle Walker at Tottenham
1/5 Fabinho (Monaco)

At 23 years old, Fabinho is one of Europe's hottest young defenders and has been on Manchester United's radar for around two years. He is tall, strong and physically built for the rigors of the Premier League. He is hardworking – an attribute Pochettino holds most highly – and a key member of one of Europe's stingiest defences. He would be available for around £15-20m.

AFP/Getty Images

2/5 Djibril Sidibe (Monaco)

Sidibe is quick, strong and tough tackling and, like Fabinho, is a key member of Monaco's defence. He is still younger than Walker and is a cheaper alternative to Fabinho, something which Daniel Levy will find attractive. Despite being primarily a right-back, he can also operate on the left and would be available for around £12m – a fraction of what it would take to coax Walker away from White Hart Lane.

AFP/Getty Images

3/5 Michail Antonio (West Ham United)

If Spurs could persuade Antonio to cross the London divide and move to White Hart Lane then they would be getting a versatile, hard-working player who is crucially accustomed to the Premier League. While he may not be as exciting as some of the other players on this list, he is proven at this level and would also be replacing a young English talent with a young English talent – something Pochettino values highly. He would likely be more expensive that the others for that English premium though.

West Ham United via Getty Images

4/5 Nelson Semedo (Benfica)

Semedo was strongly linked with a move to Manchester United in the January transfer window but nothing came of it, although they are likely to go back in for him again in the summer. However, Spurs can offer Champions League football, assuming United fail in their efforts. Semedo is smart and aggressive and positions himself well – something Walker has been let down by in the past. He would be available for a similar price to Sidibe, leaving plenty of money left for other transfers.

AFP/Getty Images

5/5 Cedric Soares (Southampton)

Hardly a stand-out candidate but he is a European Championship-winning defender with two years of Premier League football under his belt. He joined for around £5m in 2015 and Southampton would demand around double that now. However the two clubs are on good terms after the transfer of Victor Wanyama last summer, which could help the deal go through.

Getty Images
The issue between Walker and Pochettino is long-running and boils down to Pochettino's doubts about Walker's fitness and his performances in training. He thinks that Walker struggles to play two big games in a week, a view that Walker seriously disputes. Walker did not play any of Spurs' three Champions League away games, including the crucial 2-1 defeat at Monaco last November which knocked Spurs out of the competition.
Walker and Kieran Trippier had been alternating at right-back in April but the crunch came nine days ago at Wembley. Pochettino picked Trippier over Walker for the FA Cup semi-final against Chelsea, a decision that surprised Walker. He knew that he would be playing against Crystal Palace on Wednesday night but given the choice he would rather have played at Wembley. On Sunday for the north London derby against Arsenal, Trippier started and Walker stayed on the bench. It was the first time Walker has been on the bench for a league game against Arsenal under Pochettino.
These events have indicated to Walker that his time is up at Spurs and he should look for his next club. But there is also the matter of money. Tottenham's rigid wage structure means that the contract Walker signed at the start of the season is for just under £70,000 per week. Walker is very conscious of the fact that he could earn twice as much money elsewhere, especially at City or United. There is no way that Spurs' incremental wage increases could compete.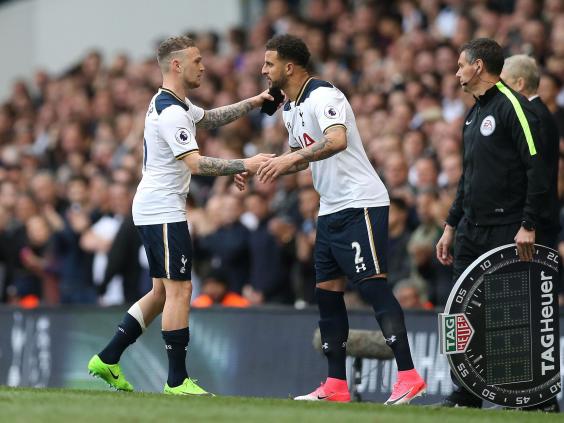 Walker has another four seasons left on his contract after this one so he will not be cheap. But as an England international of peak age with seven seasons of consistent Premier League experience he is a very attractive prospect to Manchester City and Manchester United. City are desperate for new quick full-backs as well as English players and are thought to be the favourites.
Walker has not handed in a transfer request at Spurs yet but he is attracted by the possibility of a big move and frustrated by recent events. When Pochettino was asked last Tuesday about the summer, he admitted some players would be sold, but only if he chose they could go, as might well be the case with Walker this summer.
"The players that we want to keep, we will keep," Pochettino said. "Because [Daniel Levy] said to me 'we don't need money'. If we sell some players it is because we want to sell some players. For our fans, it is so clear that all the decisions we take are for the reason to try to improve the team, try to be more competitive next season."
Reuse content