Manchester United club captain Nemanja Vidic has placed his trust in David Moyes and the rest of the side's officials to do the right thing in their handling of wantaway striker Wayne Rooney.
Rooney made his first public appearance of the new season last night, playing 66 minutes of the international friendly victory over Scotland at Wembley after sitting out the majority of United's pre-season preparations with hamstring and shoulder injuries.
England boss Roy Hodgson reported that Rooney had suffered no further setbacks after the match, and Moyes admitted that he will assess the striker's condition before choosing whether to include him in this weekend's Premier League opener against Swansea.
Rooney is still believed to want a move to Chelsea after suffering a breakdown in relations with the reigning champions in recent months, but the Blues have already seen two bids rejected for the 27-year-old and Moyes has insisted he is not for sale.
Yet Vidic is happy with Rooney taking his place in the dressing room, and has given his backing to the club that they will deal with the problem in the correct manner.
"I am not worried as much (about his future). Wayne is training well, the club is strong and know what they are doing," he told Sky Sports News.
"I have trust in the manager.
"Wayne had a few small injuries in the last few weeks, but he has trained very well.
"He didn't have as many games but the season is long and I think he will deal with it."
Moyes watched the game at Wembley stadium from the ITV studio, and he seemed pleased with what he saw from Rooney, but remained defiant that he would not be sold under and circumstances.
"(There are) no more developments, we don't want any more, because we've told everybody he's not for sale," said Moyes.
"I will try and assess him when we get back (to Manchester).
"I watched the game last night and thought for the 65 minutes he played he did well, ran around and got himself some fitness.
"But it was his first real outing in a competitive game."
Vidic also added that there is a clear sense of change at Old Trafford, but the pre-season has been enjoyable and the squad are ready to begin the new campaign without Sir Alex Ferguson for the first time since 1985,
"The moment the manager left was very passionate," said Vidic.
"We have had so many emotions over the last few months but we are ready to go.
"It's hard to compare (managers). All managers have different ideas, routines and training. They all bring something new.
"We work differently now, we have different types of exercises. We have enjoyed it."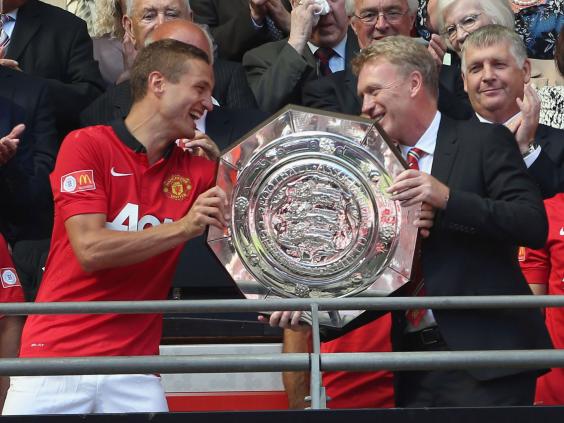 Vidic accepted that the change could affect the club, but that their rivals Manchester City and Chelsea are in exactly the same boat in what he expects to be a stronger Premier League than last season.
"We have a new manager at all the clubs competing for the trophy," said Vidic.
"We have so many questions about managers.
"Really, I think the league is stronger this year. There have been lots of new signings and it is going to be very tough."
Reuse content