Real Madrid legend Zinedine Zidane has weighed in on the Gareth Bale transfer saga, claiming that Tottenham should let the midfielder move to Spain and that Bale will "become a better player playing with better players."
Zidane was speaking in Los Angeles as Real embark on their pre-season tour of the United States, where they play David Beckham's former club LA Galaxy on Friday.
Real's current sporting director Zidane, who featured for the club between 2001 and 2006 after making his own big money signing from Juventus, has attempted to push the deal along by saying that a chance to play for Real Madrid doesn't come around often.
"It is not unusual when a player knows that Real Madrid are interested in them that they get excited," said Zidane. "There is nothing more prestigious for a player to wear the white of Real Madrid.
"If he has expressed a desire to join Madrid then Tottenham should give him permission to speak with us. The chance to play for Real Madrid might only come around once in a player's lifetime - and it is understandable that Gareth doesn't want to miss out on it.
"This is modern football," added the 1998 Balon D'or winner. "You have to pay to get the best players in Europe. Last season Gareth was on the same level as Ronaldo and Messi.
"The best players can have not so great games - but change a game with a moment of brilliance. Those are the sort of players that win you Champions League's and League titles. 
"He is already one of the finest player in Europe and he has everything needed to become the best player in the world. It is a bit of a cliche - but it is true you become a better player playing with better players."
Just last week, Spurs were hopeful that Bale would be signing a new contract with the club to keep him out of the grasp of the La Liga runners-up, but speculation over a transfer has increased rapidly this week, with Madrid newspaper Marca leading the way claiming on three occasions that Real were preparing a bid in excess of £80m.
Bale scored 21 Premier league goals last season, and it is his consistent form over the last few seasons that has seen him emerge on Real's radar, leading to the Spanish giants launching their relentless pursuit of the Welshman.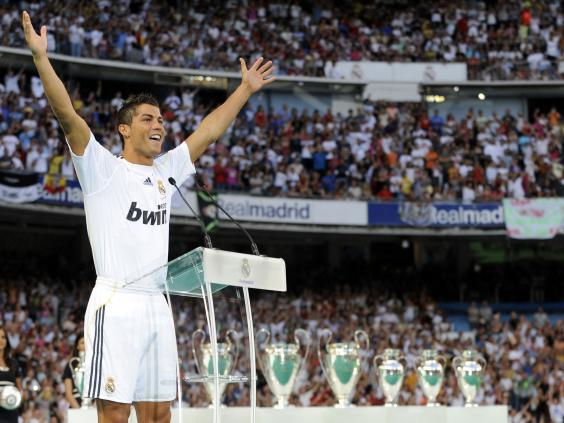 It is a tactic that the club have used before, leaking information to the newspaper to trigger speculation over moves, followed by leading club figures admitting they would like to see the player in question at the club.
They did the same in their hunt for Cristiano Ronaldo, eventually landing the forward from Manchester United in a world record transfer of £80m, although any deal for Bale is likely to break that figure.
Reuse content