Phil Jones was just winding up his post-race interview for the BBC when Adam Gemili decided the time was right. Still only a teenager, Gemili had just become only the second British man to run under 20 seconds for the 200 metres in qualifying for the final at the World Championships in Moscow.
"Can I just say... the sport's had a bit of a negativity recently," he began. "I've been getting a lot of messages recently from people saying I'm a bit anxious about doing athletics and stuff like that. They say it's not credible."
Then, turning to face the camera, Gemili delivered the message that had been on his mind ever since his arrival in the Russian capital 10 days earlier. "Everyone that's at home there's so many events to take part in, just go down to your local track and, trust me, you will fall in love with it. So please guys, the sport isn't bad... we promote clean sport so just... take part."
Five weeks after the news that Tyson Gay and Asafa Powell had both been banned for positive drugs tests on the same day, it was an impassioned plea that clearly came from the heart. Having spent a month back in April working with Gay and his training group, Gemili had suddenly found himself thrust into the spotlight and facing a barrage of questions about the dark side of a sport he had taken up seriously only 12 months previously.
"The controversy had been a lot," he reflects two months on at Save the Children's World Marathon Challenge. "We had a press conference at the start of the championships and for 10 minutes the only questions we were asked about were drugs. It was quite disappointing to be sat there talking about that when there were so many up-and-coming athletes we could have been talking about.
"After I'd just finished, I looked around the stadium and I could see quite a few British fans waving and cheering. It was nice to see we still had that support. It wasn't pre-planned but I just wanted to say something and give my opinion. I thought I'd just go out there and say we promote clean sport and try to inspire as many people as possible to get involved.
"It's frustrating – you get people saying some stupid things online and you just try to ignore that," Gemili adds. "But I also had a lot of messages from parents who told me how disappointed they were and how nice it was to see someone so young and genuine. I thought they shouldn't need to send me messages like that."
For someone who has already packed so much into his life, it is easy to forget Gemili turned 20 only in October. A former member of Chelsea's youth academy, he was coached by a certain Jose Mourinho as an 11-year-old and looked set for a career as a footballer until his teacher at Dartford Grammar School suggested he enter the Kent Schools Athletics Championships.
His progress since then has been little short of astonishing, with a gold medal in the 100m at last year's World Junior Championships followed up by him narrowly missing out on a place in the Olympic final at London 2012 by 0.04sec. A first full winter of training and the decision to concentrate solely on the 200m culminated in his superb 19.98sec in the Moscow semi-final before Gemili eventually came home fifth in the final behind Usain Bolt.
Now splitting his time between his university course in sports and exercise science with human biology in east London and training with new coach Steve Fudge in Loughborough, Gemili is weighing up which event to prioritise for a 2014 calendar that includes realistic chances of his first senior title at both the European and Commonwealth Games.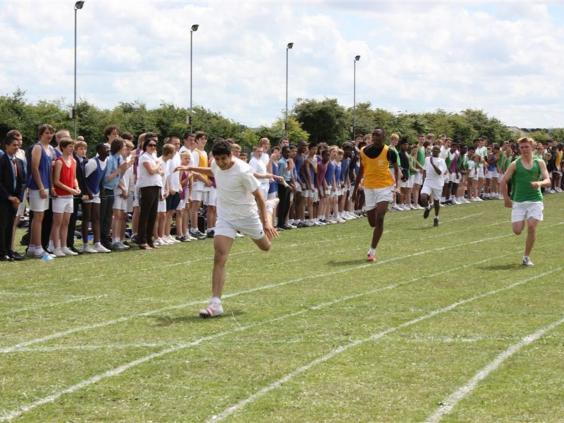 "I like both equally – if you make a mistake in the 100 then it's very difficult to recover at world-class level but there's a bit more room for error at the longer distance," he says.
"I think I can be competitive in both. I finished the year ranked No 1 in Europe but I'm not naive and I know there will be a lot of other guys to beat next year. Christophe Lemaitre is always there and, of course, it could be Usain Bolt in the Commonwealths.
"I didn't really know much about the sport when I first came into it but my knowledge has grown so much in the past 18 months. I'm making progress but I've got a long way to go until I can really be happy with my performances."
The decision to part ways with previous coach Michael Afilaka and link up instead with Fudge – who also trains James Dasaolu and Jonny Peacock – was taken because of Gemili's wish for more "openness and communication". Like Bolt and his training partner Yohan Blake in Jamaica, he should certainly benefit from the emerging rivalry with Dasaolu, whose head-turning run of 9.91sec to win the 100m at the British Championships this year helped propel him to an appearance in the final in Moscow. 
"It can only be positive. Me and James get on really well off the track as well because he's my kind of person," admits Gemili.
"Steve is a great coach and I think we can work well as a team. British sprinting is in the strongest position it's been for a while so I'm excited to go into next year as a team and prove we can compete with the rest of the world."
With serious doubts now being raised over the validity of some of Jamaica's drug-testing practices in recent years, however, the questions about whether they are competing on a level playing field are likely to continue. Just do not ask Gemili to comment on whether cheats should be banned for life.
"I've no idea," he says with a shrug. "The more people getting caught, the cleaner the sport is I suppose. Those guys [the IAAF] have to make the decisions about lengths of bans. I just literally turn up, put my spikes and run the best I can."
Just like he's always done.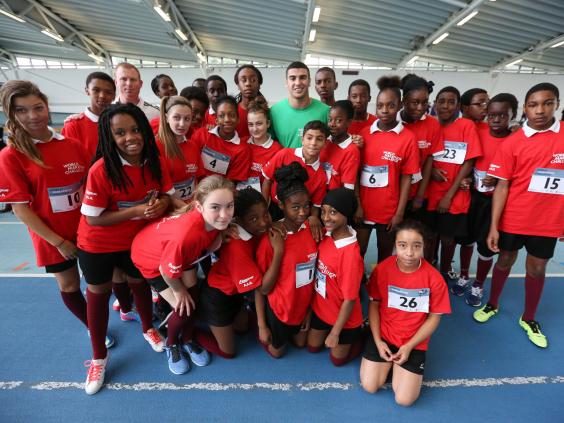 'I could play headers and volleys with bolt'
It has been two years since Adam Gemili's last appearance on loan for Thurrock in the Conference South and he admits there are times when he misses those days.
"I was watching the Champions League with my dad the other night and we were going over our memories of all the travelling we used to do and the teams we used to play," he says.
"Now I'm seeing guys on the telly who have made it into the first teams at clubs who I played against a few years ago and it's good to see how they are all getting on. I played with Josh McEachran and Nathaniel Chalobah and I'm still in contact with a lot of the guys.
"Football taught me some real discipline – I went through some big highs and big lows, which helped me develop. If I didn't have that experience, it wouldn't make me the person I am today."
Gemili spent seven years at Chelsea before moving to Reading and then Dagenham & Redbridge. His busy training schedule these days means a trip down the park is about as good as it gets now, although he has yet to test out the skills of Manchester United fan Usain Bolt.
"I'm not meant to play any more but I sometimes go for a kickabout with my friends. I trust them not to two-footed tackle me," he laughs.
"I've still got about 50 footballs at home that I'm always playing around with. I've never played with Bolt, though. It would probably be a bit risky. But maybe next time we can have a game of headers and volleys or something. He's a big strong guy so I wouldn't like to come up against him on the wing!"