Eight years after finishing an agonising fourth at the 2007 World Championships, Britain's Jo Pavey looks set to be awarded a bronze medal in the ongoing fall-out from the latest set of doping sanctions.
The International Association of Athletics Federations announced it had opened disciplinary proceedings against 28 athletes in the wake of analysing urine samples for a second time from those championships in Osaka and the preceding Worlds in Helsinki in 2005.
The governing body has stuck to its stance in not naming any of the athletes under current World Anti-Doping Agency regulations, although it is thought that Turkish athlete Elvan Abeylegesse is among the 28.
Abeylegesse won silver in the 10,000 metres in Osaka, with Pavey denied what would have been her only World Championship medal.
Ahead of this year's Worlds, which get under way in Beijing a week on Saturday but which Pavey has opted to miss, the 41-year-old mother of two looks set to be a British winner in the reallocation of medals.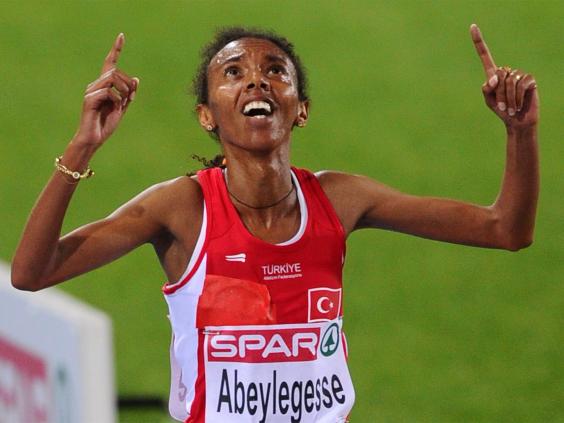 When announcing the fresh sanctions on Tuesday, the IAAF had said that, if any medal-winning athlete was found guilty of doping violations, it would "correct the record books and reallocate medals as necessary".
Abeylegesse could yet hold on to her two silver medals from the 2008 Olympics in Beijing but the 32-year-old had already ruled out a return to China's Bird's Nest stadium  this summer – with Turkish officials claiming she suffered a last-minute injury.
When the IAAF originally announced proceedings against the 28, many of whom have since retired, Pavey said: "This is undoubtedly a very positive development because it is catching athletes who have cheated and means some clean athletes are retrospectively getting their rightful finishing positions and possibly medals reallocated."
The governing body has been in the spotlight since damning reports surfaced in The Sunday Times and a German TV documentary concerning widespread doping in athletics. They obtained a database of some 12,000 blood tests taken from 5,000 athletes which were analysed by scientist Robin Parisotto and exercise physiologist Michael Ashenden.
In the aftermath, the IAAF presidential candidate Seb Coe said it was "a declaration of war on my sport".
But Ashenden hit back in an open letter, saying the IAAF needed to do more "to stop people with abnormal blood values from competing".
He wrote: "Does the IAAF pursue its anti-doping mandate with the same single-minded, all-consuming dedication that athletes adopt in their pursuit of winning? Based on what I saw in the leaked database, my view is no."
Reuse content