There were no sign of the fireworks which dominated the build-up to the BT Great CityGames on the streets of Manchester city centre yesterday.
Two domestic feuds had been brewing – one between long jumpers Greg Rutherford and Chris Tomlinson over the legality of Rutherford's recent British record, the other between Britain's leading two sprint groups.
But both factions reverted to peacekeeping mode yesterday while the event's star attraction, Yohan Blake, delivered in style, winning the 150 metres in the third fastest time in history roared on by 10,000 people as Deansgate was shut off to traffic.
Blake gave his clearest indication yet that he will compete at the Commonwealth Games this summer, a major filip for organisers bedevilled by ticketing problems. The Jamaican said: "I haven't chosen my events yet. I'm just waiting to talk to people when I get back. But I will probably double up."
But while Blake was undoubtedly the biggest name here, the biggest frisson in the usual civilised world of athletics came elsewhere.Britain's long jumpers had spoken on the eve of the competition to clear the air before their first meeting since Tomlinson declared that Rutherford's British record jump of 8.51 metres set in Chula Vista, United States should not stand because it was a no-jump.
They denied there was any lingering needle but Rutherford admitted it was the most nervous he had been since the Olympic final and was jumping with a point to prove. It ended with victory – albeit with a relatively meagre jump of 8.02m – and took his lead in the head-to-head with Tomlinson that has spanned a decade to 23-10.
"I got more nervous today than I think I've been for competitions for a long time," said Rutherford, who had antibiotics couriered to his hotel room last night to help treat a chest infection, though they did not help the nerves. "I was fighting something that I hadn't felt for a really long time. I don't know if that's because I wanted to prove people wrong but I was very, very nervous.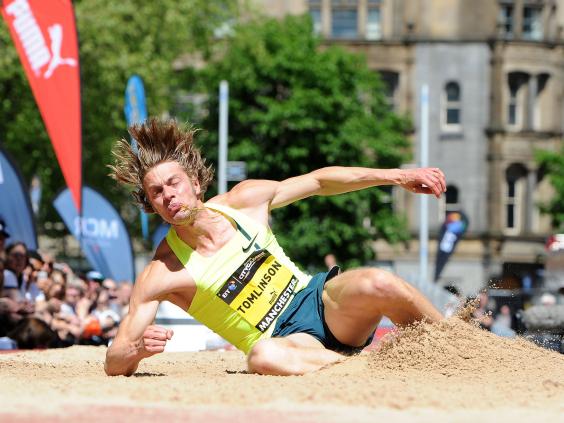 "There's been so much talk since I last jumped so I just wanted to make sure that I was still capable of going out there and winning, and rising to the occasion. I managed to control it and put a few things to bed. There were no issues with where my foot was on the board."
A decision on the legality of his 8.51m jump is expected to be made by British Athletics early next week. Whatever the outcome, Tomlinson, who finished third in the picturesque setting outside Manchester Town Hall with a best leap of 7.77m, insisted the pair's relationship remained good but that he had no intention of taking back his earlier comments."I don't regret it," he said. "You've got to be true to yourself in life. I'm not unconfrontational but I'm the sort of guy if I'm walking down the street and someone's being kicked in, I'm the one who goes and says something and then gets kicked in the head."
Then there was the rivalry between the two main sprint groups: one of coach Rana Reider, who looks after Richard Kilty and Dwain Chambers, and the other of coach Steve Fudge, who oversees James Dasaolu and Adam Gemili among others.
But not even four double-shot espressos could spark life into Kilty, heavily jet lagged and with just three hours sleep, as Britain's newest world champion – having won gold in the indoor 60m – struggled to third place in the 100m in 10.19 seconds, a race which was won by Qatar's Femi Ogunode.
Also among Kilty's training group was hurdler Alex Al-Ameen, who tried to play down reports that the relationship between the two groups, who are both based in Loughborough was "tense". He said: "Everyone can't get along but everyone can be professional," though he did admit that the two groups trained at either end of the track each day.
His sentiments were echoed by Paralympic champion Jonnie Peacock, a member of Fudge's group at the track, who added: "We always keep ourselves to ourselves. We never provoked anything."
Christine Ohuruogu, on her 30th birthday, finished third in her 200m in a time of 24.06sec.
In contrast, another world medallist Tiffany Porter, who won bronze in Moscow last year, was immensely impressive as she won the 110m hurdles with a time of 12.65sec.
Reuse content