Jacob Pavey is five years old and loves boxes. Whatever he can lay his hands on goes into his collection of boxes.
It made for a traumatic first school run as he stashed away his new school shoes unbeknown to his parents. A 25-minute search of the house finally unearthed them in a cardboard box. A mad dash to get to his reception class followed and the arrival was in the nick of time.
Then there were the medals won by his mother, Jo – a European gold and Commonwealth bronze – that, in the words of mum, "went missing for a while" in the family's Devon home.
It is a mere snapshot of an athlete branded "Supermum" for the seemingly easy manner in which the 40-year-old has juggled family life while enjoying the season of her life in both Zurich and Glasgow.
She is living proof of the age-old motto that life begins at 40; her theory simply is that "maybe people retire too early". But she is not about to get carried away in her achievements, effectively just describing herself as a mum that runs, and it is being a parent to Jacob and her daughter, one-year-old Emily, that remains the priority.
"Being a mum is such a greater priority," she says. "It's what I've always wanted. When Gavin [her husband] and I opted for kids both times, I didn't know if that was the end of my career. Well if it is, it is, we felt. But we've been very fortunate to be able to make it work.
"Being a mum makes me feel happy every day. I feel very happy and complete – it's just the most wonderful thing to become a mum."
The Pavey quartet have effectively stayed together throughout their relatively short time – travelling as one on her round-the-world runs, including three trips to New York in one year.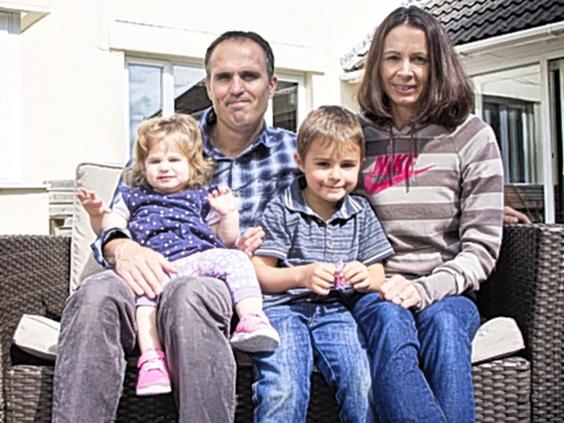 For the first time this weekend that has changed – down to the fact that the Paveys now have the constraints of the school term time to contend with – and she has travelled out to Marrakech for the Continental Cup alone.
There will be calls home and constant reminders of Devonian life, not least the latest mascot that Jacob has packed for her. "It's become his thing," says Pavey. "I just explain that mummy has to go running and he comes back with one of his toys for me  to take."
In Glasgow it was a small teddy, in Zurich a wind-up dog, for Morocco it is a lion bought before the World Cup and bedecked in England's colours. As always, it will be slotted in her bag for each trip to and from the track.
Understandably she feels tired and, as such, is unsure how she might fare over the 5,000m on Sunday. She has been training as hard as ever – helped in part by the recent reopening of her regular track in Exeter – but with a greater spotlight on her and greater demands on her time.
"I do a lot of my running on the Great Western Canal and people shout out to me more than they did before Glasgow and Zurich, which is really nice," she says. "I'm so grateful that people have been so supportive. It's been surprising really, I've been very lucky.
"I think people like it because I'm 40 and I've been trying to achieve things in the sport for such a long time. I just never thought these would be the circumstances I would achieve what I'd been aiming to do."
It is 10 years since her great friend and former room-mate Kelly Holmes won the Olympic middle-distance double in Athens, the pair celebrating the first win with a hot chocolate.
"It was really surreal sitting there drinking our drinks and thinking she'd just become Olympic champion," she recalls. "That inspired me a lot, Kelly still does and she's been very supportive."
Pavey's arrival in the spotlight has been a long time coming – she made her senior debut for the British team at the 1997 World Championships after returning from a trip backpacking with Gavin the year previously – and she is far too unassuming an athlete to shout from the rooftops about her success.
Instead, she is quietly lapping up the enormity of her double championship medal haul at events she thought she might not even qualify for.
In April, she was still breastfeeding Emily; by May she needed to achieve the qualification time for the Commonwealth Games but managed it. It is a litany of success very much home-made. She has not been on a training camp for six years and much of it is down to Gavin: her husband, coach, manager and confidant, and you would be hard pressed to meet a nicer couple.
Pavey would suggest parenthood to anyone. Where once she would spend the morning stressing about an afternoon's training session, now she says: "I feel less stressed about running as I haven't got time to worry about it."
It is her running that supports the family and one suspects sponsors will be more willing to come on board with her after her summer of success. "It's not about the money," says Pavey. "I just love to run and I've been very lucky to be able to make this work. I don't want to put Emily into nursery just so I can run. Everything I have to do has to work for the family."
That includes a quest to appear at her fifth Olympics in Rio de Janeiro. Where once that would have been a pipe dream, now it is very much a realistic prospect, likewise the World Championships in Beijing next year on current form and fitness.
"I still have things I want to achieve," she says. "I still feel very motivated. I enjoy the training and pushing myself to the limit. There's always different challenges and goals coming up."
That includes as many as three races before she signs off for the current season and heads off for a week's holiday during Jacob's October half-term. It is a week when she can finally take stock of her achievements.
Reuse content