Katarina Johnson-Thompson had claimed beforehand it was not about records. But as she was in a class of her own in the pentathlon, talk of them was simply unavoidable.
With the gold long since guaranteed, dangling tantalisingly in front of her on Friday was Jessica Ennis-Hill's British best of 4,965 points, a margin ahead the Ukrainian Nataliya Dobrynska's 2012 world mark of 5,013.
Statisticians pored over the record books as the pentathlon reached its finale at the European Indoors in Prague with the 800m, a time of 2:11.86 required to break the world record. Fittingly, it was a solo procession to the line with Johnson-Thompson against the clock.
At the halfway mark, the record was on, at the lap bell she was a whisker outside, and so it remained to the line, a mere second after five events in one day between her and a historic world record in the first gold medal to be decided inside Prague's O2 Arena.
"Gutted," was her initial response, a reaction that summed up the 22-year-old's already lofty standards so early in her career despite winning her first major championships. In the aftermath she burst into tears; on the podium she barely cracked a smile.
"I've been tearing my brains out these last couple of weeks thinking I could get it [the world record] so to come so close, yeah I'm disappointed," she said. "I'm feeling very emotional. Obviously I'm happy to come away with my first senior championship gold. I've never done that before so I've got to take the positive."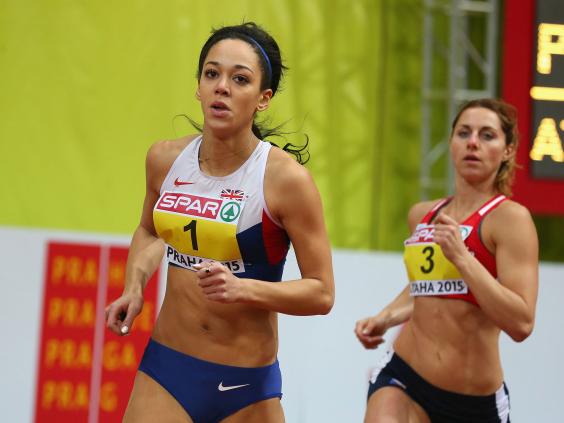 But it was still a stratospheric performance, exceeding anything Ennis-Hill has ever achieved indoors as Johnson-Thompson became only the second athlete in history to attain the 5,000-point mark – her final score exactly that.
After time to digest her achievement still further, she added: "I have got a future, it's not like it's my last ever pentathlon. But because everything was going so well and I was so close, I think that's what made me sad. I could have got it if I pushed a little bit more."
Her four-lap finale of the track was not quite a race to stop a nation but it proved sufficient for the BBC momentarily to switch off its Davis Cup coverage. Andy Murray too was watching on TV beforehand, tweeting his best wishes to the athlete before taking to the court.
It was not quite game, set and match from the moment the event got under way, despite a third personal best in as many weeks in the 60m hurdles, this time of 8.18 seconds. But even after she dipped into second at one stage behind eventual silver medallist Nafissatou Thiam of Belgium, the gold medal was rarely in question.
The big question mark was always going to be the shot put, undeniably Johnson-Thompson's weakest event and the one in which she could not aspire to be among the front-runners. In fact, she was rock bottom of the 13-strong field with a throw of just 12.32 metres, a metre shorter than the next best.
But both records remained on, even more so with an opening jump of 6.89m in the long jump, which would have been enough to win individual gold at six of the past European Indoors long jump competitions. That two fouls should follow was neither here nor there – Dobrynska's mark was still reachable. Johnson-Thompson was 147 points clear of her rivals and had run comfortably quicker over the distance outdoors. But it was a record that eluded her – although surely only until the next indoor season.
All talk of records had been dismissed by the Liverpudlian, and she was equally adamant she was not focused on laying down a marker for Ennis-Hill, who will return to competition this summer.
Suggestions that they were now equals got short shrift: "I wouldn't call myself an equal. My PB [for the heptathlon] is 6,6 [6,682 points], hers is 6,9 [6,955] so we're by no means equal."
Ennis-Hill tweeted after Johnson-Thompson's win: "Well done Kat!! Amazing performance! Sad to see my record go but couldn't have gone to a more deserving athlete!"
The pair are expected to do battle in May in Götzis, Austria, where Johnson-Thompson says she plans not to flop in the 800m. Also there will be Morgan Lake, whose time may not quite yet have come in multi-eventing – but there was no disgrace in ninth place in Prague on Friday for the 17-year-old schoolgirl, who sits her mock A-levels next week. Lake's total of 4,527 was a personal best and she admitted to being "inspired" by her team-mate.
Britain's medal tally was added to by Lucy Hatton and Serita Solomon in the 60m hurdles. Hatton recorded personal bests in all three rounds, her silver medal a fitting reward for the criminology student who had put herself up for sale on eBay to raise sponsorship money. Solomon took the bronze.
Captain Lawrence Clarke had tried to inspire the team in his speech on Thursday night with a personal letter from Prime Minister David Cameron but not even the backing of No 10 could inspire Clarke to upset the formbook in the 60m hurdles. He had to make do with fifth as Pascal Martinot-Lagarde led home a French one-two-three.
Reuse content