Katarina Johnson-Thompson has an app on her phone that calculates the points on offer for each second or metre recorded during the heptathlon. Her mother, Tracey, a former cancan dancer, refuses to use it. Instead she religiously records each time and each throw in a school exercise book and then does the maths. Every event goes in the book.
She was there in the stands of the Luzhniki Stadium in Moscow at this summer's World Championships, as she had been at the London Olympics a year earlier, and when she added up her daughter's score it underlined why Johnson-Thompson is an athlete worth taking careful note of.
Tracey and the exercise book are scheduled to be in Hampden Park, the borrowed venue for the Commonwealth Games athletics events, next summer – possibly suppressing a shudder as, according to her daughter, she cannot stand football and was not keen on Johnson-Thompson's teenage ambitions in that direction. If all goes according to plan, the sums for 2014 will equal a podium place at the Commonwealths and will be followed by another in 2016 at the Rio Olympics.
"It has always been about Rio for me," says Johnson-Thompson. "I have been funded since I was 14 with the view that I was going to medal in Rio. I think I can medal in the Commonwealth Games, that's not out of my reach."
The early identification of talent has become fundamental to the success of British Olympic sport. Johnson-Thompson's talent was identified almost the day her PE teacher suggested she try the high jump because she was the tallest pupil.
Four personal bests and a score some 200 points up on her previous highest earned Johnson-Thompson fifth in Moscow, a laudable achievement for a 20-year-old in her second senior season – she can count her career total of heptathlons on her fingers.
It hurt to miss a medal but the praise that accompanied her over the line was enough to re-energise weary limbs. For Toni Minichiello, Jessica Ennis-Hill's coach, Johnson-Thompson "is better than Jessica pound-for-pound". Ennis-Hill tweeted "your medal will come", while Denise Lewis said Johnson-Thompson "showed the class of Jessica".
Britain has history in the multi-event disciplines, as Johnson-Thompson knows. Before she double-barrelled her name, adding her mother's, she competed as Thompson. An opponent once informed her their fathers had competed together at the Olympics. "Daley's not my father," Johnson-Thompson had to explain. Johnson-Thompson's performance in Moscow was far better than expected, but she politely brushes away any suggestion that the judgements of Minichiello and Co, and the footsteps in which she is seeking to follow, add to the expectation and pressure.
"It was very nice of him to say," she says. "I need to grow up. Jess added 1,000 points on to her junior score. I have [added] 200 points [in a] year, so, hopefully, I can progress but I don't know that yet. You just have to take everything year by year."
With her long, "springy" (as her first club coach used to say) legs tucked beneath her as she curls up in an armchair at the Lee Valley Athletics Centre – occasionally waving her equally long arms around to make a point, in particular to explain why she finds bench pressing in training so tough (because she has long arms) – Johnson-Thompson exudes a combination of relentless energy and a relaxed, composed view of what lies ahead. She had a good 2013, winning the European Under-23 Championships and the long jump at the Anniversary Games ahead of Moscow.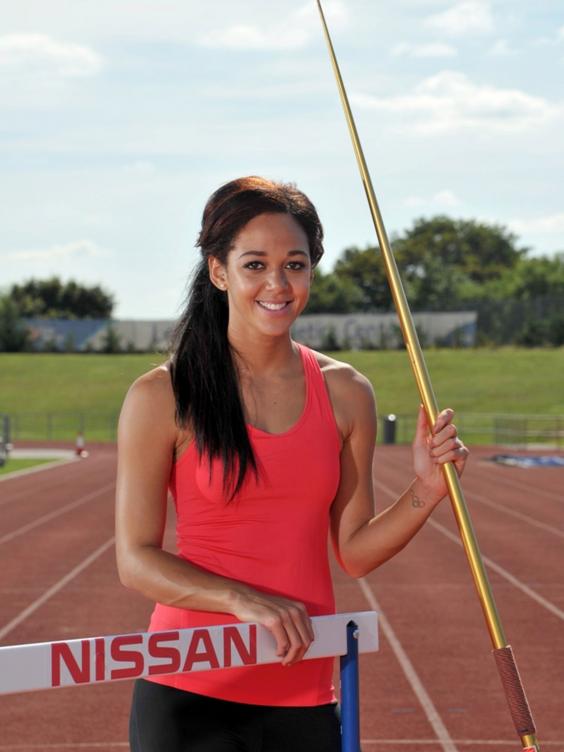 "I'm perfect at ignoring pressure – I just tend to forget things!" she says. "The biggest fear for me is that I'm the one who has to deal with my head so I put pressure on myself. I'm not too fussed about external pressure. [Winning a medal in the Commonwealths] is another good step up from this year, I believe anyway. I haven't sat down with my coach yet and talked it through – there are the Europeans as well but I may do a single event there if I can get my long jump up to the standard.
"People always feel like they have to compare things. You get used to it – it's fine. I think it's because there's a strong British heritage of multi-eventers. People compare me to Jess when she was my age; when Jess was my age they compared her to Denise. I'm sure she got asked all the time, 'When you get older do you want to be like Denise?' and it's the same thing with me and Jess. It's obviously a huge honour, because Jess is an amazing athlete.
"I want to grow up and I want to win a medal. It's every athlete's dream to win an Olympic medal, but not because of the athletes there have been in the past."
Johnson-Thompson is in winter training, laying the foundation for 2014. Before it began she enjoyed a belated summer holiday, heading for Mexico to eat eggs on toast and other out-of-training favourites but still slipping off for runs on the beach, "sneak jogs" she calls them.
Her coach, Mike Holmes, ordered complete rest ahead of the hard yards of winter training. But she couldn't. Last year, after London, in which a teenage Johnson-Thompson came 15th, her mother even ordered her to stop running during a holiday in the Bahamas, her father's family home.
It is the energy that carried her into sport, and specifically the heptathlon. Spotted "scissor-kicking" the high jump at school in Liverpool, she was invited to the local athletics' club but nobody told her where it was. Tracey looked it up in the Yellow Pages and dispatched her daughter. At junior meetings she would take her first high jump, then compete in the hurdles before returning to the high jump and then head for the long jump and finish off with the relay. Her multiple talents were obvious, and her progression has been brisk, including taking Ennis-Hill's junior record.
At the 2012 Games, during mealtimes in the vast dining hall in the Athletes' Village, Johnson-Thompson liked to play a game: guess the sport. As athletes of every shape and size paraded past, she had to match them up – the tall, stringy ones to basketball, the short, wide ones to weightlifting... Heptathletes and decathletes are not so easy to spot. Johnson-Thompson looks like the high jumper she started as, but she can run too. This year she recorded personal bests in the 200m hurdles and the 800m, as well as in the javelin and long jump. Her weakness lies in throwing – the shot and the javelin – but there time is on her side, not only for Rio but 2020 too.
"In the shot put and javelin your strength comes through age. I'm going to be 23 in Rio – heptathletes don't peak at 23 because you have to be strong in each event. When you are 26, 27 that's the peak age for heptathletes normally, so 2020 is realistic for me as well. But it doesn't mean I'm not going to try and win a medal in Rio."
She was 28 points from a medal in Moscow. The bronze was taken by Dafne Schippers, the Dutchwoman a year her senior. In the 800m the Briton had to beat Schippers by three seconds to make the podium. She crossed the line a second quicker. Schippers is the rising talent in the event, but in Moscow, as up in the stands Tracey totted up her daughter's final score, she was another who took startled notice of the young woman from Liverpool.
"I've been trying to beat her since 2009," says Johnson-Thompson. "That was the closest. I don't think she really took notice of me until after the javelin in Moscow. I am sure we will be having battles like that for a long time to come." And they will all go in the book.
Katarina Johnson-Thompson is an ambassador for Nissan, official car supplier to Team GB and ParalympicsGB.  Visit nissan.co.uk