Mo Farah will return to action at the Herculis meeting in Monaco next month in his first race since doping allegations emerged against his coach Alberto Salazar and training partner Galen Rupp.
Farah announced on Twitter that he would return to the track at the Diamond League meeting on 17 July for his first official run since pulling out of a race in Birmingham at the last minute two weeks ago.
Alongside a picture of him smiling during a track session, Farah wrote: "Good to be out on the track in France today, getting ready for my next race in Monaco!! Focusing on my training!!!!"
Meanwhile John Stiner, a sports massage therapist who was among those to make the initial allegations on BBC's Panorama two weeks ago, has made further allegations against the American coach.
Stiner worked as a therapist with Salazar's group in Park City, Utah, in June 2008 and, during the Panorama documentary, reported finding AndroGel (a testosterone gel) when clearing out one of the rooms which Salazar said had been for his own use.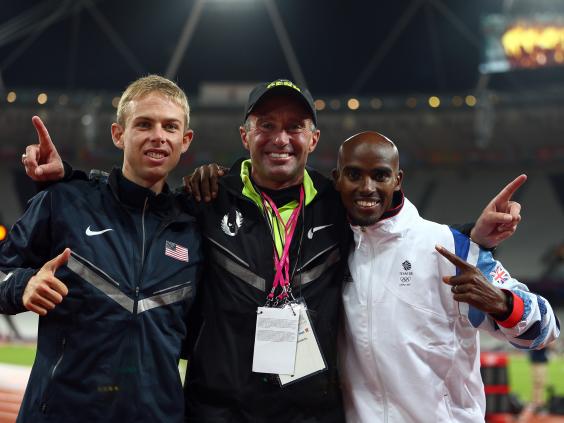 But in a wider testimony handed to the United States Anti-Doping Agency, and reported in the Daily Mail, Stiner said: "He [Salazar] says there's a package, or a product 'in the refrigerator that I also want you to take and keep it cold – and it's got to be kept cold'. "It was in the butter drawer. A little hinged drawer – you lifted it up and there it was in a light blue Cordura zipped bag: two vials.
"I looked at the vials and they had a white tape, like someone had placed them neatly on there," he added. "It was typed like from an old typewriter and it said 'allergy one' and 'allergy two'. I made a note of that."
Salazar has not responded to the latest allegations but has steadfastly professed his innocence over all the allegations made against him, as has Rupp. Farah has not been accused of any wrongdoing.
Meanwhile, American distance runner Lauren Fleshman became the latest athlete to question Salazar's methods after claiming he encouraged her to take a higher dose of her asthma medication than recommended by her doctor.
Fleshman has never been coached by Salazar but sought his advice over her asthma. "There was just something about it that made me feel, very clearly, that that approach to my inhaler was wrong, that the spirit of the sport did not support that," she told the American website ProPublica.
"Turning illness into an advantage was not right," she added. "You take a medication to fix the problem, not to fix the problem and then go above and beyond."
Reuse content