Mo Farah has said Taylor Swift can "probably run faster" than a fellow athlete after becoming embroiled in a Twitter row.
The star of the 2012 Olympics was responding to suggestions that he is running against a weakened field when he races at the Sainsbury's Indoor Grand Prix in Birmingham this month.
Andy Vernon, a British long-distance runner who won a silver (behind Farah who won gold) and bronze medal (behind Farah who won gold) at the 2014 European Championships, started the Twitter spat.
"Another stellar field against @Mo_Farah on home turf this weekend at Birmingham. #joke"
A couple of hours later, a clearly disgruntled Farah retorted.
@AndyVernonGB Shame you didn't make the line up....again #ComeBackWhenYouWinSomethingDecent

— Mo Farah (@Mo_Farah) February 17, 2015
The row continued when Vernon wrote...
"Lol @Mo_Farah I think even you can work out that I can make the cut to the Indoor Grand Prix. Lets hope no one loses their shoe..."
Farah responded again...
@AndyVernonGB I wish you did make the cut mate so I can leave you in my dust like ALWAYS!! hahahaha #hatersgonnahate

— Mo Farah (@Mo_Farah) February 17, 2015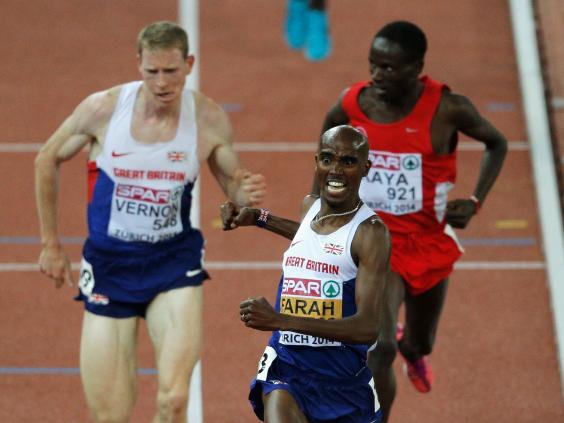 Then Taylor Swift became a part of the conversation...
"@Mo_Farah. 1) stop quoting Taylor Swift. 2) I don't hate you Mo. I would just rather watch a race than the the Mo Show. #playersgonnaplay"
Which cued Farah up for his ultimate put-down...
@AndyVernonGB that's why they didn't put you in the race mate.. Cos you're an embarrassment!! Taylor swift can probably run faster than you!

— Mo Farah (@Mo_Farah) February 17, 2015
Farah is competing in the 2-mile event at the Barclaycard Arena on February 21.
Reuse content