Mo Farah's training partner Galen Rupp has been doping since the age of 16, according to a Panorama documentary.
It is claimed the 29-year-old, who finished runner-up to Farah in the 10,000 metres at London 2012, has been taking the banned anabolic steroid testosterone.
And Farah's coach, Alberto Salazar, who also oversees Rupp at Nike's Oregon Project and has held an advisory role with British Athletics since 2013, has been accused of flouting the laws of the sport with regards to doping.
Steve Magness, who was handpicked to work as Salazar's No 2 at the Oregon Project but left after London 2012, later took his allegations to the United States Anti-Doping Agency (Usada). Magness told the BBC documentary that he had seen reports of blood tests of every athlete who had been in the Oregon Project.
Magness, who took photographic evidence, said: "Under one of Galen's [tests] it had 'currently on testosterone and prednisone medication' and when I saw that, I kind of jumped backwards. I was like, wait a minute, like on testosterone medication? Testosterone is obviously banned and I mean I knew that, everybody knew that. When I looked a little further I saw it was all the way back in high school and that was incredibly shocking."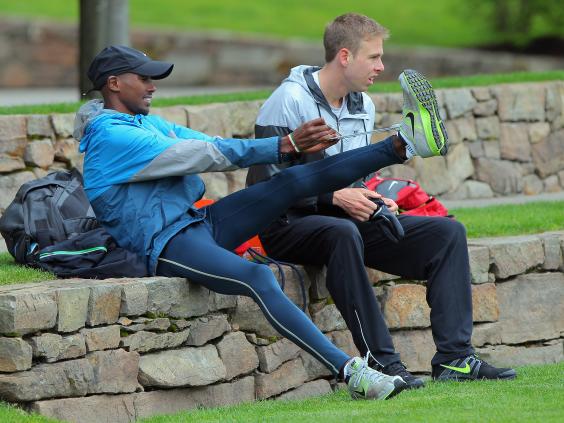 Magness was adamant it was not a one-off incident, instead suggesting there were a host of instances "indicative of a culture".
Under current guidelines set out by the World Anti-Doping Agency (Wada), anyone involved in the doping of an athlete as young as 16 years would be liable for a lifetime ban.
A former athlete of Salazar's, Adam Goucher, who described his ex-mentor as a "father figure", said it was tantamount to "child abuse".
Goucher said: "I mean, I just think that's almost child abuse. I mean I feel like there's no way... it's very unlikely that a 16-year-old would be making the decision to do this or even know how to go about doing it."
Magness questioned Salazar about the incident at the time, which was brushed off as a mistake. And in a statement in response to Panorama, Salazar insisted he was not guilty of any wrongdoing. He said the product had been the legal supplement Testoboost, which had been "incorrectly recorded as testosterone medication".
Salazar added: "I have always strictly followed Wada rules, seeking guidance from Usada to ensure my interpretation of Wada's rules is correct. I believe in a clean sport and a methodical, dedicated approach to training and have never, nor ever will, endorse the use of banned substances with any of my athletes."
Rupp, meanwhile, was similarly dismissive of the accusations: "I am completely against the use of performance-enhancing drugs. I have not taken any banned substances and Alberto has never suggested that I take a banned substance."
Farah, who first teamed up with Salazar in 2011, has not been accused of any wrongdoing in the programme and said in a statement: "I have not taken any banned substances and Alberto has never suggested that I take a banned substance. From my experience, Alberto and the Oregon Project have always followed Wada rules."
But UK Anti-Doping's former chief executive Andy Parkinson said that Farah and any other athlete in the group had a "responsibility to ask themselves, 'do I feel comfortable in this environment and am I going to be able to continue to compete clean in this environment?'"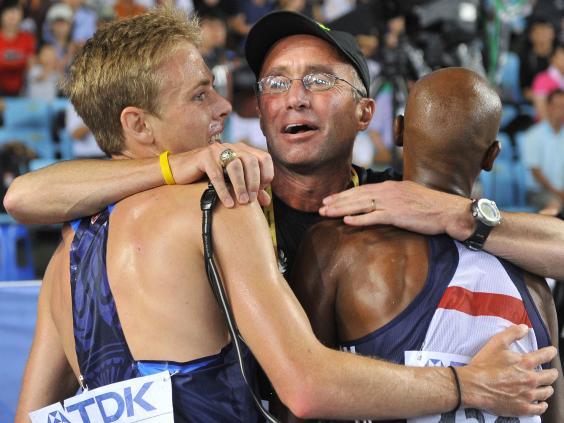 Goucher's wife, Kara, another of the Oregon Project's former athletes, also claimed in the programme that she was encouraged to take the thyroid drug Cytomel by Salazar in order to lose weight after giving birth.
The Gouchers parted company with Salazar in 2013 and also took their allegations to Usada, although it would not confirm or deny whether it was looking into any wrongdoing by Salazar or Rupp.
An unnamed athlete also claims in the programme that former Nike lead physiologist Dr Loren Myhre, who died in 2012, encouraged them to take banned substances. The athlete said: "I did a blood test and my thyroid [and] testosterone was low. Dr Myhre suggested I go and see an endocrinologist Alberto and most of the athletes work with, to get testosterone and thyroid. He said, 'this is what Alberto does. You'll feel better and you'll be able to train better,' and so then I said, 'well, isn't that cheating?' and he goes 'well, no, Alberto does it'."
Salazar is also said to have been involved in laboratory tests to see how much testosterone caused a positive doping test, allegedly in case someone sabotaged a runner by rubbing a cream on them to make them fail a test. Massage therapist, John Stiner, who worked with the Salazar camp, raised concerns about finding a tube of Androgel (testosterone). Salazar claimed it was for his heart – he previously had suffered a massive heart attack – but Stiner discovered Androgel was advised against being used for anyone with a heart condition.
Reuse content