Paula Radcliffe has admitted being shocked by the Nike Oregon Project drug allegations and called for a thorough investigation.
Radcliffe was pregnant with her son Raphael when she spent three or four months at the project in 2010, training with Kara Goucher who was one of the key figures who spoke out in the Panorama documentary against the coach Alberto Salazar. Goucher accused him of trying to get her to take thyroid medication to lose weight after the birth of her son.
Radcliffe and Goucher have yet to renew acquaintances in the aftermath of Wednesday's programme and the marathon world record holder said she was "very surprised" at the revelations. "There were a lot of allegations in the programme, worrying allegations and ones I hope are properly investigated," she said. "I'm very surprised to hear what was said. I think most people are in agreement on that."
From world record holders to sprint world champions, the sense of shock in the fall-out from the Panorama investigation remains undiminished.
Richard Kilty, who is set to compete in the 100m at the IAAF Diamond League in Birmingham tomorrow, said: "Since the programme, you're getting texts, people ringing and everyone you see is talking about it. It's unavoidable at the moment."
Radcliffe and Kilty have never been ones to shirk questions on doping but both admitted it was sad that was the talking point rather than the upcoming athletics.
"It's a shame as once more that overshadows the athletics itself," said Radcliffe. "Yet again, we're talking about doping rather than the sport itself."
The fact that some of the world's leading athletes are converging on the Midlands should make it more than a sideshow. Like Kilty, fellow sprinter Dina Asher-Smith watched Wednesday's programme but opted not to focus on the allegations. She races on Sunday for the first time since breaking the British 100m record in Hengelo in the Netherlands on 24 May.
Kilty's focus is on turning the negative headlines into positive ones in the men's 100m. "Hopefully, there can be some great performances this weekend, which will try to blow away the shadow that programme has caused. I'm just looking forward to competing in a great event."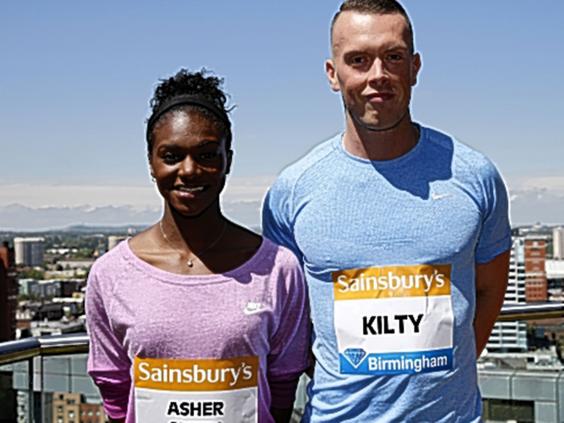 The issue of doping was brought into further attention on Thursday when Justin Gatlin, banned twice over drug use, was once again victorious in 9.75sec in Rome. Gatlin has tended to be persona non grata at British Diamond League events so is absent in Birmingham. And Kilty was scathing about the American, the form sprinter in the world.
"The vibe is that no one wants to see him winning," said the World and European indoor 60m champion. "It's a bit bitter-sweet as he's demolishing world-class sprinters – he's just running away from people.
He's been banned twice and he's quicker than ever. He's quicker now than when he was on drugs. Maybe the drugs that he was on weren't working before!" More negative headlines will come should Gatlin win at the World Championships in August, beating unblemished athletes in the process.
Asked how he'd feel if denied a medal by Gatlin, Kilty said: "That would be a massive shame. I've dedicated 80 per cent of my life to this sport and I've worked very hard and I've been through ups and downs.
"It would be a massive shame to be knocked out of a medal or a final by a drugs cheat. We've got a few guys capable of making that final or winning medals and it would be a shame if a British person, or any person, was cheated out of a spot or a medal."