It was on Super Saturday that Mo Farah first truly made his name, the first leg of the double double. This time in Moscow it was Feelgood Friday, the quartet of gold medals completed a year after his world dominance had truly begun in London.
Where once he was merely a homegrown hero, he is now a global star, the roars from the crowd at the Luzhniki Stadium not quite in the realm of those accorded to Usain Bolt but still ear shuddering.
Sebastian Coe had claimed the double would make Farah the greatest British athlete of all time. The case for him being the all-time British No 1 is compelling – he now has five global titles, having also won the 5,000m in Daegu in 2009, and he has repeatedly outfoxed Ethiopian and Kenyan contingents awash with immense talent. One of their finest, Kenenisa Bekele, the only man previously to have managed that 5,000m and 10,000m double double, was not even able to make the Ethiopian team this time.
But there will be those who say Farah cannot claim to be the greatest until an Olympic defence is achieved and a world record is broken. One suspects the latter is very much on the agenda for Farah in the near future. In many ways, his status in the pantheon of all-time British greats did not matter, the 30-year-old producing another race of outstanding quality.
"I never thought in my career I would achieve something like this," he said. "This was very tough – it was all left  to the last two laps. I had a lot of pressure but, at the same time, I enjoy it. This is something I work so hard for. I was thinking about my kids, how long I spend away from them. It's very difficult because they're growing so fast and I haven't been around for the last four or five months. It was hard this year, harder than last year."
The scene had been nicely set from a British perspective by Adam Gemili dipping under the 20-second barrier in his 200m semi-final and Farah's sprint to the line in the 5,000m was one the 19-year-old would have been proud of.
There had been nerves beforehand among the British camp, his family and those watching on the BBC. So cool, though, was Farah on the start line that he intimidated his rivals yet more, cementing their doubt as he had with his victories, most recently in Saturday's 10,000m.
His team had described this as a long shot, likening it to treading into the unknown as he laced up his spikes and took to the track. He made it look anything but. So much, though, had gone into his historic double double. It was a win crafted in Oregon, Font Romeu, St Moritz and Teddington among others – a global jigsaw. The double in Moscow had been made possible by thousands and thousands of miles, ice baths, and Farah sleeping 12 hours in every 24 under an altitude tent in his hotel bedroom. It was no wonder the Rip van Winkle of British athletics looked so fresh.
Farah had expected the pace to be tough but, in truth, there was a lack of the sustained high-tempo running needed to zap him out of that trademark kick. There were those who tried: Isaiah Koech was the first to set the pace, which stretched out the field. If they thought it would worry Farah, it did not. Instead, he dropped to the back and watched it all unfold.
Ethiopia's Muktar Edris was the next to take it up with Yenew Alamirew, suggesting the two East African nations were in cahoots. This time it was enough to get Farah to the front to slow the pace, as he had done in the 10,000m.
But as Farah himself said, it was all about the last two laps, at which point he was sitting in second but swamped by the full complement of Ethiopian and Kenyan runners. Where he had twice stumbled in the 10k, here there was merely some bustling at 600m, which ended with him nudging ahead. At the bell, the kick for the line began, Koech and fellow Kenyan Thomas Longosiwa both taking the race to Farah.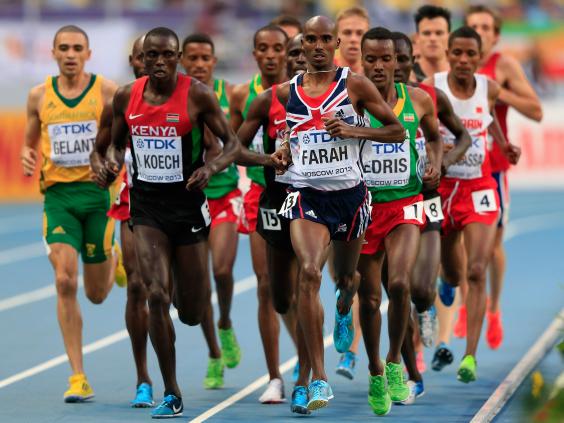 His fellow 2012 Olympic champion Jessica Ennis-Hill had claimed it was "never in doubt" but repeatedly it looked as if the Africans might force their way past and cut off Farah's path; but he tightened his stride and edged ever further ahead to take the gold from the Ethiopian Hagos Gebrhiwet and Koech.
One wonders what next: a world record and a stab at marathon running perhaps? But then there's Mo time like the present. It is worth dwelling for a little while longer on the double double, his fistful of gold and his place in the athletics annals.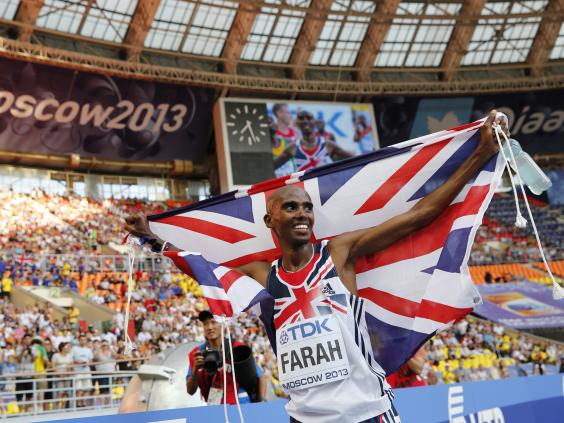 Reuse content