Amir Khan is now within hitting distance of his dream date with Floyd Mayweather Jnr should the world's supreme fighter elect to extend his career to a 49th bout in September. 
However, the ball is very much in the court of basketball fan Mayweather, after Khan's unanimous but far harder than anticipated victory over American Chris Algieri in New York on Friday night.
The 12-round welterweight non-title fight was seen largely as an audition for Khan, but his sometimes ragged performance will have left Mayweather scratching his head. 
While the message Khan gave out is not one that will have put the frighteners on Floyd, suggesting the Briton is beatable, the man whose eye is always on the money may feel that, in Amir's failure to seriously disturb a fellow former world light-welter champion who had been floored six times in Macau by Manny Pacquiao, it would make him a hard sell for the all-important pay-per-view in the United States.
Not that Khan, 28,  sees it that way. "Amir Khan wants Floyd Mayweather next," he bellowed as his hand was raised before a 7,000 crowd at the Barclays Centre in Brooklyn. "I'm the No 1 World Boxing Council challenger. He's the champion. So let's make it happen."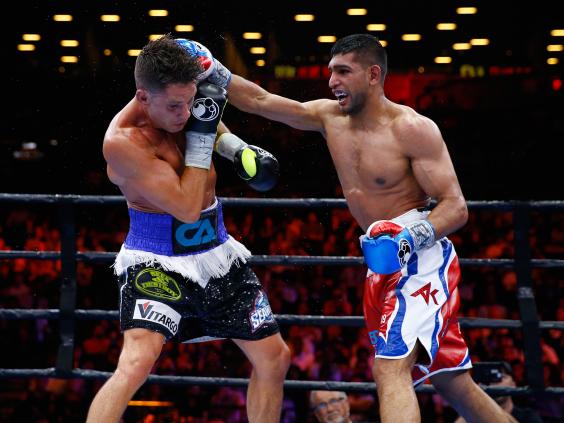 Yet he now finds himself in that classic Catch 22 situation. He knew that looking too good against a man who had stopped only eight of his 21 previous opponent might have been off-putting for Mayweather – and the TV paymasters; but will they now deem him to be not quite good enough?
Khan had to dig deep for the 31st victory of his 10-year pro career to  register a winning score of six rounds (117-111) from two judges and just two rounds (115-113) from the other.
Because Algieri turned out not to be the pushover most had anticipated, and with Khan giving his customary blend of brilliance and vulnerability, it at least proved to be an exciting contest.
Khan praised Algieri "for coming forward more than I expected and having a good chin", adding: "He caught me with some good shots but I was never hurt." But he acknowledged that there was "room for improvement". 
University graduate Algieri (he has a Masters in clinical nutrition) also thought he had done enough to win: "I felt like I landed the cleaner, harder shots. When that final bell rang, I felt it was my fight."
While Khan had the better of the frenetic early exchanges, few of the blows he delivered with his trademark velocity and efficiency would have troubled Mayweather, the master of evasion. "Quit throwing those silly-arsed punches," his American trainer, Virgil Hunter, urged at one stage. "Go out there and do it!"
Algieri landed the stiffer punches but Khan's blistering combinations caught the eye – especially Algieri's right eye, which was damaged in the fifth. But there were worrying  moments for Khan as he was clipped around his supposedly suspect chin, and by swinging shots which glanced off his temple; one right hand saw Khan's legs wobble in the eighth. Through it all, though, the boy from Bolton stuck to his boxing and got the better of most of the brawls.
Back in his Las Vegas mansion, Mayweather will have scrutinised proceedings and may consider that if Khan could make such heavy work of a light puncher such as Algieri then it is a risk worth taking.
So, Mayweather next? Only fickle Floyd knows. No doubt Khan could give him a decent run for his money but, on this evidence, it would not be a winning one against such a wily old warhorse, who is as slippery as he is seemingly unassailable.