Appropriately enough in the week of the 50th anniversary of Muhammad Ali's second victory over Sonny Liston in Lewiston, Maine, England's Anthony Joshua augmented his reputation as the man who might bring forth a brilliant new era of heavyweight boxing.
Joshua was confronted with an Ali shuffle on Saturday night, the nearest his 13th victim, Kevin Johnson, came to a meaningful contribution to their bout in London. Johnson was supposed to present a heightened challenge but, like the dozen who came before, he had no answer to the raw power and athleticism of the giant raining blows.
But locked behind a television paywall the drama was experienced only by the few. Joshua needs no introduction to the boxing priesthood but, to the majority of casual sports observers who love to congregate around a screen when a boxing star is born, he remains depressingly little known.
Over breakfast yesterday discussing the subject of this piece, a chum shook his head at the mention of Joshua's name. "Oh, is that the fella who won gold at the Olympics? I was wondering what happened to him." Jon is a bloke who will readily seek out sport on TV but does not care enough to buy a subscription, let alone invest in pay per view.
He talked with excitement about his memories of watching in a Battersea pub Nigel Benn and Gerald McClellan go at it two decades ago. Benn was a household name, known to those who had only a cursory acquaintance with the sweet science. The atmosphere in the pub was electric, he said, the punters drawn to the action by the primal pull of alpha males in combat.
Five years later Ali would be voted the 20th century's greatest athlete. His face was among the most recognisable on the planet. It is hard to imagine any boxer connecting with the wider public in the same way today. Ali disposed of Liston that second time inside a round. The "phantom punch" that finished it became the most talked about winner in the history of the sport.
We shall probably never know how much of Ali's glove connected with Liston's cranium. The photo that captured Ali leaning over his victim imploring Liston to get up and fight "sucker" subsequently thrust him into a different dimension. He was no longer just a brilliant boxer but a complex personality driving the political news agenda following his association with the Nation of Islam.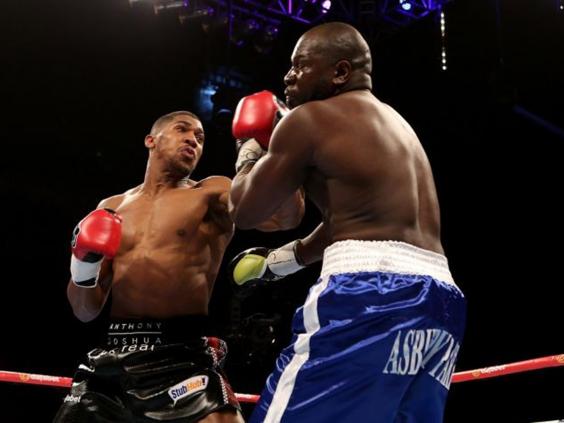 Joshua has neither Ali's verve, his historical hinterland, nor his political reflexes, but there is enough in that 6ft 6in, 17st 10lb frame to compel any to pay attention, should they be given the opportunity.
While the subscription culture is becoming increasingly acceptable to a British audience, particularly with the advent of Netflix, which has broadened the pay model beyond sport, pay per view is still a hard sell outside the boxing devotee, especially to an audience already paying for the privilege of watching sport.
Ali's phantom punch was also a pay-per-view event, broadcast via closed-circuit television across the United States. But the pay-per-view model was already deeply embedded in the American experience. Besides, it was Ali's conversion to Islam and his subsequent political engagement, particularly his refusal to take the Vietnam draft, that brought him to the attention  of the wider public on free to air television. When he returned to the ring after his suspension in 1971, he was arguably  the most recognised individual in the United States, filling news bulletins on  the hour.
Joshua's gifts deserve a wider audience. To bury him behind a paywall in only his 13th fight does little for him or the sport. Commerce is the big driver, here. But might the pursuit of a quick buck now cost Joshua in the long term?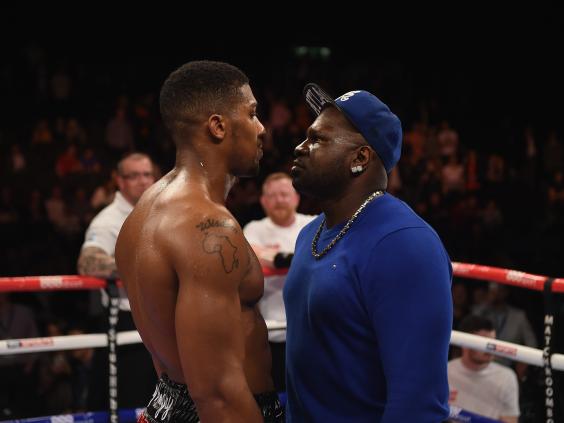 Golfer Tiger Woods and racing driver Michael Schumacher became the first to breach the one billion dollar earnings threshold not through prize-money in Woods' case, or driver salary in Schumacher's, considerable though those sums were, but because of commercial deals with sponsors, which were predicated on visibility. Yes, Woods was and is seen largely by a subscription audience on the course, but his achievements are such that he quickly transcended that limitation.
If dosh is to be the ultimate arbiter of an athlete's success, how much richer might Joshua become were he to be recognised around the world? The dismantling of Johnson, a boxer never before stopped in 36 engagements, including a world title fight against Vitali Klitschko six years ago, was riveting stuff.
Joshua combines awesome physical properties, boasting arms like legs and pecs like armour plating, with chilling power and utter ruthlessness when scenting blood. He is a superstar in waiting, but, to enter the philosophical realm, if he can't be seen, how do we know he exists?
Reuse content