Anthony Joshua and Wladimir Klitschko will finally meet each other in the ring in front of a packed Wembley Stadium on Saturday night in a 12-round heavyweight contest, with the IBF and WBA world titles awarded to the victor.
IBF holder Joshua is the overwhelming favourite with the bookmakers, on account of his undeniable talent as well as the hype which surrounds him. His opponent, however, cannot be underestimated and is looking to reclaim two belts he held simultaneously for over four-and-a-half years.
Who will win? Our sports desk have made their predictions and the results may surprise you...
Ed Malyon
Sport Editor
41 is a grand old age, but with those years come great experience. Wladimir Klitschko has repeatedly put together smart gameplans to knock off opponents and he will be able to frustrate Joshua. 
If he can use that famous jab to peck away at AJ and keep the scoreboard ticking, Klitschko will force Joshua into chasing the knockout. That is where Wlad will strike. 
Wembley Stadium might just be very disappointed indeed.
Winner: Wladimir Klitschko, points
Joshua vs Klitschko: Best trash talk
Joshua vs Klitschko: Best trash talk
1/6 Anthony Joshua

"I'm going for the knockout, that's what I do. I haven't experienced losing as a professional yet so I don't know that feeling. I'm going for a knockout.

"I always say you either crumble or rise to the occasion. I'm conditioning my mind talking about it, visualising to make it into reality."

Getty

2/6 Wladimir Klitschko

"AJ has a lot of energy, he's young, he wants to show it. He has these big muscles that give him confidence. He wants to demolish people right in front of him. Those muscles give him a lot of confidence.

"But did you hear about boxing? It's the sweet science. Boxing is the sweet science, the ice is thin. The most vicious boxers were conquered. There was one boxer, Kimbo Slice, he was unstoppable, he was knocking everybody out. Then one guy came out and took him down. Kimbo was really strong."

Getty

3/6 Anthony Joshua

On his inexperience at world level: "Look at it this way, who were Tyson Fury and Lennox fighting in their 19th fight? People say I had an easy route to the championship, but I didn't have to take on Charles Martin.

"I should have said, 'No, I'm going to defend the British title outright, I should stay where I am.'"

Getty

4/6 Wladimir Klitschko

"It was not my best jab. During the sparring session, the preparation, how I do it - you have something you need to practice, so you do it. And you are adjusting it to every guy so, in 12 rounds of sparring, I'll have four guys sometimes, or five or even six guys."

"We've exchanged lots of shots, so he knows what to expect and I do too."

GettyGetty

5/6 Anthony Joshua

"He has to pass on the baton. I do hear it a lot, he's too old, he's faded.

"But then I try and flip it. Even if he is too old, which I think he is, he's in a good place mentally and that's a dangerous fighter.

"Timing is everything and maybe Father Time has caught up with the former champ."

Getty

6/6 Wladimir Klitschko

"AJ wants to become a billionaire. Well, he needs to impress, and he needs to show what he is capable of doing and I think that all of that in combination is tremendous pressure, unbelievable pressure.

"He can only judge on what he knows. He is 27 years old and he has 18 professional fights, so his judgment is only based on his experience.

"All the pressure is on the other side – not on me. I don't need to defend my titles, I don't need to break the losing record I had."

Getty
Jack de Menezes
Deputy Sport Editor
If Fury was able to negate every weapon that Klitschko has in the locker, then Anthony Joshua should have no problems in getting through to the veteran. It was Fury's movement and unpredictability that unhinged Klitschko last time out, but this time around I expect Joshua's power to break down the Ukrainian.
Joshua will have to be smart, as Dillian Whyte proved he is vulnerable on the chin, but Klitschko has never faced anyone as strong as Joshua and I believe he will find a way to hurt his opponent. At 41 years old, Klitschko will need to defy Father Time in order to weave his way around Joshua's thumping blows, and while he may still be the better technical boxer, I'm backing Joshua to knock him out after the seventh round, once Klitschko starts to tire.
Winner: Anthony Joshua, stoppage
Mark Critchley
Sport Reporter
The problem in calling this one is that the second longest-reigning heavyweight champion of all time has become something of an unknown quantity. If that night 18 months ago in Dusseldorf against Fury was a true reflection of where Klitschko now finds himself, then this will be a sad end to a storied career.
Yet if I had to pick a winner, it would be the Ukrainian, and partly because he is being so drastically underestimated. Joshua is likely to try and use his power to bring about a quick finish and he might just do that. But if he fails, he will suddenly be trapped in the most difficult contest of his young career to date and in desperate need of a plan B. I don't have much confidence in him finding one.
Winner: Wladimir Klitschko, points

Timothy Williams
Sport Reporter
Styles make fights and Fury was all wrong for Klitschko 18 months ago in Düsseldorf. More should be read into Klitschko's laboured victory over Bryant Jennings seven months prior. 
After a one or two round scouting mission by both men, Joshua will meet Klitschko in the centre of the ring and try to bring the fight to the erstwhile champion. 
Klitschko may have some early success with the jab, and might even try to 'Fury' Joshua by jabbing and running, but he'll eventually succumb to Joshua's incessant flurries. Joshua to win by stoppage in rounds 6-8.
Winner: Anthony Joshua, stoppage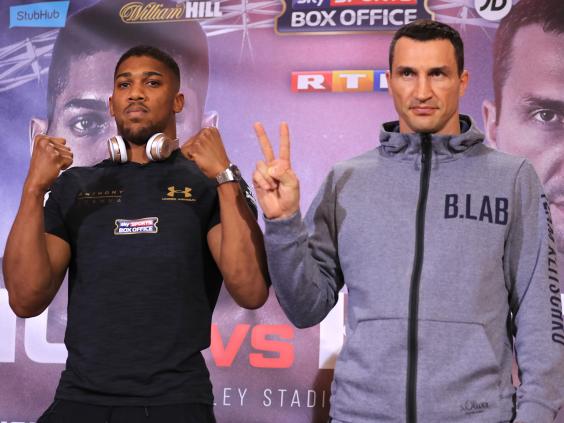 Luke Brown
Sport Reporter
Anthony Joshua has not yet shared a ring with an opponent possessing even an ounce of Wladimir Klitschko's talent and experience, so it is difficult to understand how he heads into this fight as the overwhelming favourite. 
I think Klitschko will punish Joshua's lack of mobility. Klitschko doesn't have the strongest chin and doesn't like taking big shots — hence how he customarily fights on the outside and clinches when opponents come too close — but if he can survive the opening rounds his corner will be confident that he will win on points. 
Of course that's a big if, but Klitschko hasn't been knocked out in over 13 years. Meanwhile Joshua has never boxed beyond the 7th round, never faced a jab like Klitschko's, never fought an opponent so wily and so experienced. It will be an ugly fight and one that could well leave Wembley Stadium bitterly disappointed. 
Winner: Wladimir Klitschko, points
Jack Austin
Sport Reporter
If Joshua is going to win this fight then it will have to be early on. The Brit has only gone past three rounds only twice – and has never gone past seven. You feel the longer it goes on, the more Klitschko's cunning and experience will come into play. He may not be near his best, but I would be very surprised if the Ukrainian was naïve enough to allow Joshua to get within striking distance early on, given he has branded his rival just "a puncher". 
Klitschko will let Joshua tire himself out by trying to force the matter early on and then pick him off in what will be unchartered waters for the 27-year-old. I can't see Joshua getting knocked out either, but feel it will be Klitschko with his hand raised on a points decision after 12 measured and calculated rounds. 
Winner: Wladimir Klitschko, points
Reuse content