Four-time world super middleweight champion Carl Froch has retired from boxing with immediate effect after a 35-fight career in order to joins Sky Sports as a pundit.
The 38-year-old twice won the WBC super middleweight title as well as the WBA and IBF belts, and retires having won 33 of his 35 fights with 24 coming by knockout. The one man he was not able to beat remains American Andre Ward, with Froch avenging his only other defeat when he beat Mikkel Kessler in 2013 three years after the Dane beat him in the Super Six World Boxing Classic tournament.
Froch's finest moment came when he defeated arch-rival George Groves with a stunning knockout at Wembley Stadium in May last year after their highly controversial first encounter saw Froch run out a winner in what many felt was an early stoppage after Groves knocked Froch down for only the second time in his professional career.
Great boxing rivalries
Great boxing rivalries
1/10 Muhammad Ali vs Joe Frazier – 1971, 1974 & 1975

Possibly one of the greatest rivalries of all time, not just in boxing but in any sport. These two titans met three times, with Ali taking home the spoils 2-1. The first was known as the 'Fight of the Century' in which two undisputed title holders came together, it ended with Frazier winning after 15 rounds via unanimous decision. The final fight was dubbed 'Thrilla in Manilla', where Ali retained all three of his heavyweight titles.

GETTY IMAGES

2/10 Joe Louis vs Max Schmeling – 1936 & 1938

Among two of boxing's most historical fights. With Schmeling's origins of Nazi Germany, these two represented something a little more than just two heavyweight boxers at their peak coming together. Louis was undefeated coming into the first fight while Schmeling already had 60 fights under his belt. The German won it with a 12th round knockout. By the time the pair met again, Louis had won the world Heavyweight title. It only took him one round to knock out Schmeling. Louis' performances gained him national recognition and became one of America's first African American heroes.

GETTY IMAGES

3/10 Micky Ward v Arturo Gatti – 2002, 2002 & 2003

The first time these two met proved to be The Ring Magazine's 'Fight of the Year'. A famous left hook body shot in the ninth brought Gatti to his knees and proved the deciding factor in the judges' decision. A rematch was agreed immediately with Gatti knocking Ward down in third, however the American managed to finish the fight before losing by decision. The final fight also won The Ring Magazine's fight of the year, Ward knocked down Gatti in the sixth, but before the referee could count to ten, the bell sounded. Gatti was able to come back and win via unanimous decision.

GETTY IMAGES

4/10 Nigel Benn v Chris Eubank – 1990 & 1993

In what was initially a fierce domestic rivalry, became one of world interest between these two British greats. Eubank was originally the challenger and began shouting out for Benn after only 10 fights. After winning his WBO middleweight title, Benn agreed to face Eubank. With each fighter saying they were going to knock the other one out, it was the challenger that actually did. With a technical knockout in the ninth round. The re-match was watched by half a billion people worldwide, with both defending titles it was so even, it ended in a draw.

GETTY IMAGES

5/10 Gene Tunney v Jack Dempsey – 1926 & 1927

Fighting twice, these bouts have gone down as two of the most famous in boxing history. Tunney won the first over 10 rounds via unanimous decision. The second is why these two were forever known in boxing history. In the seventh round Dempsey threw a flurry of punches to knock Tunney down for the first time in his career. The referee couldn't count until Dempsey had reached a neutral corner. He didn't oblige, buying Tunney valuable time. Tunney managed to rise at a time many say was over ten seconds. This is why the fight is known as the Long Count. Tunney went on to knock down Dempsey in the eighth and win by unanimous decision.

6/10 Manny Pacquiao v Juan Manuel Marquez – 2004, 2008, 2011 & 2012

One of the greatest modern day rivalries which will go on to be imprinted in boxing's history. Having fought four times to this day, Pacquiao has won two, Marquez one and the other being a draw. Marquez winning the most recent with a sixth round knockout, handing the Pac-Man back to back defeats. The Ring Magazine awarded it not only 'Fight of the Year' but also 'Knockout of the Year'.

7/10 Ken Norton v Muhammad Ali - 1973, 1973 & 1976

Ali's second defeat came to the man known as 'The Black Hercules'. In what was their first fight, Ali was the 5-1 favourite and had won 10 fights since his first lost to Frazier. Norton broke Ali's jaw in the fight, despite The Greatest carrying on, he lost on a split decision. Six months later, Ali avenged Norton winning also on a split decision and re-gaining his NABF Heavyweight title. The third and final fight was some three years later after Rumble in the Jungle, Ali won via unanimous decision.

8/10 Marco Antonio Barrera v Erik Morales - 2000, 2002 & 2004

Involving two of more modern days most famous Mexican boxers, the Barrera v Morales trilogy is a famous one, spanning over three different classes. Their first fight was in the super-bantamweight division with both holding titles. Morales won the first on a close split decision. Deciding to move up classes, Morales went to Featherweight, where again he met Barrera for a title match. This time Barrera won, in what was Morales' first ever career defeat. The third and final time they met was in the Super-Featherweight division, where again Morales lost and with it his WBC title.

GETTY IMAGES

9/10 Riddick Bowe v Evander Holyfield - 1992, 1993 & 1995

These two Heavyweight giants came together three times in a famous blockbuster conquest. In the first fight, Holyfield walked in with Lineal, WBC, WBA & IBF Heavyweight titles having beaten Buster Douglas and George Foreman. Bowe had never tasted defeat and to everyone's surprise, won via unanimous decision. The re-match went the distance with Holyfield winning on a split decision. This was Bowe's first and only career defeat. The third, unlike the other two, was ended after eight rounds when Bowe knocked out Holyfield.

GETTY IMAGES

10/10 Sugar Ray Leonard v Thomas Hearns – 1981 & 1989

These two first met in a heavyweight clash with both boxers' welterweight titles on the line. Ray Leonard known for his boxing skill, and Hearns for his vicious punching. The epic battle lasted 14 rounds before Leonard unleashed a series of punches, forcing the ref to stop the fight. The re-match, known as 'The War', had both fighters again holding titles, this time in the super-middleweight class. After 12 rounds of back and forth punishment, the fight was scored as a judge's draw. The two never fought again with Hearns moving to light-heavyweight.

GETTY IMAGES
Speaking after he made the announcement, Froch said: "I'm incredibly proud of what I have achieved in boxing but now is the right moment to hang up my gloves.
"I have nothing left to prove and my legacy speaks for itself.
"Sky Sports is the home of boxing and has followed me throughout my career. I can't wait to join the team and help bring fans the best fighters, the best contests and the best analysis.
"Nothing can replace the thrill of stepping into the ring."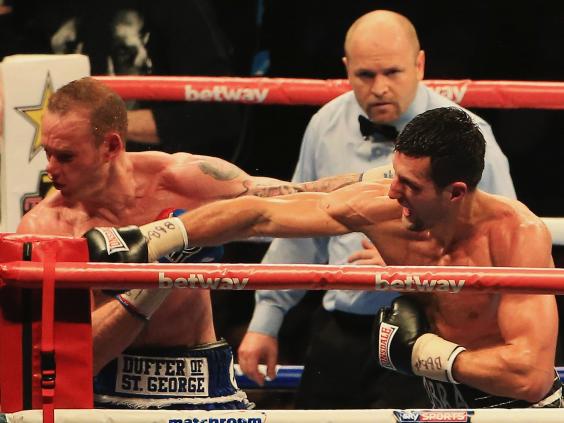 Speaking to Sky Sports News, Froch added: "Making the decision to retire and saying - it's been a year, it's too long, the fighting machine has gone, it's not going to come back - it's still hard.
"The last thing I think about before my head hits the pillow is boxing, and when I wake up in the morning to think what time it is, and I think it's half six, seven o'clock, should I be going for a run, where's my trainers - it's a lifestyle, a way of life, and it's a mindset. I'll always have that and I think I'll always be itching for the big fight.
"There's no greater feeling for me than standing victorious in the arena and I'm never going to get that again now, and I don't know where I'm going to get that feeling from.
"I don't know where it's going to come; maybe it's not. That's what I'm turning my back on and that's what's going to be difficult to do, but there comes a time in every man's career where he's got to say, 'That's it, enough's enough'.
"I feel civilised now. I feel like Carl Froch the fighting machine is still in there - the fire is still in the belly - but it's been too long.
"I just feel like that fighting machine that I love so much and that I need to be to compete at the top level, I feel like it's been put away for too long, and I don't know if I can get hold of him again and go one more time. I really don't think I could."
Froch had been due to fight Julio Chavez Jnr in a Las Vegas showdown, only for Froch to suffer a shoulder injury and admit that retirement was likely should he be unable to fight the Mexican boxer.
Reuse content