A few years ago, as he called the combatants together, the legendary referee Mills Lane prefaced every big fight in Las Vegas with his famous phrase "Let's get on!" Well, now they really are getting it on with the biggest fight of all.
Yes, the coupling that has had the longest gestation period in sporting history finally becomes a happening. And when Floyd Mayweather jnr and Manny Pacquiao touch their golden gloves in mid-ring at the MGM Grand in Nevada's casino citadel on Saturday 2 May the cheers will be drowned out not by the jangling sound of fruit machines but cash registers. Officially signed and sealed late on Friday, the mega fight the world has drooled over for so long is expected to generate a minimum £162m ($250m).
The welterweight showdown for the mantle of the world's supreme fighter has a 60-40 split in favour of Mayweather, who will earn in the region of $150m, with Pacquiao guaranteed $100m. As ever, the Money Man has had the last word, and was the last to add his name to the contract. "I am glad my decision to meet with Manny and discuss making this fight happen helped get the deal done," said Mayweather after tweeting his agreement.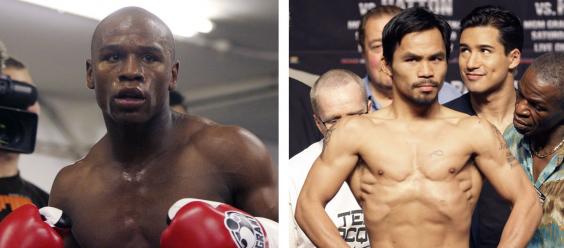 Ringside tickets are being marketed at £17,200 at the 18,000-capacity arena and the hotel's 3,000 rooms were sold out within three minutes of the fight's announcement. Mayweather-Pacquiao is also expected to break the record for pay-per-view buys in the United States at up to $100. The current record of $153m was set when Mayweather fought Saul Alvarez in September 2013.
Mayweather says on his web page: "What the world has been waiting for has arrived. I promised the fans we would get this done and we did. This will be the biggest event in the history of the sport. Boxing fans and sports fans around the world will witness greatness on May 2. Giving the fans what they want is always my main focus.
"I am the best ever and this fight will be another opportunity to showcase my skills and do what I do best, which is win. Manny is going to try to do what 47 before him failed to do, but he won't be successful. He will be number 48."
Pacquiao said: "I am very happy that Floyd Mayweather and I can give the fans the fight they have wanted for so many years. They have waited long enough and they deserve it. It is an honour to be part of this historic event. I dedicate this fight to all the fans who willed this fight to happen and to bring glory to the Philippines and my fellow Filipinos around the world."
Pacquiao has won world titles in six weight divisions; the narcissistic Mayweather has held 11 titles. Pacquiao has been beaten only five times in 64 fights since turning pro as a 16-year-old in 1995, while Mayweather's unbeaten 47-fight record stretches back to 1996. Like Ali-Frazier I this is a fight that transcends boxing because no-one cares about belts, titles or weights. It is a classic contest of contrasts between arguably the most talented gloved gladiators of the past two decades.
However recent performances suggest neither man is as sharp as they were. Pacquiao has had to fight his way back after two defeats in 2012, including a devastating ko by Mexico's Juan Manuel Marquez. Yet while the superfight may be a reality, other matters have to be resolved. A bidding war is anticipated for British TV rights with Sky and BoxNation going head-to-head for pay-per-view. BT are also believed to  be considering a bid.
One Brit out in the cold is Amir Khan, twice jilted by Mayweather, who must re-think his strategy as the likelihood is there will be Mayweather v Pacquiao II in the autumn. Khan believes we may be in for a disappointment on 2 May. "This would have been a massive fight when both were at their peak. It might have gone past that now. I think it will go the distance but that Mayweather will win by unanimous decision."
While the Money Man and the Pacman were not spring chickens when this pairing was first mooted in 2009 they were still in their prime. Now, with Mayweather turning 38 on Tuesday and Pacquiao 36, they are the ring's Sunshine Boys. But these days boxing is as much a country for old men as the young.
Reuse content