The huge billboards dotted along Las Vegas' neon-lit Strip declare it "the Fight of a Lifetime" and the long-awaited coupling of Floyd Mayweather Jnr and Manny Pacquiao next weekend has the potential to be an epic confrontation.
The build-up has been enormous, with interest phenomenal on both sides of the Atlantic, while the Philippines is expected to come to a standstill as the icon worshipped by most of its population of 100 million attempts to be the first to overcome an opponent who considers himself the noblest artist of them all.
But it has also been labelled "the biggest fight of all time". Can it really justify that? Having reported on the sport for more than 50 years, I would suggest that there has not been a boxing event of this magnitude since Muhammad Ali first fought Joe Frazier at Madison Square Garden in March 1971. That first Ali-Frazier bout was arguably a bigger boxing occasion in terms of global interest because it was for the world heavyweight championship and was globally witnessed on terrestrial TV rather than subscription channels. But like that legendary encounter, this is a fight that transcends boxing. It is a classic contest between arguably the most talented boxers of the past two decades, even if both have seen better days. The two were hardly spring chickens when it was first mooted in 2009 when they were still in their pugilistic prime. Now Mayweather is 38 and Pacquiao 36.
Great boxing rivalries
Great boxing rivalries
1/10 Muhammad Ali vs Joe Frazier – 1971, 1974 & 1975

Possibly one of the greatest rivalries of all time, not just in boxing but in any sport. These two titans met three times, with Ali taking home the spoils 2-1. The first was known as the 'Fight of the Century' in which two undisputed title holders came together, it ended with Frazier winning after 15 rounds via unanimous decision. The final fight was dubbed 'Thrilla in Manilla', where Ali retained all three of his heavyweight titles.

GETTY IMAGES

2/10 Joe Louis vs Max Schmeling – 1936 & 1938

Among two of boxing's most historical fights. With Schmeling's origins of Nazi Germany, these two represented something a little more than just two heavyweight boxers at their peak coming together. Louis was undefeated coming into the first fight while Schmeling already had 60 fights under his belt. The German won it with a 12th round knockout. By the time the pair met again, Louis had won the world Heavyweight title. It only took him one round to knock out Schmeling. Louis' performances gained him national recognition and became one of America's first African American heroes.

GETTY IMAGES

3/10 Micky Ward v Arturo Gatti – 2002, 2002 & 2003

The first time these two met proved to be The Ring Magazine's 'Fight of the Year'. A famous left hook body shot in the ninth brought Gatti to his knees and proved the deciding factor in the judges' decision. A rematch was agreed immediately with Gatti knocking Ward down in third, however the American managed to finish the fight before losing by decision. The final fight also won The Ring Magazine's fight of the year, Ward knocked down Gatti in the sixth, but before the referee could count to ten, the bell sounded. Gatti was able to come back and win via unanimous decision.

GETTY IMAGES

4/10 Nigel Benn v Chris Eubank – 1990 & 1993

In what was initially a fierce domestic rivalry, became one of world interest between these two British greats. Eubank was originally the challenger and began shouting out for Benn after only 10 fights. After winning his WBO middleweight title, Benn agreed to face Eubank. With each fighter saying they were going to knock the other one out, it was the challenger that actually did. With a technical knockout in the ninth round. The re-match was watched by half a billion people worldwide, with both defending titles it was so even, it ended in a draw.

GETTY IMAGES

5/10 Gene Tunney v Jack Dempsey – 1926 & 1927

Fighting twice, these bouts have gone down as two of the most famous in boxing history. Tunney won the first over 10 rounds via unanimous decision. The second is why these two were forever known in boxing history. In the seventh round Dempsey threw a flurry of punches to knock Tunney down for the first time in his career. The referee couldn't count until Dempsey had reached a neutral corner. He didn't oblige, buying Tunney valuable time. Tunney managed to rise at a time many say was over ten seconds. This is why the fight is known as the Long Count. Tunney went on to knock down Dempsey in the eighth and win by unanimous decision.

6/10 Manny Pacquiao v Juan Manuel Marquez – 2004, 2008, 2011 & 2012

One of the greatest modern day rivalries which will go on to be imprinted in boxing's history. Having fought four times to this day, Pacquiao has won two, Marquez one and the other being a draw. Marquez winning the most recent with a sixth round knockout, handing the Pac-Man back to back defeats. The Ring Magazine awarded it not only 'Fight of the Year' but also 'Knockout of the Year'.

7/10 Ken Norton v Muhammad Ali - 1973, 1973 & 1976

Ali's second defeat came to the man known as 'The Black Hercules'. In what was their first fight, Ali was the 5-1 favourite and had won 10 fights since his first lost to Frazier. Norton broke Ali's jaw in the fight, despite The Greatest carrying on, he lost on a split decision. Six months later, Ali avenged Norton winning also on a split decision and re-gaining his NABF Heavyweight title. The third and final fight was some three years later after Rumble in the Jungle, Ali won via unanimous decision.

8/10 Marco Antonio Barrera v Erik Morales - 2000, 2002 & 2004

Involving two of more modern days most famous Mexican boxers, the Barrera v Morales trilogy is a famous one, spanning over three different classes. Their first fight was in the super-bantamweight division with both holding titles. Morales won the first on a close split decision. Deciding to move up classes, Morales went to Featherweight, where again he met Barrera for a title match. This time Barrera won, in what was Morales' first ever career defeat. The third and final time they met was in the Super-Featherweight division, where again Morales lost and with it his WBC title.

GETTY IMAGES

9/10 Riddick Bowe v Evander Holyfield - 1992, 1993 & 1995

These two Heavyweight giants came together three times in a famous blockbuster conquest. In the first fight, Holyfield walked in with Lineal, WBC, WBA & IBF Heavyweight titles having beaten Buster Douglas and George Foreman. Bowe had never tasted defeat and to everyone's surprise, won via unanimous decision. The re-match went the distance with Holyfield winning on a split decision. This was Bowe's first and only career defeat. The third, unlike the other two, was ended after eight rounds when Bowe knocked out Holyfield.

GETTY IMAGES

10/10 Sugar Ray Leonard v Thomas Hearns – 1981 & 1989

These two first met in a heavyweight clash with both boxers' welterweight titles on the line. Ray Leonard known for his boxing skill, and Hearns for his vicious punching. The epic battle lasted 14 rounds before Leonard unleashed a series of punches, forcing the ref to stop the fight. The re-match, known as 'The War', had both fighters again holding titles, this time in the super-middleweight class. After 12 rounds of back and forth punishment, the fight was scored as a judge's draw. The two never fought again with Hearns moving to light-heavyweight.

GETTY IMAGES
But at least the fight is on. And when they touch gloves at the MGM Grand in Nevada's casino citadel next Saturday night (around 4am Sunday morning here) one thing we will know for sure: it may or may not be the biggest fight of them all, but it is certainly the most lucrative.
It is expected to generate around $400m (about £260m) in ticket sales and global TV revenue, with a purse split 60-40 in favour of Mayweather, who will earn in the region of $150m with Pacquiao guaranteed $100m. From Mayweather's gold-flaked gumshield to Pacquiao's shorts – specially lengthened to accommodate more sponsorship room – this is unprecedented. Tickets cost from $1,500 to around $11,000.  There can be little doubt that this is a fight that has captured the public and media imagination. Yet ironically there will be few genuine fight fans in the house, such has been the clamour for seats among  A-list celebrities, high rollers and the otherwise rich and infamous.
Why the huge interest? Well, in boxing terms it is certainly something special. The Michigan-born Mayweather, full of bling and braggadocio, is the ring's classic master craftsman, stylishly elusive and defensive, unconquered in 47 bouts through four weight classes stretching back to 1996. In all he has held 11 titles. He has estimated career earnings of $400m. A serious gambler and father of four, he owns 98 cars.
He considers himself the most gifted boxer since Sugar Ray Leonard and better than Muhammad Ali, saying only last week: "I've done just as much as Ali did. He called himself the Greatest so I call myself The Best Ever. I know there will be a backlash but I couldn't care less."
Pacquiao is a talented musician and singer, who is adored in his homeland. Since 2010 he has a served as a congressman in his home province of Sarangani and plans to run for the country's presidency in 2016. "Manny is an icon," says Philippine senator Sonny Angara. "When he fights, the streets are empty. Everything here is on hold so the nation can watch him on TV. He is huge, larger than life. He is our national hero."
Pacquiao, who stands 5ft 6in, has won world titles in six weight divisions since turning pro at 16 in 1995 while living on the streets of Manila. He has career earnings of $300m. An ardent Anglophile – his fans include his pal Prince Harry and he has named one of his five daughters Queen Elizabeth.
His downside as a fighter is that he has been beaten five times in 64 contests and has had to fight his way back after two defeats in 2012, including a devastating knockout by Mexico's Juan Manuel Marquez.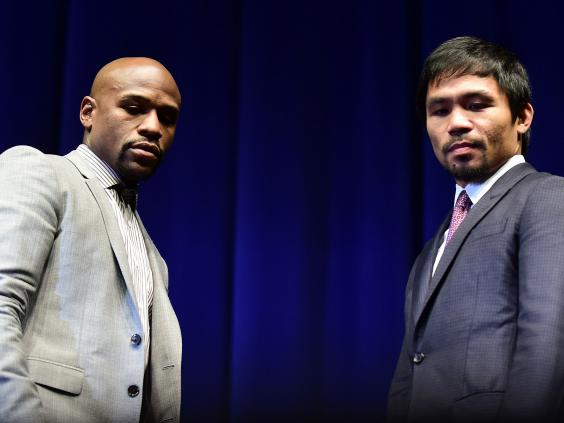 There were many reasons for the delay in getting the two into the ring together. Mainly it was because Mayweather believed the longer they waited, the more money they would make. He also suggested that some of Pacquiao's high-energy performances may have been enhanced by illegal substances – always vehemently denied. The issue eventually went to court in 2012 and subsequently both have voluntarily undergone regular blood and urine testing. After much haggling a breakthrough came in January this year when the two fighters met at an NBA game in Miami and exchanged telephone numbers. The fight was announced a month later, though such is the complex nature of top-level boxing that deals still had to be agreed about TV rights and ring announcers.
If Pacquiao is looking for a glimmer of hope it may be in the fact that Mayweather hasn't stopped an opponent in his last five fights. But then, neither has Pacquiao, and the fact that he knocked down his last opponent, the fragile Chris Algieri six times but could not finish him off suggests he will struggle to stagger the steel-chinned Mayweather, who has yet to take a count.
For all that, and the fact that it may not be the fight it could have been five years ago, it is still boxing's most mouth-watering match up for a generation, a throwback to the halcyon Seventies and Eighties, recapturing a glimpse of the sport when pairings of skill and will between the ring's supreme gladiators such as Ali, Frazier, Tyson, Foreman, Holmes, Leonard, Hearns and Duran were the norm and not a novelty.
As sweet a scientist as he is, I would dispute Mayweather really is TBE, though he may be just up there in the mix of all-time greats. Outstanding as they have been for a couple of decades it is hard to find a place for either in the post-war pantheon alongside those ring legends. Even among welterweights Mayweather would scrape into my top 10 behind the two Sugars (Robinson and Leonard), Kid Gavilan, Emile Griffith, Oscar De La Hoya, Jose Napoles and Thomas Hearns.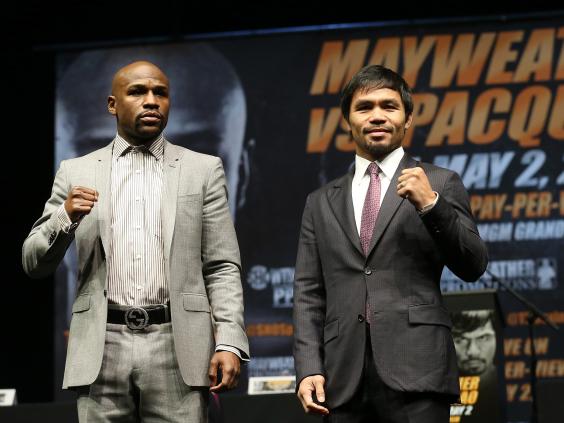 So the $400m dollar question. Who wins?
If this is to be a great confrontation it will be because Pacquiao makes it so. He likes a free-flowing, open fight; Mayweather prefers commanding  the centre of the ring, or laying on the ropes, clinching and counter-punching. Referee Kenny Bayless, who has officiated in several title fights for both, needs to be strong.
On paper it is still a compelling contest. In the ring it may be different. "Mayweather can put the fans to sleep the defensive way he fights," argues one of the great relics of that golden era, Marvin Hagler. "It could be boring, an anti-climax."
My own instinct has always been that Mayweather will prevail. Mayweather on points, then, possibly by a split decision, which would leave plenty of scope for Superfight II in the autumn. The biggest, richest re-match of all time.
So what was really the biggest fight of them all?
The promoter: Frank Warren
Ali v Foreman
(Kinshasa, Zaire, 30 Oct 1974)
This was the biggest fight of my lifetime. Nothing can equal the Rumble in the Jungle and the atmosphere of such a unique occasion. As a rain-stormed dawn came up over Africa Ali weaved his inimitable magic and regained the title by rope-doping, psyching out then knocking out  a surly slugger they said was invincible. What a night! What a fight!
The pundit: Alan Hubbard
ALI V FRAZIER
(Manila, 20 September 1975)
I wavered over the three great Ali fights but finally settled on the Thrilla in Manila, heavyweight boxing's greatest grudge fight. "It was the closest thing to dyin'" gasped Ali afterwards. Smokin' Joe's compassionate cornerman Eddie Futch told his man: "Sit down son. It's all over. But no-one will ever forget what you did here today."
The boxing historian: Tris Dixon
ALI V FRAZIER
(New York, 8 March 1971)
Episode one of the Ali-Frazier trilogy was the first fight actually to transcend boxing, with its social and economic overtones. As an occasion it set the benchmark for the glitz and glamour that envelops the fight game, indeed all major international sport, today.
The boxer: Anthony Joshua
FOREMAN  v LYLE
(Las Vegas, 24 January 1976)
I am too young to recall personally some of the biggest fights of all time but from what I have seen on film this was the best. Ron Lyle was an ex-convict who came late to boxing and rained absolute havoc on the heavyweight division. This fight had everything you could ever want: will, determination and fitness.  
Reuse content