Boxing has its critics – and I've taken a few whacks on the chin defending what I still believe is the Noble Art – but I can assure you of one thing: It isn't bent. And not a lot of sports can say that these days.
At a conference in London recently which debated match-fixing and other threats to the security of sport, it was alleged by one of the world's leading administrators that across the globe football is just one of a number of sports that have become infiltrated by criminal gangs. David Howman, director general of the World Anti-Doping Agency, said that "organised crime now controls 25 per cent of world sport in one way or another".
Quite a few sports were cited as being affected to varying degrees by criminal activity, including football, cricket, athletics, tennis and snooker. But boxing didn't get a mention. I am not surprised.
There is no doubt that in the distant past boxing had its problems with crooks. It was certainly influenced in the United States by the mafia and other underworld figures from the 1920s to the mid-1960s but since then no sport has cleaned up its act more.
The most sinister underworld association was probably Sonny Liston, the heavyweight champion who was controlled by the mob when he twice fought Muhammad Ali. Frankie Carbo and Blinky Palermo, both well-known mobsters, were also much in evidence around the fight scene. Both went to jail for conspiracy and extortion involving the welterweight champion Don Jordan. I met Blinky several times when he was "looking after" the interests of another heavyweight, Jimmy Young, who also fought Ali.
Over here, criminal elements such as the Kray twins, who did a bit of boxing themselves, were quickly rebuffed when they tried knocking on the door.
What has happened now is that instead of gangsters, the suits – lawyers and accountants – have taken over. And some of them are worse than the gangsters! At least you knew where you stood with the other lot. Seriously, boxing has always been a very easy sport to pick on because of its working-class roots. It may have been called the noble art but it's always been looked down on. Not any more.
In my time in boxing I have never seen a crooked fight. Yes, there's been some dodgy match-making but fixed fights? How could there be in this age of forensic journalism. They would quickly be exposed. Instead it is other, so-called clean sports attracting all the opprobrium.
 I suppose that you can argue that where there's big money, there's corruption, but it certainly isn't happening in boxing. Yes, there's a lot of politics and in-fighting, not least involving some of the dirty tricks that go on behind the scenes with television companies – there's a lot more I could say about that.
I am not setting up boxing as some sort of sporting paragon. It has its problems. But compared to some other sports which have become less than savoury it has always been an easy target to put the boot in.
I quite like Clare Balding – in fact her late uncle Toby once tried to persuade me to buy a racehorse – but I recall her lambasting boxing as "dirty and corrupt". Coming from the so-called Sport of Kings, where corruption seems to be endemic, that's a bit rich. How many jockeys and trainers have been nicked and gone inside because of bent races? Believe me Clare, there are many more pulled horses than there ever have been pulled punches.
Eubank is taking a big risk with Saunders showdown
Billy Joe Saunders will be hoping Chris Eubank Jnr manages to keep out of harm's way when he has his 18th pro fight at the Liverpool's Echo Arena this Saturday night. Capricious as always, the Eubanks – dad and lad – have insisted on going ahead with this eight rounds warm-up before the big ExCel showdown with Saunders for the British and European middleweight titles next month.
Billy Joe offered him £20,000 to forgo the Liverpool date but Chris Snr maintains that it is not money in the pocket but fights under his belt that his boy needs. But carefully as you might pick an opponent there's always the risk of a cut or a calamity. If anything goes wrong Chris won't be the only one who is cross.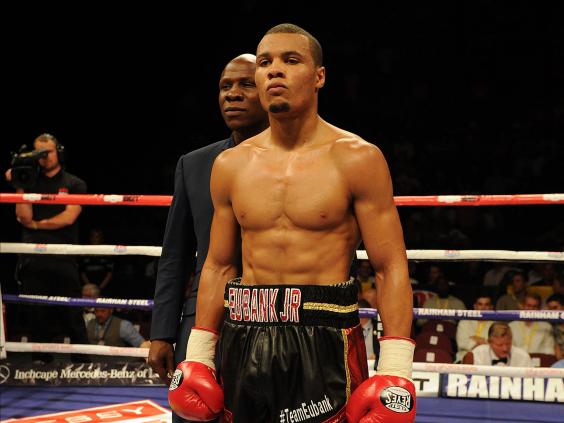 Merseyside mayhem on the cards at tomorrow's event
Scousers love a good scrap and there are plenty of tasty punch-ups to savour in tomorrow's BoxNation-televised Liverpool bill. Most feature Merseyside favourites including Paul Butler, Thomas Stalker, Kevin Satchell and Liam Smith. Butler is truly a superstar-in-waiting. Already in the record books as the fastest Englishman to capture a world title after dethroning Stuey Hall for the IBF bantamweight title in just his 16th pro bout in June, he meets Mexican Ismael Garnica.
Meanwhile, light-welterweight Stalker, the 2012 Team GB Olympic captain, once the world's No 1 amateur, attempts to crash the world rankings by taking on fellow Lancastrian Jack Catterall for the vacant WBO European crown. Both are unbeaten in nine pro fights. Expect a humdinger.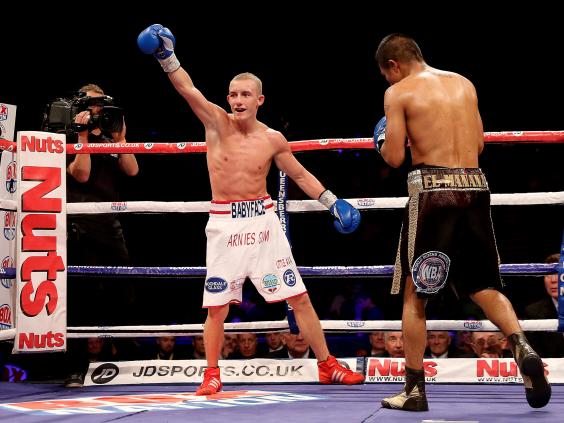 Boxing salutes brave Dick Turpin – no, the other one
Last week football honoured goalkeeper Arthur Wharton, football's first black professional with a statue at the St George's Centre in Burton. This week it has been the turn of boxing to commemorate the first black fighter to hold a British title.
Dick Turpin, elder brother of world middleweight champion Randolph, outpointed Vince Hawkins at Villa Park in 1948, following a campaign to end the sport's long-standing colour bar. Thankfully since them boxing has become among the most racially integrated of sports. A portrait of Turpin by artist Paul Oz has  been unveiled in Warwick before 45 surviving members of the Turpin family.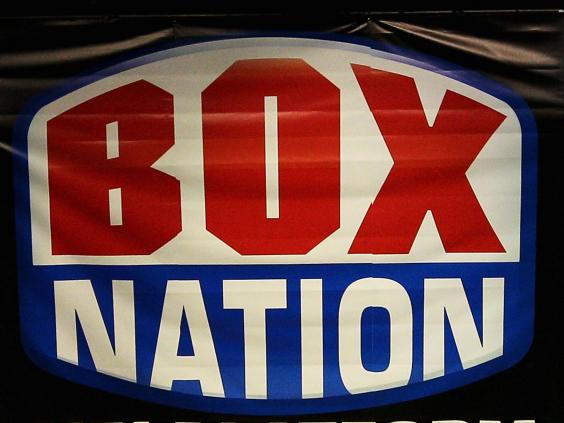 To subscribe to BoxNation go to www.boxnation.com
Reuse content