Who will win the big fight on 2 May? We are not talking Floyd Mayweather Jnr v Manny Pacquiao here, but the battle between the two most famous ringmasters of ceremony; Michael Buffer v Jimmy Lennon Jnr.
Boxing's version of The Voice is one of the most fascinating aspects of the $300m showdown in Las Vegas which is to be jointly televised in the United States by rival networks HBO and Showtime.
This brings an intriguing situation. Mayweather is contracted to HBO, who use Buffer as their regular announcer, and Pacquiao to Showtime, for whom Lennon is the main man with the microphone.
So who gets to do the mega-bucks job at the MGM Grand? The likely outcome is a split decision, with 70-year-old Buffer and Lennon, 56, sharing the honours, each taking turns to announce their own network's fighter.
This would be a repeat of their duet at the 2002 world heavyweight title fight between Lennox Lewis and Mike Tyson in Memphis, the only previous occasion in which the two stations have collaborated.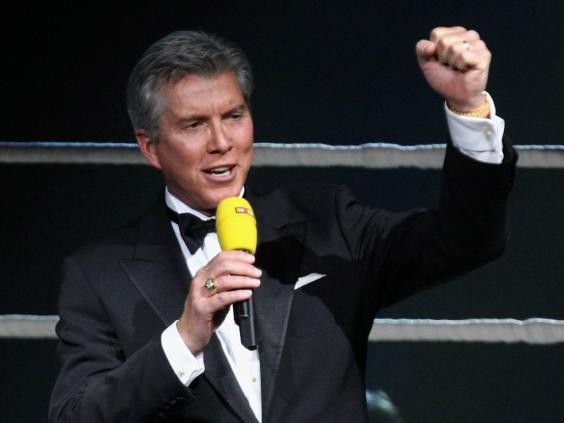 Then, that smoothest of operators Buffer had the famous last words with his celebrated trademark "Let's get ready to rumble!" And the probability is that he will do so again, once the Lennon has told the watching millions "It's Showtime!"
I know both well, having used them as my big fight MCs on several occasions. They are smart, well-travelled and very professional guys and quite rightly they don't come cheap. Both have made a great living out of welcoming the world to "the main event of the evening".
When Buffer, a one-time car salesman from Philadelphia, Hollywood actor and model – now known as the "Voice of Vegas" – tells us "Let's get ready to rumble!" he is uttering surely the most evocative – and lucrative – five words in sport. The catchphrase has been patented so other MCs have to pay to use it and is estimated to have earned him a considerable fortune.
During his 30-year announcing career, the thrice-married, immaculately coiffured Vietnam veteran has introduced baseball's World Series, ice hockey's Stanley Cup finals, NBA Championships and NFL play-off games, as well as hundreds of fights around the globe. He has also appeared in a number of fight movies as himself, including Rocky. Six years ago he overcame the throat cancer which had threatened his career.
The equally likeable but lesser-known Californian Lennon, a lay Baptist preacher, has built his announcing career in the boxing ring over the past 25 years, following his renowned father into the business. Like Buffer, he has been inducted into boxing's Hall of Fame.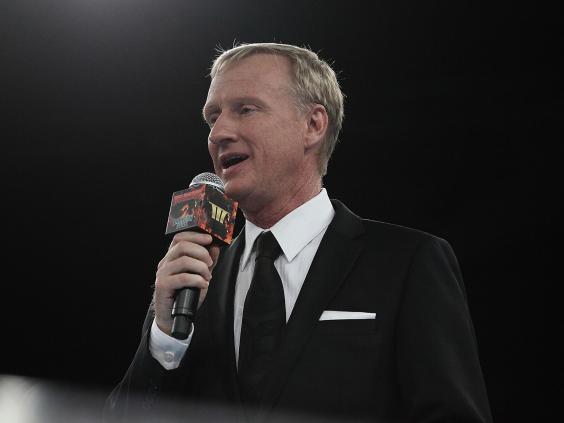 One of the great arts of being a boxing MC is to remain unflappable. This was epitomised by a doyen of the business, the late Chuck Hull. Announcing the Larry Holmes-Muhammad Ali fight at Caesars Palace, he called for silence "while Gladys Knight, of Gladys Knight and The Pips, sings our glorious national anthem." Immediately a shout came from the back of the arena: "Gladys Knight sucks!" "Nevertheless," intoned Hull. "She will still sing the national anthem."
Impressive Joyce on course to emulate Joshua at Olympics
One of the big successes of the pro-am World Boxing Series tournament –in every sense – is 6ft 6in super-heavyweight Joe Joyce, who has won all his four bouts while representing the British Lionhearts.
I like what I hear about the 29-year-old Londoner, who has a 2:1 University degree in fine arts and obviously paints a pretty good picture in the ring, having recently gone into the Havana backyard of the Cuban champion Lenier Pero and won.
That's some feat as no other WSB boxer has won in Cuba. A further victory in China last week puts Joyce well on the way to qualification for the Rio Olympics next year, where there is every hope he can emulate 2012 winner Anthony Joshua.
Butler's defeat was a massive shock – but he'll be back
To say I was disappointed at previously unbeaten Paul Butler's stoppage defeat by IBF world super-flyweight champion Zolani Tete in his home town of Liverpool last week, is an understatement. It was a massive shock.
I had confidently expected him to become an historic British two-weight world champion but he simply wasn't at the races on the night.
Did we underestimate Tete? I don't think so. I had seen him beaten before but Butler just couldn't get going. He never coped with the taller Tete's wide-legged stance and southpaw style and Butler never got into his usual rhythm.
But it is not the end of the world for the Merseysider. He still has one world title, at bantamweight and can come again. Unless you are Floyd Mayweather or Rocky Marciano, most champions suffer a setback and the most important thing is how you deal with it.
To subscribe to BoxNation go to: boxnation.com
Reuse content