Diplomatic exchanges are not normally associated with boxing but those that have been taking place between the long-estranged governments of the United States and Cuba may have a dramatic effect on the sport's future.
The apparent thawing of relations between the two countries may result in the lifting of travel and work restrictions which have prohibited many great stars of Cuban sport from turning professional.
Cuba has always produced great fighters since Fidel Castro's Communist government took power but it's been impossible for them to punch for pay without fleeing into exile.
The island had already relaxed its anti-pro stance sufficiently to enter a team, the Cuba Domadores (which fittingly translates as "ringmasters"), in the pro-am World Series Boxing. They are the defending champions, with a squad containing several Olympic prospects – who receive prize-money.
In the past Cuba produced great fighters who became world champions but had to defect to do so, sometimes by hopping on a boat or clinging to a raft for the risky crossing of the Florida Straits to Miami.
Now the word is that, under Fidel's more sports-friendly brother Raul Castro, this bar will gradually be lifted, and I believe eventually we may even see professional tournaments being staged in Havana.
The signs are good. Cuban émigrés already abound in boxing, names such as Guillermo Rigondeaux, Yuriorkis Gamboa, Yoan Pablo Hernandez and Rances Barthelemy featuring either as champions or high in the current world rankings.
Another of them, Richar Abril, will be here on 6 March to defend his WBA World lightweight title against Derry Mathews on a BoxNation-televised show in Liverpool. His story indicates how far Cuba may be softening its hardline attitude.
A former amateur with over 200 bouts, unlike those compatriots who can't return to Cuba he is still able to go back regularly from his home in Miami because the lanky counter-puncher won a lottery system which allows him to come and go freely.
Cuba, where the sport was prohibited until 1921, has one of the world's richest boxing histories with major stars such as Kid Chocolate, Kid Gavilan, Jose Napoles, Luis Rodriguez, Benny Paret, Sugar Ramos, Jose Legra and Florentino Fernandez.
The majority of fighters remained loyal to the Castro regime. The most illustrious was the late triple Olympic heavyweight champion Teofilo Stevenson, as handsome as Muhammad Ali with a more devastating punch. No wonder they called him Castro's right-hand man.
Great boxing rivalries
Great boxing rivalries
1/10 Muhammad Ali vs Joe Frazier – 1971, 1974 & 1975

Possibly one of the greatest rivalries of all time, not just in boxing but in any sport. These two titans met three times, with Ali taking home the spoils 2-1. The first was known as the 'Fight of the Century' in which two undisputed title holders came together, it ended with Frazier winning after 15 rounds via unanimous decision. The final fight was dubbed 'Thrilla in Manilla', where Ali retained all three of his heavyweight titles.

GETTY IMAGES

2/10 Joe Louis vs Max Schmeling – 1936 & 1938

Among two of boxing's most historical fights. With Schmeling's origins of Nazi Germany, these two represented something a little more than just two heavyweight boxers at their peak coming together. Louis was undefeated coming into the first fight while Schmeling already had 60 fights under his belt. The German won it with a 12th round knockout. By the time the pair met again, Louis had won the world Heavyweight title. It only took him one round to knock out Schmeling. Louis' performances gained him national recognition and became one of America's first African American heroes.

GETTY IMAGES

3/10 Micky Ward v Arturo Gatti – 2002, 2002 & 2003

The first time these two met proved to be The Ring Magazine's 'Fight of the Year'. A famous left hook body shot in the ninth brought Gatti to his knees and proved the deciding factor in the judges' decision. A rematch was agreed immediately with Gatti knocking Ward down in third, however the American managed to finish the fight before losing by decision. The final fight also won The Ring Magazine's fight of the year, Ward knocked down Gatti in the sixth, but before the referee could count to ten, the bell sounded. Gatti was able to come back and win via unanimous decision.

GETTY IMAGES

4/10 Nigel Benn v Chris Eubank – 1990 & 1993

In what was initially a fierce domestic rivalry, became one of world interest between these two British greats. Eubank was originally the challenger and began shouting out for Benn after only 10 fights. After winning his WBO middleweight title, Benn agreed to face Eubank. With each fighter saying they were going to knock the other one out, it was the challenger that actually did. With a technical knockout in the ninth round. The re-match was watched by half a billion people worldwide, with both defending titles it was so even, it ended in a draw.

GETTY IMAGES

5/10 Gene Tunney v Jack Dempsey – 1926 & 1927

Fighting twice, these bouts have gone down as two of the most famous in boxing history. Tunney won the first over 10 rounds via unanimous decision. The second is why these two were forever known in boxing history. In the seventh round Dempsey threw a flurry of punches to knock Tunney down for the first time in his career. The referee couldn't count until Dempsey had reached a neutral corner. He didn't oblige, buying Tunney valuable time. Tunney managed to rise at a time many say was over ten seconds. This is why the fight is known as the Long Count. Tunney went on to knock down Dempsey in the eighth and win by unanimous decision.

6/10 Manny Pacquiao v Juan Manuel Marquez – 2004, 2008, 2011 & 2012

One of the greatest modern day rivalries which will go on to be imprinted in boxing's history. Having fought four times to this day, Pacquiao has won two, Marquez one and the other being a draw. Marquez winning the most recent with a sixth round knockout, handing the Pac-Man back to back defeats. The Ring Magazine awarded it not only 'Fight of the Year' but also 'Knockout of the Year'.

7/10 Ken Norton v Muhammad Ali - 1973, 1973 & 1976

Ali's second defeat came to the man known as 'The Black Hercules'. In what was their first fight, Ali was the 5-1 favourite and had won 10 fights since his first lost to Frazier. Norton broke Ali's jaw in the fight, despite The Greatest carrying on, he lost on a split decision. Six months later, Ali avenged Norton winning also on a split decision and re-gaining his NABF Heavyweight title. The third and final fight was some three years later after Rumble in the Jungle, Ali won via unanimous decision.

8/10 Marco Antonio Barrera v Erik Morales - 2000, 2002 & 2004

Involving two of more modern days most famous Mexican boxers, the Barrera v Morales trilogy is a famous one, spanning over three different classes. Their first fight was in the super-bantamweight division with both holding titles. Morales won the first on a close split decision. Deciding to move up classes, Morales went to Featherweight, where again he met Barrera for a title match. This time Barrera won, in what was Morales' first ever career defeat. The third and final time they met was in the Super-Featherweight division, where again Morales lost and with it his WBC title.

GETTY IMAGES

9/10 Riddick Bowe v Evander Holyfield - 1992, 1993 & 1995

These two Heavyweight giants came together three times in a famous blockbuster conquest. In the first fight, Holyfield walked in with Lineal, WBC, WBA & IBF Heavyweight titles having beaten Buster Douglas and George Foreman. Bowe had never tasted defeat and to everyone's surprise, won via unanimous decision. The re-match went the distance with Holyfield winning on a split decision. This was Bowe's first and only career defeat. The third, unlike the other two, was ended after eight rounds when Bowe knocked out Holyfield.

GETTY IMAGES

10/10 Sugar Ray Leonard v Thomas Hearns – 1981 & 1989

These two first met in a heavyweight clash with both boxers' welterweight titles on the line. Ray Leonard known for his boxing skill, and Hearns for his vicious punching. The epic battle lasted 14 rounds before Leonard unleashed a series of punches, forcing the ref to stop the fight. The re-match, known as 'The War', had both fighters again holding titles, this time in the super-middleweight class. After 12 rounds of back and forth punishment, the fight was scored as a judge's draw. The two never fought again with Hearns moving to light-heavyweight.

GETTY IMAGES
He was around when Ali was at his peak in the Seventies – and what a fight that would have been! But instead Stevenson went into politics, rejecting massive offers to turn pro because he knew it would have meant defecting from his beloved homeland. He said: "What is one million dollars to the love of eight million Cubans?"
His successor, another three-times Olympic heavyweight champion, Felix Savon, similarly stayed amateur, as did the silky-skilled southpaw who pipped Amir Khan for the Olympic lightweight gold at the 2004 Athens Olympics, Mario Kindelan.
I suppose one question worrying the Cuban regime is how much professionalism might affect an Olympic boxing programme in which they have amassed 67 medals (34 golds). But no doubt they will have noted that Russia and its former satellite nations have not suffered too badly in this respect since opening up to professionalism – and also dominate many boxing divisions, from Wladimir Klitschko downwards.
So stand by, Michael Buffer. The Cubans are getting ready to rumble.
Eubank Jnr gets his chance while Golovkin takes it easy
Fans are asking me how come Chris Eubank Jnr is getting a world title fight before the man who defeated him when they fought in London last November, the reigning undefeated British and European champion Billy Joe Saunders?
Chris is fighting for an interim title, the WBA world middleweight belt held by Russia's Dmitry Chudinov, whom he challenges at London's O2 on 28 February.
For some governing bodies, if their current title-holder is injured or inactive then, rather than sit around for what could be up to a year, fighters below him in the rankings can contest an interim title.
VIDEO HIGHLIGHTS: SAUNDERS WIN OVER EUBANK JR
Chudinov is making his third defence of the belt he holds while Kazakhstan's thunder-punching Gennady Golovkin takes care of other business after his elevation to "super champ" by the WBA.
Meantime Saunders remains assured of his own title shot as the official No 1 contender to Ireland's new World Boxing Organisation champ Andy Lee.
Should Eubank Jnr and Saunders both win it sets up a possible scenario where, after their great split-decision scrap, they could have the return they both want with two versions of the world title on the line. That would be some showdown.
Terrestrial 
While I applaud the return of boxing to terrestrial television – for which I have long campaigned – it seems crazy ITV's live screening of the Carl Frampton's world super-bantamweight title fight in Belfast on 28 February to clash with the major show I am promoting at the O2 the same night. This features Tyson Fury and Eubank Jnr, a show I announced before Christmas.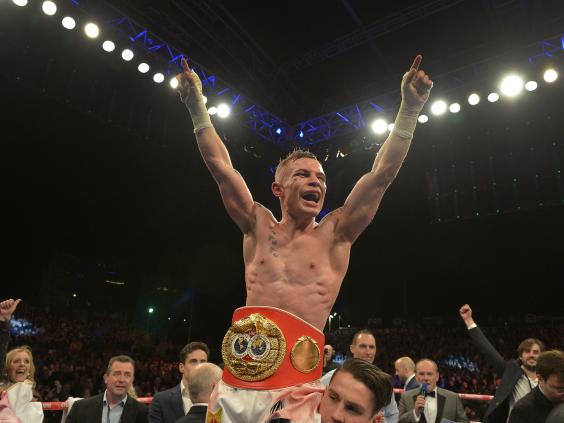 It is unfair that fight fans should have to choose between the two attractions and they lose out watching one of the events.  How can that benefit boxing?
To subscribe to BoxNation go to  www.boxnation.com