While traditionally it is boxing's heavyweights who hog the headlines here in Britain, the lightweights are coming on strong. The 9st 6lb division has rarely been healthier or busier, with a fistful of likely lads who are all contenders for world titles.
First up tomorrow night in a final eliminator for the WBO belt is Manchester's unbeaten Terry Flanagan. They call the 25-year-old "Turbo" because of his supercharged, full-throttle style. The English champion and Prizefighter winner challenges Dubliner Stephen Ormond for the WBO European lightweight title at Wolverhampton Civic Hall. Believe me, this could be the fight of the year.
America's reigning world champion Terence Crawford is expected to vacate the belt and move up to junior welterweight so Ormond or Flanagan will face Juan Diaz for the vacant title.
Then, on 6 March in Liverpool, popular Scouser Derry Mathews – who was outpointed by Ormond in a thriller just over a year ago – gets his WBA title chance against the slick Cuban holder Richar Abril.
Another Mancunian, Anthony Crolla, awaiting full recovery from the injuries sustained when tackling thieves robbing a neighbour's house, has stepped aside but remains in line to meet the winner.
WATCH: Flanagan vs Gethin highlights
Completing this intriguing ring of roses is Londoner Kevin Mitchell, who earned a third shot at a world title, the WBC version, with his impressive stoppage of Daniel Estrada last month. Hopefully more mature at 30, he won't be found as wanting this time when he steps up in class as he was in his previous feeble title challenges against Michael Katsidis and Ricky Burns.
Tyson was part legend, part lout – but didn't scare Buster
Perhaps more than any other sport, boxing loves to feed off its anniversaries and the one this week which celebrates – if that's the appropriate word – the bizarre happening in Tokyo 25 years ago when Iron Mike Tyson went into meltdown certainly whets the appetite of fans and fighters alike.
The sight of the self-styled baddest man on the planet suffering one of the most ignominious defeats in boxing history to James "Buster" Douglas, handpicked as an easy touch and quoted by the only casino in Las Vegas willing to accept bets at 42-1 against, remains arguably the biggest upset the sport has known.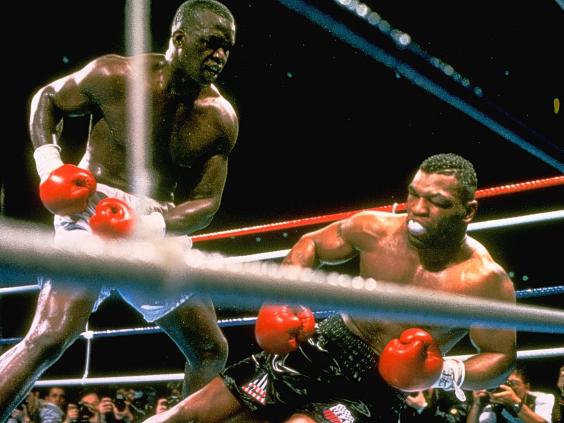 When, in the 10th round, a belaboured, bewildered and crushed Tyson was sent crashing to his knees, it was the moment his career went into terminal decline. Big Buster, the hapless no-hoper, had punched a hole through his supposed invincibility.
A floored genius indeed, with the world left to wonder in the years that followed whether his epitaph would be that of a legend or a lout. In my book, a bit of both.
Tyson was a bully and, like all bullies, it was inevitable that he would come unstuck. Significantly, all his defeats came against opponents he couldn't mentally intimidate.
Usually he put the frighteners on them before a punch was thrown, scaring some of them stiff, as he appeared to do with Michael Spinks and Frank Bruno. Douglas turned out to be one guy who wasn't fazed by Tyson's fearsome reputation.
Four other men went on to beat Tyson after that debacle in the Tokyo Dome. One was Britain's Danny Williams, who I then managed. Before they fought in Louisville, Kentucky, in July 2004, I told Williams: "You will be a massive, massive underdog but take him past two rounds and he'll blow up. He'll be dead on his arse."
Great boxing rivalries
Great boxing rivalries
1/10 Muhammad Ali vs Joe Frazier – 1971, 1974 & 1975

Possibly one of the greatest rivalries of all time, not just in boxing but in any sport. These two titans met three times, with Ali taking home the spoils 2-1. The first was known as the 'Fight of the Century' in which two undisputed title holders came together, it ended with Frazier winning after 15 rounds via unanimous decision. The final fight was dubbed 'Thrilla in Manilla', where Ali retained all three of his heavyweight titles.

GETTY IMAGES

2/10 Joe Louis vs Max Schmeling – 1936 & 1938

Among two of boxing's most historical fights. With Schmeling's origins of Nazi Germany, these two represented something a little more than just two heavyweight boxers at their peak coming together. Louis was undefeated coming into the first fight while Schmeling already had 60 fights under his belt. The German won it with a 12th round knockout. By the time the pair met again, Louis had won the world Heavyweight title. It only took him one round to knock out Schmeling. Louis' performances gained him national recognition and became one of America's first African American heroes.

GETTY IMAGES

3/10 Micky Ward v Arturo Gatti – 2002, 2002 & 2003

The first time these two met proved to be The Ring Magazine's 'Fight of the Year'. A famous left hook body shot in the ninth brought Gatti to his knees and proved the deciding factor in the judges' decision. A rematch was agreed immediately with Gatti knocking Ward down in third, however the American managed to finish the fight before losing by decision. The final fight also won The Ring Magazine's fight of the year, Ward knocked down Gatti in the sixth, but before the referee could count to ten, the bell sounded. Gatti was able to come back and win via unanimous decision.

GETTY IMAGES

4/10 Nigel Benn v Chris Eubank – 1990 & 1993

In what was initially a fierce domestic rivalry, became one of world interest between these two British greats. Eubank was originally the challenger and began shouting out for Benn after only 10 fights. After winning his WBO middleweight title, Benn agreed to face Eubank. With each fighter saying they were going to knock the other one out, it was the challenger that actually did. With a technical knockout in the ninth round. The re-match was watched by half a billion people worldwide, with both defending titles it was so even, it ended in a draw.

GETTY IMAGES

5/10 Gene Tunney v Jack Dempsey – 1926 & 1927

Fighting twice, these bouts have gone down as two of the most famous in boxing history. Tunney won the first over 10 rounds via unanimous decision. The second is why these two were forever known in boxing history. In the seventh round Dempsey threw a flurry of punches to knock Tunney down for the first time in his career. The referee couldn't count until Dempsey had reached a neutral corner. He didn't oblige, buying Tunney valuable time. Tunney managed to rise at a time many say was over ten seconds. This is why the fight is known as the Long Count. Tunney went on to knock down Dempsey in the eighth and win by unanimous decision.

6/10 Manny Pacquiao v Juan Manuel Marquez – 2004, 2008, 2011 & 2012

One of the greatest modern day rivalries which will go on to be imprinted in boxing's history. Having fought four times to this day, Pacquiao has won two, Marquez one and the other being a draw. Marquez winning the most recent with a sixth round knockout, handing the Pac-Man back to back defeats. The Ring Magazine awarded it not only 'Fight of the Year' but also 'Knockout of the Year'.

7/10 Ken Norton v Muhammad Ali - 1973, 1973 & 1976

Ali's second defeat came to the man known as 'The Black Hercules'. In what was their first fight, Ali was the 5-1 favourite and had won 10 fights since his first lost to Frazier. Norton broke Ali's jaw in the fight, despite The Greatest carrying on, he lost on a split decision. Six months later, Ali avenged Norton winning also on a split decision and re-gaining his NABF Heavyweight title. The third and final fight was some three years later after Rumble in the Jungle, Ali won via unanimous decision.

8/10 Marco Antonio Barrera v Erik Morales - 2000, 2002 & 2004

Involving two of more modern days most famous Mexican boxers, the Barrera v Morales trilogy is a famous one, spanning over three different classes. Their first fight was in the super-bantamweight division with both holding titles. Morales won the first on a close split decision. Deciding to move up classes, Morales went to Featherweight, where again he met Barrera for a title match. This time Barrera won, in what was Morales' first ever career defeat. The third and final time they met was in the Super-Featherweight division, where again Morales lost and with it his WBC title.

GETTY IMAGES

9/10 Riddick Bowe v Evander Holyfield - 1992, 1993 & 1995

These two Heavyweight giants came together three times in a famous blockbuster conquest. In the first fight, Holyfield walked in with Lineal, WBC, WBA & IBF Heavyweight titles having beaten Buster Douglas and George Foreman. Bowe had never tasted defeat and to everyone's surprise, won via unanimous decision. The re-match went the distance with Holyfield winning on a split decision. This was Bowe's first and only career defeat. The third, unlike the other two, was ended after eight rounds when Bowe knocked out Holyfield.

GETTY IMAGES

10/10 Sugar Ray Leonard v Thomas Hearns – 1981 & 1989

These two first met in a heavyweight clash with both boxers' welterweight titles on the line. Ray Leonard known for his boxing skill, and Hearns for his vicious punching. The epic battle lasted 14 rounds before Leonard unleashed a series of punches, forcing the ref to stop the fight. The re-match, known as 'The War', had both fighters again holding titles, this time in the super-middleweight class. After 12 rounds of back and forth punishment, the fight was scored as a judge's draw. The two never fought again with Hearns moving to light-heavyweight.

GETTY IMAGES
I knew he was shot, and that's how it turned out. He threw everything at Williams for a torrid round and a half and blew himself out. Danny then did a job on him, stopping him in four rounds. I'll be honest, I'd had my own well-documented issues with Tyson and seeing my man do a number on him did my old heart good.
Tyson was an enigma. I wouldn't go so far as to say he was a schizophrenic but there certainly was a deeply disturbing element of the Jekyll and Hyde about him.
I'm ready to arrange Fury v Wilder in a heartbeat
New WBC heavyweight champ Deontay Wilder has again publicly declared that he fancies Tyson Fury as his next opponent. Instead of calling him out, Wilder should get his people to call me and we'd make this fight in a heartbeat once Fury has dealt with Christian Hammer at the O2 on 28 February. As that great American referee Mills Lane (he's the man who ejected the other Tyson after he spat out Evander Holyfield's shell-like, by the way), used to say: "Let's get it on!"
To subscribe to BoxNation go to www.boxnation.com
Reuse content