It has been a long and rocky road from Beijing 2008 to Boston 2015 for James DeGale, but he is finally on the cusp of making history as the first British Olympic boxing champion to convert his gold medal into a world professional title.
Next Saturday, the 29-year-old Londoner locks southpaw fists with American Andre Dirrell in New England for the vacant IBF world super-middleweight belt, pocketing a £1 million purse.
But while he yearns for that title, DeGale says that what he wants more than anything is to be loved in what he calls the hardest and loneliest sport in the world. 
"I'd like to think that once I win this title I will be appreciated," he told The Independent on Sunday before leaving for a training base in Miami last week. "It's been a hell of a battle. Remember my first pro fight when I was booed? That was embarrassing and stupid. I guarantee they won't be booing me now."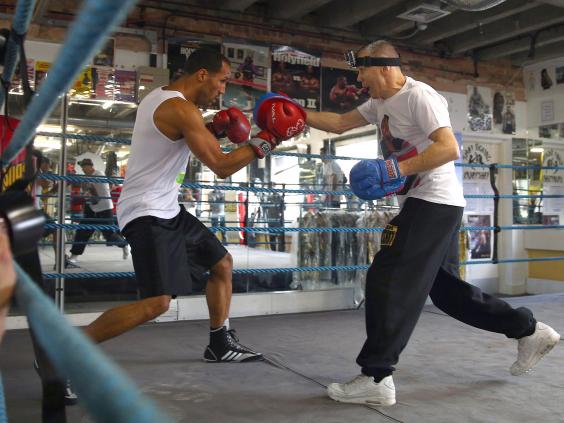 Despite being Britain's golden boy, he had an in-out relationship with the fans. A self-assured attitude, sometimes bordering on cockiness, has not helped, especially in the acrimonious build-up to his 2011 bout with George Groves, a bitter rival from their amateur days.
"I was a bit flash and up myself back then," he admits. "Now my time is finally here – it has been a long seven years as a professional. You've seen me grow up. I'm 29 now, I've got more important things to think about than playing silly sods."
When "Chunky" DeGale controversially lost a split decision to Groves for the only time in his  21-bout professional career it was a wind-sapping blow to his pride.
Hubris took a bad tumble that night, as well as his British title. "Losing was bad enough," he explains, "but losing to George Groves? The thought of it still makes me sick to the stomach."
DeGale says he can sympathise with those fighters who allow themselves to be driven towards despondency. Sympathise, but not identify. Yet after winning the European title, his career took a downward spiral even though, plagued with knee and groin injuries, he continued to win against relatively nondescript opposition, boxing in backwaters, including Kent's Bluewater shopping centre and in a Bristol leisure centre.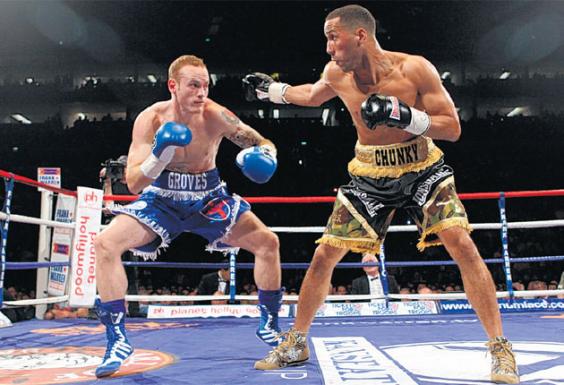 "I thought to myself 'Hell, what the fuck are you doing here? You're the Olympic champion for Christ's sake!' It was hard to get motivated. I had some depressing moments when I was thinking 'Do I need this in my life?'"
But last year he came out of the shadows fighting, signing with Eddie Hearn's Matchroom stable and appearing in the chief supporting bout on the 80,000 sell-out Wembley show featuring the Carl Froch-Groves blockbuster in a final eliminator for the IBF title that Froch has since vacated. "Now my career and my life are back on track and I am obsessed with making history."
Of those darker moments, he confesses: "Sometimes I wished I was good at something else. It's madness. People, don't realise what boxers go through. There are many cases of retired boxers getting depression. Look at Frank Bruno. I can half see it, because of the lonely, mental side.
"Don't be bamboozled by all that Mayweather-Pacquiao stuff. It is not all glitz and glamour and bundles of cash. Boxing is not only the loneliest sport in the world, it's the hardest. Painful in the ring and out. Real cut-throat, worse than showbiz for the backstabbing and bitching. Honestly, you've got to look out for yourself with all the hangers-on around.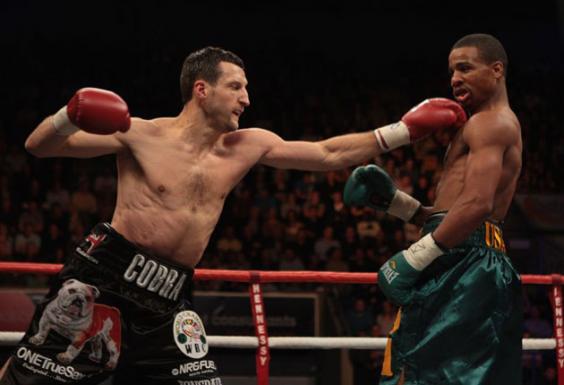 "There are some dodgy characters who will screw you over. I've been a pro for seven years and I don't trust anyone in boxing.
"I'm lucky, I've got my family and a good team around me, people that advise me with money and that, otherwise I'd be skint. I've got nice cars, money in the bank, my mum's got no mortgage. I couldn't retire now and not work again, but I want to one day, and hopefully with all my faculties intact.
"I've been paid well since day one, but when some boxers tell me what they are getting it's crazy. I just don't see how they can make ends meet. I know of some who are on the breadline.
"Even fighting for a British title you might get £25,000 top whack, maybe just £10,000 in some cases, less if you are down the bill. Say two of them a year. When you pay tax, your manager, trainer, cornermen and training expenses, its nothing if you have to run a family. You can't live like that.
"There are very few boxers who don't have to worry about money. I read that only seven per cent of fighters can retire after their careers and not work again. Compare that to footballers. It's crazy, man."
Even though DeGale himself will earn just over £1m for the fight, he claims: "You know, I'm not joking, a million pound don't go far. They take 30 per cent tax off me before I leave the country. I've got to come back and pay people, put a deposit down on a house, treat myself, then I've only got a couple of hundred grand. A million pound is nothing. I've spent it already."
The fight will start around 5pm locally because of TV scheduling in the UK. But DeGale knows this will be no Boston tea-time party.
"But it's a lot of pressure and I'm up against it with Dirrell. He's a good fighter, an Olympic medallist from 2004, a tricky switch-hitter. I reckon the second half of the fight is going to be hard and a bit dirty. I can't wait to get out there and stick one on him."
Hopefully, he will prove a talisman to all those British fighters who have won an Olympic gold medal only to fall short after turning professional. "I can't let this chance slip," he says, "I just can't."
Reuse content