Anthony Joshua is just days away from a world heavyweight title fight with Wladimir Klitschko in front of the largest British boxing crowd for nearly 80 years but the Briton says he would rather be facing former champion Tyson Fury.
Fury beat Klitschko in 2015, handing the Ukrainian his first loss in 11 years, to become the IBO, WBA, IBF and WBO champion.
However, he relinquished his titles the following year after his license was suspended pending investigation for doping and medical issues.
Anthony Joshua's career in pictures
Anthony Joshua's career in pictures
1/20 Anthony Joshua's career in pictures

After 19 professional fights, Anthony Joshua boasts an unblemished career record

Getty

2/20 Emanuele Leo, TKO (R1) 2:47

In his first fight since turning professional, 23-year-old Joshua floored Emanuele Leo in a vicious two minutes and 47 second rout.

Getty

3/20 Paul Butlin, TKO (2) 0:50

Joshua's needed only two rounds to see off Paul Butlin in his second professional fight when the referee called an end to the tie 50 seconds into the second round.

Getty

4/20 Hrvoje Kisicek, TKO (2) 1:38

It was yet another second-round stoppage victory for Joshua, knocking out veteran Hrvoje Kisicek after a fiery flurry of punches on the ropes.

Getty

5/20 Dorian Darch, TKO (2) 0:51

Joshua demolished fellow Brit, Dorian Darch, landing multiple crisp blows in the opening minutes and leaving him the referee no choice but to put an end to the fight.

Getty

6/20 Hector Avila, (KO) 1 2:14

Joshua needed a mere 134 seconds to see off the challenge of Hector Avila in Glasgow and clock up his fifth win without defeat.

Getty

7/20 Matt Legg, KO (1) 1:23

Matt Legg was the next victim of Joshua's phenomenal run. A venomous uppercut to the chin floored Legg in only 83 seconds.

Getty

8/20 Matt Skelton, TKO (2) 2:33

Needing less than six minutes, Joshua delivered his trademark blow to 47-year-old veteran Matt Skelton taking his tally to seven on the trot.

Getty

9/20 Konstantin Airich, TKO (3) 1:16

Konstantin Airich became the next victim of Joshua's brutal run of fights. A third round TKO ended any chance of Airich spoiling the party.

Getty

10/20 Denis Bakhtov, TKO (2) 1:00

Joshua claimed the WBC International heavyweight title by destroying Denis Bakhtov in within two rounds showing he is one of the most exciting prospects in world boxing.

Getty

11/20 Michael Sprott, TKO (1) 1:26

Joshua needed less than 90 seconds to blast out veteran Michael Sprott and record his 10th successive knockout.

Getty

12/20 Jason Gavern, KO (3) 1:21

On this return to boxing, Joshua demolished American Jason Gavern in three rounds, flooring him four times in the process.

Getty

13/20 Raphael Zumbano Love, TKO (2) 1:21

Another second round knockout brought Joshua's up to 12-0 as he flattened Brazilian Raphael Zumbano Love.

Getty

14/20 Kevin Johnson, TKO (2) 1:22

American 36-fight veteran Kevin Johnson proved to be no match for Joshua who needed only 2 rounds to walk away with another knock out

Getty

15/20 Gary Cornish, TKO (1) 1:37

Joshua stopped Gary Cornish in 90 seconds to win the Commonwealth heavyweight title to the delight of The O2.

Getty

16/20 Dillian Whyte, KO (7) 1:27

Joshua battled to beat Dillian Whyte but eventually prevailed with a seventh round knockout, becoming the British heavyweight champion.

Getty

17/20 Charles Martin, KO (2) 1:32

Charles Martin hit the canvas twice as Joshua cruises through to claim the IBF world heavyweight title.

Getty

18/20 Dominic Breazeale, TKO (7) 1:01

Joshua defended his IBF world title in a seventh round stoppage win over Dominic Breazeale to continue his unstoppable run to the top.

Getty

19/20 Éric Molina, TKO (3) 2:02

And then it was 18! Joshua confirmed his tie with Wladimir Klitschko after thumping Éric Molina in three rounds, completing the defence of his IBF heavyweight title.

AFP/Getty

20/20 Wladimir Klitschko, TKO (11)

Faced by one the greatest heavyweight boxers of all-time Joshua produced an all-time performance, climbing off the mat after being knocked down in the sixth to power back and stop Klitschko with a violent barrage in the 11th round to earn the finest win of his young career

Getty
Joshua, who became the IBF world heavyweight champion after beating Charles Martin in April 2016, is unbeaten in 18 bouts and will fight Klitschko, who has not fought professionally since his loss to Fury, at Wembley on April 29.
"I think Tyson Fury is the biggest fight for me," Joshua told British media from his training camp in Sheffield.
"If it were up to me, that would have been the fight happening this summer ... I was planning for a massive showdown with Tyson Fury, but he had other plans and I just had to carry on. When he returns, I'm sure I'll still be here."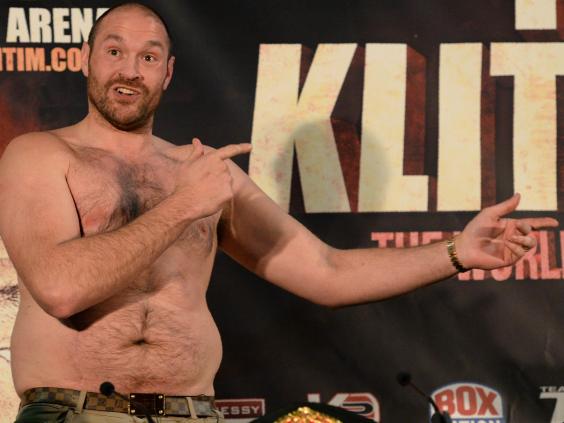 Joshua and Fury traded barbs on Twitter last week after the former champ called Joshua "a poor man's Frank Bruno," a reference to the former British WBC and European heavyweight champion.
"Twitter is about communication and it's just communicating," Joshua said. "He addresses me and Tweets me quite often and I was just in the frame of mind where I thought me and Klitschko don't have much verbals, so let me respond to Fury."
Joshua added that fury's "Bruno" jibe showed a lack of respect.
"If he's an all-time great then why is he worrying about who is behind him? You should focus on your future," the 27-year-old said.
"If I was the greatest of all time I would never worry about who is behind me. I'm leading the way."
Reuse content