Manny Pacquiao has made a triumphant return to the Philippines, taking to a motorcade vehicle resembling something from the new Mad Max movie, following his fight with Floyd Mayweather.
The southpaw was wearing a sling on his right arm following shoulder surgery on a torn rotator cuff suffered prior to his unanimous points decision loss to the American in the heavily hyped fight in Las Vegas on May 2.
After his arrival, Pacquiao was taken on a motorcade through Manila, where thousands of fans lined the streets to greet their favourite sporting son.
The 36-year-old waved with his good arm from the truck that was adorned with his image as it fought its way through the packed streets.
TINGNAN: Motorcade ni Pacquiao sa Makati-Maynila http://t.co/2Od9nOlbcR pic.twitter.com/gpq6mzr2fU via DZMM

— PHILIPPINE NEWS (@BalitaNgayon) May 13, 2015
Pacquiao's motorcade to go around Makati, Manila, and Pasay #WelcomeHomeManny | via @mavgonzales pic.twitter.com/YWocGJ2d5h

— PIA-NCR (@PIA_NCR) May 13, 2015
Pacquiao greets fans during motorcade in Manila | Photo via Jonathan Cellona, http://t.co/mFv4IWXrrp pic.twitter.com/fGDNBXkAi3

— Donita (@roseclarete) May 13, 2015
Motorcade ni Pacquiao kasalukuyan ng nasa Taft, Manila. #PusongPacquiao pic.twitter.com/QMRrmdvTKM

— Renz Ongkiko (@RenzONews) May 13, 2015
The Pacquiao motorcade is happening now! Photo via Inquirer pic.twitter.com/5r3RyjwM9C

— Coconuts Manila (@CoconutsManila) May 13, 2015
The vehicle on which Pacquiao has travelled was compared by some to a vehicle that could have appeared in the Mad Max franchise.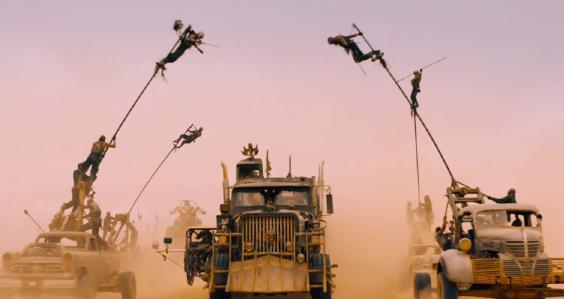 The Filipino, smiling for photographers, told reporters at Manila Airport his focus was not on boxing for now.
"I haven't discussed with anyone about my next fight. My focus right now is my shoulder recovery and to make it 100 percent okay, and my focus is on my congress work and family," he said.
The Sarangani congressman was evasive when asked if he would seek a higher position in the government, possibly a veiled method of trying to discover if he was contemplating retirement from the sport to further political ambitions.
"I haven't thought about it, but you know, God's plan is higher than our plan. His thought is higher than our thought, so who can say?" he said.
Pacquiao's record slipped to 57-6-2 following the Mayweather defeat.
Additional reporting by Reuters
Reuse content