Floyd Mayweather has insisted that he is giving the people what they want by agreeing to a crossover fight with two-weight UFC world champion Conor McGregor.
Earlier this week it was announced that Mayweather, 40, would come out of retirement to fight with 28-year-old McGregor in a 12-round boxing match, on August 26.
The announcement made headlines around the world and stands to make both man upwards of $100m. But the fight has been ridiculed in boxing circles, with Carl Froch describing it as a "pantomime" and Ricky Hatton declaring he was "not a fan of it."
However, Mayweather has insisted that he took the fight because people around the world had demanded it.
"McGregor is a tough competitor. People all around the world demanded this fight so I had to give them what they wanted to see," Mayweather is quoted as saying by sports website BlackSportsOnline.com.
"They asked for this fight. I was in retirement, but they wanted me back and I'm back."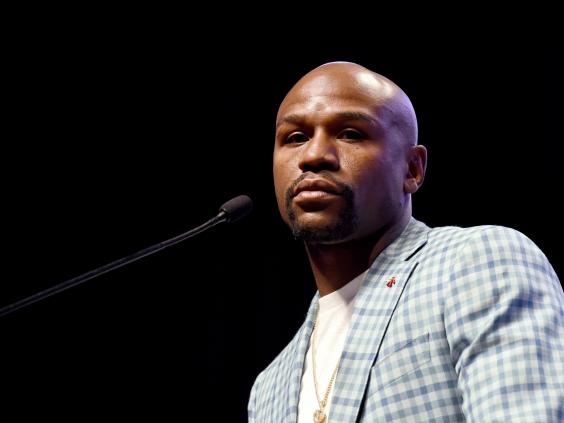 Mayweather will be looking to extend his career record to 50-0 when he takes on McGregor, who has never boxed professionally.
"He's very happy, I'm very happy and I can't wait," added Mayweather.
"You're supposed to stand behind your man. Stand behind the fighter that you believe in."
Mayweather vs McGregor: From trash-talk to super-fight
Mayweather vs McGregor: From trash-talk to super-fight
1/18 From trash-talk to super-fight

Just how did an appearance on late-night show Conan and a rumbling Twitter feud turn into the biggest fight the sport of boxing has ever known.

Here, we tell the story of how the trash-talk turned into a super-fight.

Getty Images

2/18 McGregor appears on Conan

"If you're asking would I like to fight Floyd Mayweather, I mean, who would not like to dance around the ring for $180m?" McGregor replied to a playful question from late-night host Conan O'Brien, in July 2015, on whether he would ever be tempted into switching sports.

"I would certainly box him if the opportunity arose," he smiled.

"Most certainly."

3/18 Mayweather's observation

Mayweather then rekindled the speculation, that December. In an interview with FightHype on the worldwide adulation McGregor had received for knocking out Aldo in just 13 seconds, the American complained that he would never receive such acclaim from the public because of the colour of his skin.

"They say he talk a lot of trash and people praise him for it, but when I did it, they say I'm cocky and arrogant," Mayweather observed.

"So biased! Like I said before, all I'm saying is this, I ain't racist at all, but I'm telling you racism still exists."

Getty Images

4/18 "I am an Irishman"

This time, it didn't take the other man the best part of half a year to respond. "Don't ever bring my race into my success again," McGregor commented in a long Instagram post, the very next day.

"I am an Irishman. My people have been oppressed our entire existence. And still very much are. I understand the feeling of prejudice. It is a feeling that is deep in my blood … If you want we can organise a fight no problem. I will give you a fair 80/20 split purse in my favour seen as your last fight bombed at every area of revenue."

A feud was born.

5/18 McGregor 'retires'

As interest in a fight with Mayweather began to increase, McGregor threatened to retire not just from MMA, but from sport altogether.

UFC president Dana White announced that the promotion has pulled McGregor from the main event at UFC 200, because of his refusal to participate in mandatory media duties. McGregor's response?

"I have decided to retire young. Thanks for the cheese. Catch ya's later."

6/18 Scoop

Things came to a boil in May 2016. British tabloid The Sun reported that the two men were "on the verge" of agreeing to a deal, with an unnamed source telling the paper that "Floyd is obsessed with making Conor eat his words".

The story attracted so much attention that Dana White, the president of the UFC, felt compelled to finally address the situation. He laughed off suggestions the super-fight would ever take place, instead pointing out that McGregor was contracted to the UFC, and would thus be in breach of contract should he attempt to organise a fight himself away from the confines of the Octagon.

AFP/Getty Images

7/18 Battle of the photoshopped posters

White's comments appeared to spur both men into action. First McGregor tweeted a mocked up fight poster with the caption 'MMA vs Boxing'...

Getty Images

8/18 Battle of the photoshopped posters

... before Mayweather responded with an effort of his own (it wasn't quite as good).

Mayweather insisted began to insist a fight was "possible". Then he told a journalist that he was a retired man and would only countenance returning to professional sport in order to fight McGregor. And then he pressed the nuclear button, offering the Irishman just $50m to fight him in what people were already describing as a billion-dollar bout.

Getty Images

9/18 Leonard Ellerbe puts his foot down

Hold the hype. Just as things were beginning to heat up, Mayweather's promotions head, Leonard Ellerbe, poured cold water on the prospective fight, insisting it was "a calculated effort by McGregor to gain more fans".

Getty Images

10/18 Mac gets personal

In an attempt to get discussions back on track, McGregor got personal.

"Call me CJ Watson!" he tweet, with a cartoon of him standing triumphantly above a knocked out Mayweather.

The caption was explosive: Mayweather was sent to prison in 2010 for the assault of his then-girlfriend. He was reportedly angry about text messages she had received from NBA star CJ Watson.

Getty Images

11/18 White rebuffed

At this point in the saga the president of the UFC, Dana White, reenters the fray.

Having previously insisted that the fight was a non-starter, he suddenly proposed a deal: $25m for each fighter, with the complicated PPV splits to be patiently worked out at a later date.

"He's a f***ing comedian," Mayweather replied.

Getty Images

12/18 In February 2017...

... McGregor arrived in Las Vegas, to much excitement.

Mayweather tweeted the following.

Getty Images

13/18 Conor's response

McGregor's response to Mayweather's short statement was brutal and to the point.

"I am in Las Vegas. Floyd has retired on my arrival," he observed.

14/18 Conan's back!

Without Conan O'Brien the biggest fight in the history of boxing would still be a daydream.

In March he invited Dana White onto his show, who said the following.

"I do think it's gonna happen. I think it's going to be a tough deal because obviously [there are] a lot of egos involved in this deal and a lot of people, so that always makes it tougher.

"On the flip side, there's so much money involved. I just don't see how it doesn't happen."

15/18 Conor and Conlan

McGrgor was in New York to support Belfast boxer Michael Conlan in his professional debut against Tim Ibarra in March.

But the spotlight quickly sought him out. He reminded everyone that an announcement was imminent by shouting furiously into the face of ESPN boxing reporter Dan Rafael: "I AM BOXING!"

Getty Images

16/18 Fine downgraded

On March 22, an outstanding fine McGregor had with the Nevada Athletic Commission was downgraded, paving the way for the Irishman to obtain his necessary boxing license.

Getty Images

17/18 McGregor confirms

On Wednesday 14 June, the fight was finally confirmed by both men.

"THE FIGHT IS ON," McGregor posted on Twitter, along with a mocking picture of himself side-by-side with Floyd Mayweather Snr.

18/18 Mayweather confirms

"It's official!" replied Mayweather on Instagram, along with a short promotional video confirming the involvement of Showtime.

Getty Images
Hatton is one of those to have criticised the fight, with the former light-welterweight and welterweight world champion tipping Mayweather to win every single round.
Hatton, who was stopped by Mayweather in the 10th round when the pair met in Las Vegas in 2007, predicts the American could win every round, although he concedes that there could be plenty of entertainment.
"I cannot say I'm a fan of it," Hatton told BBC Radio 5 live's Sportsweek programme.
"I'm a fan of UFC, a fan of McGregor - he's got character, he's exciting, entertaining, value for money. I hope I don't upset any Irish fans or Conor, but I can't get excited about this fight one bit.
"It's going to be great entertainment - that's the most complimentary I can be about it. It's two different sports.
"When I look at some of the people Mayweather has beaten like Saul Alvarez - he's not going to be as big a puncher as Alvarez, and he couldn't lay a glove on him.
"I feel embarrassed to say this but I'd be very surprised if (McGregor) wins a round."
Reuse content