George Groves will walk up Wembley Way Saturday afternoon, glance at the towering stadium and turn right to enter the back of the refurbished Arena for a crucial fight.
"It's been a long, long summer," Groves said. "I'm trying to forget May, that's for sure." In May, Groves was knocked out by Carl Froch in front of 80,000 at the stadium, entering on the top deck of a bus and walking away 30 minutes later in total shock.
"I have watched that fight nine times and it gets harder each time," continued Groves. "It was all going so well, I was doing what I wanted and was ready to push on. Then it happened." After a couple of days of almost constant viewing, the fight was consigned to history and Groves packed his bag and went off for some early-summer sparring in America.
"I was never going to be one to just go away quietly and get on with things in the shadows," said Groves. "You can be the best fighter in the world but you need a dance partner, and if you think about the crowd at Wembley and why they were there – there was no way that I was ready to vanish."
On Saturday Groves meets a decent Frenchman called Christopher Rebrasse for the European super-middleweight title and should get about seven rounds which, after back-to-back stoppage losses in world title fights, is the perfect remedy for a fighter looking for a tiny cure.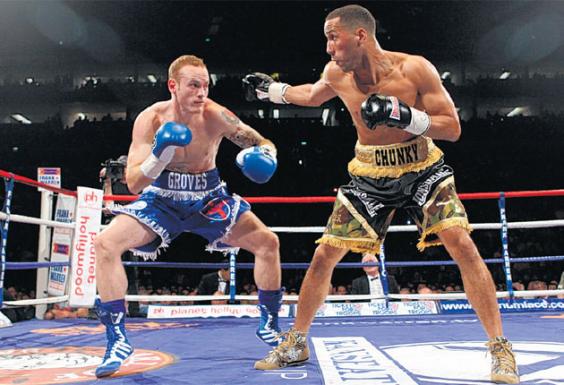 Groves would also like, at some point, another chance to beat Froch, which is looking increasingly unlikely with the Nottingham fighter still prancing around in Lycra on BBC's Tumble and making no plans to fight this side of Christmas. When Froch does fight, it is looking increasingly likely that he will meet James DeGale, the Beijing Olympics gold medal winner and mandatory challenger for the IBF portion of the title that he holds.
It is possible that Froch, a man incapable of concealing his raw emotions, dislikes DeGale more than Groves, but he is being made to see the sense – most of it financial – in fighting DeGale in London and not going off on a vanity mission to fight in Las Vegas. DeGale and Groves, who have known each other since they were small boys, share an endearing hate for each other and any repeat fight – they met in front of 20,000 at the O2 in 2011, with Groves a wafer-thin winner – would be an enormous event if one or more world titles were available.
Groves, Froch and DeGale will all be in super-middleweight world title fights during the next six months and a week tomorrow Liverpool's Paul Smith will fight for the WBO version in Germany against Arthur Abraham. Smith, who has lost to both DeGale and Groves, has a chance against the erratic Armenian and that would put him in a strong position – and British super-middleweights back to where they were 20 years ago.
Chris Eubank, Nigel Benn and Robin Reid dominated the super-middleweight division in the early to mid-Nineties and from 1997 Joe Calzaghe started his 10-year reign. At the time, Yorkshireman Henry Wharton was cast in the Groves role as the leading contender and he fought Eubank, Benn and Reid in world-title fights, losing all three on points during a three-year period. All three fights were close and Benn admitted he would never give Wharton a rematch. Wharton left the ring in 1998, opened a Fish and Chip shop called Henry's Plaice for a bit, then a gym two years ago. He also survived being run over in an assault and a machete attack; this month his book, Henry's Dream, was published.
When Wharton got a copy of the book, he cried reading the first chapter and I'm not surprised, the book is as open and brutal as Wharton was in the ring. "I was never the same after the Eubank fight," Wharton told me. "I left something in the ring that night and so did he. That is what fighting for a world title is all about." If Groves needs any wise words, any inspiration he should spend £14.99 chasing his dream and read Wharton's book.
Reuse content