It has been nearly 20 years since the ban on women boxing in Britain was lifted and the first amateur contests started taking place involving a tiny group of competitors.
In 1996 the amateur authorities in Britain finally let women fight, the professionals following suit two years later when Jane Couch knocked out a hapless flapper called Simona Lukic at the old Cat's Whiskers club in Streatham, south London. There were men in the boxing business back then who urged women to go it alone, set up their own commission and stay away from them; the women boxing in America on big professional bills at the time were often rubbish and some type of quality control was part of the ancient thinking. On Las Vegas shows there were famous daughters, famous strippers and a couple of genuinely good fighters, but it was still operating just above a freak show.
An attempt in the early Nineties to launch professional women's boxing in Britain by Sue Atkins, a landscape gardener, had ended in brave failure. Atkins had tried to put on legitimate shows, which often took place above pubs in London. However, the soft-porn industry had lapped it up, wrapping her genuine efforts in softly-lit pictures and filling pages of their magazines with "fight" reports; it was a sordid start for the new sport and, Atkins aside, the men involved were a grubby rabble of clowns.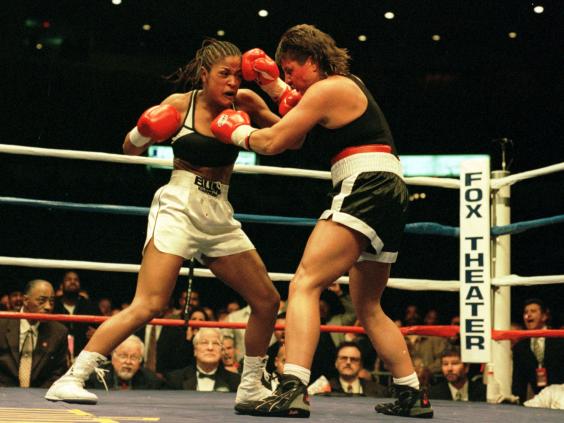 The sport needed the amateur system to prosper and there had to be a competitive edge to balance the chaos of Laila Ali's one-sided contests and the farce of opponents showing up for fights on major cards heavily pregnant. The first World Amateur Championships took place in 2001 in America, the second the following year and then there was a three-year break; women's amateur boxing was still in the wilderness less than a decade ago.
"It took a long time for us to change from being female boxers to boxers," said Jacqui-Lee Pryce, a pioneer and survivor from the dark days. "There were mixed sessions at the [Crystal] Palace in the late Nineties; good boxers like Audley Harrison and David Haye were the stars. They encouraged us, but that all seems like such a long, long time ago."
Pryce started to box at the Fitzroy Lodge Club in south London alongside Mick Carney, who did so much to encourage female boxers. This was a long time before the ban was lifted and she has been a coach since 2000 – three nights each week she is at the Islington Boxing Club, in north London, which officially has more members than any other club in Britain. 
"There are now about 20 women of all ages with cards at Islington," said Pryce. "Some are girls, coming through the club's system, and some join when they are adults – all levels, all backgrounds, just like the boys and men." Having a "card" means that you actually fight and are not just there for the exercise.
When the ban was lifted in 1996 there was a ridiculous charge all over the country by the media to witness the first officially sanctioned women's amateur contest. There would be rumours that a girl in Stoke or Plymouth was "carded" – but her nearest rival turned out to be about three stone heavier, 10 years older and 200 miles away. It was a shambles and the women and girls were not very good. One paper even tried to make a fake fight involving a junior and a senior, an illegal move in amateur boxing.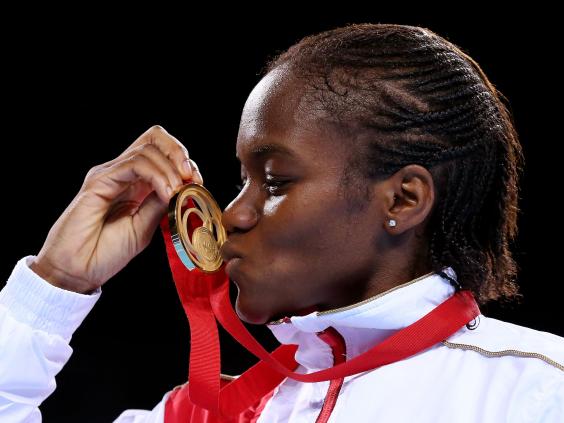 At the first World Amateur Championships 13 years ago there were no women from Britain involved, a wise decision by the selectors because no fighters were good enough. Pryce thinks that there might have been some type of "open" day, which bizarrely was attended by Couch, to see if there was anybody worth sending. This Sunday the eighth World Championships start in South Korea and there are four elite Great Britain boxers, with others from the UK also taking part. The Palace is no longer used, women are on full funding at the high-performance centre in Sheffield and middleweight Savannah Marshall (above) will try to defend the title she won in China in 2012.
"In 2008 I was involved with trips to Romania and France with England," said Pryce, who also acts and will be appearing in Times Square Angel at the Union Theatre in Southwark, south London, later this month. "We had no funding, we had very little but Nicola [Adams] and Savannah were on those trips. It had been a long journey, over 10 years to get to that point. It only really changed with the Olympics [in 2012]."
Couch was witness to the early days and fought on big bills – the undercard of a Lennox Lewis world title fight on one occasion – and against prejudice from the very start. "We were all freaks, monsters and lesbians according to Frank Maloney at the time. Oops, I mean Kellie Maloney," said Couch. "If I'm honest, I thought that by now women's boxing would be a bit more advanced than it is." The dirty macs have gone, there are elite boxers but it still slides mostly under the sporting radar.
Reuse content