The world has been waiting a quarter of a century for a new baddest man on the planet since Mike Tyson meekly surrendered his self-imposed status. Now there is one: the G Force is with us.
Gennady Golovkin of Kazakhstan is a monster of a middleweight who has taken boxing's breath away along with that of the string of victims of his venomous punching, which is reminiscent of Iron Mike's heavyweight heyday.
There is a definite touch of the early Tyson about the one-man wrecking machine they call "the Beast from the East", in tactics and technique – though thankfully not temperament.
He likes to set up opponents with a stabbing jab before unloading the bombs carried in both fists, an old-school warrior with a mean streak who has stopped his last 18 opponents in a row, the majority laid out cold on the canvas.
Great boxing rivalries
Great boxing rivalries
1/10 Muhammad Ali vs Joe Frazier – 1971, 1974 & 1975

Possibly one of the greatest rivalries of all time, not just in boxing but in any sport. These two titans met three times, with Ali taking home the spoils 2-1. The first was known as the 'Fight of the Century' in which two undisputed title holders came together, it ended with Frazier winning after 15 rounds via unanimous decision. The final fight was dubbed 'Thrilla in Manilla', where Ali retained all three of his heavyweight titles.

GETTY IMAGES

2/10 Joe Louis vs Max Schmeling – 1936 & 1938

Among two of boxing's most historical fights. With Schmeling's origins of Nazi Germany, these two represented something a little more than just two heavyweight boxers at their peak coming together. Louis was undefeated coming into the first fight while Schmeling already had 60 fights under his belt. The German won it with a 12th round knockout. By the time the pair met again, Louis had won the world Heavyweight title. It only took him one round to knock out Schmeling. Louis' performances gained him national recognition and became one of America's first African American heroes.

GETTY IMAGES

3/10 Micky Ward v Arturo Gatti – 2002, 2002 & 2003

The first time these two met proved to be The Ring Magazine's 'Fight of the Year'. A famous left hook body shot in the ninth brought Gatti to his knees and proved the deciding factor in the judges' decision. A rematch was agreed immediately with Gatti knocking Ward down in third, however the American managed to finish the fight before losing by decision. The final fight also won The Ring Magazine's fight of the year, Ward knocked down Gatti in the sixth, but before the referee could count to ten, the bell sounded. Gatti was able to come back and win via unanimous decision.

GETTY IMAGES

4/10 Nigel Benn v Chris Eubank – 1990 & 1993

In what was initially a fierce domestic rivalry, became one of world interest between these two British greats. Eubank was originally the challenger and began shouting out for Benn after only 10 fights. After winning his WBO middleweight title, Benn agreed to face Eubank. With each fighter saying they were going to knock the other one out, it was the challenger that actually did. With a technical knockout in the ninth round. The re-match was watched by half a billion people worldwide, with both defending titles it was so even, it ended in a draw.

GETTY IMAGES

5/10 Gene Tunney v Jack Dempsey – 1926 & 1927

Fighting twice, these bouts have gone down as two of the most famous in boxing history. Tunney won the first over 10 rounds via unanimous decision. The second is why these two were forever known in boxing history. In the seventh round Dempsey threw a flurry of punches to knock Tunney down for the first time in his career. The referee couldn't count until Dempsey had reached a neutral corner. He didn't oblige, buying Tunney valuable time. Tunney managed to rise at a time many say was over ten seconds. This is why the fight is known as the Long Count. Tunney went on to knock down Dempsey in the eighth and win by unanimous decision.

6/10 Manny Pacquiao v Juan Manuel Marquez – 2004, 2008, 2011 & 2012

One of the greatest modern day rivalries which will go on to be imprinted in boxing's history. Having fought four times to this day, Pacquiao has won two, Marquez one and the other being a draw. Marquez winning the most recent with a sixth round knockout, handing the Pac-Man back to back defeats. The Ring Magazine awarded it not only 'Fight of the Year' but also 'Knockout of the Year'.

7/10 Ken Norton v Muhammad Ali - 1973, 1973 & 1976

Ali's second defeat came to the man known as 'The Black Hercules'. In what was their first fight, Ali was the 5-1 favourite and had won 10 fights since his first lost to Frazier. Norton broke Ali's jaw in the fight, despite The Greatest carrying on, he lost on a split decision. Six months later, Ali avenged Norton winning also on a split decision and re-gaining his NABF Heavyweight title. The third and final fight was some three years later after Rumble in the Jungle, Ali won via unanimous decision.

8/10 Marco Antonio Barrera v Erik Morales - 2000, 2002 & 2004

Involving two of more modern days most famous Mexican boxers, the Barrera v Morales trilogy is a famous one, spanning over three different classes. Their first fight was in the super-bantamweight division with both holding titles. Morales won the first on a close split decision. Deciding to move up classes, Morales went to Featherweight, where again he met Barrera for a title match. This time Barrera won, in what was Morales' first ever career defeat. The third and final time they met was in the Super-Featherweight division, where again Morales lost and with it his WBC title.

GETTY IMAGES

9/10 Riddick Bowe v Evander Holyfield - 1992, 1993 & 1995

These two Heavyweight giants came together three times in a famous blockbuster conquest. In the first fight, Holyfield walked in with Lineal, WBC, WBA & IBF Heavyweight titles having beaten Buster Douglas and George Foreman. Bowe had never tasted defeat and to everyone's surprise, won via unanimous decision. The re-match went the distance with Holyfield winning on a split decision. This was Bowe's first and only career defeat. The third, unlike the other two, was ended after eight rounds when Bowe knocked out Holyfield.

GETTY IMAGES

10/10 Sugar Ray Leonard v Thomas Hearns – 1981 & 1989

These two first met in a heavyweight clash with both boxers' welterweight titles on the line. Ray Leonard known for his boxing skill, and Hearns for his vicious punching. The epic battle lasted 14 rounds before Leonard unleashed a series of punches, forcing the ref to stop the fight. The re-match, known as 'The War', had both fighters again holding titles, this time in the super-middleweight class. After 12 rounds of back and forth punishment, the fight was scored as a judge's draw. The two never fought again with Hearns moving to light-heavyweight.

GETTY IMAGES
Only three of the 31 men he has fought have lasted the distance. Just watching him makes you wince with every blow he lands. He admits hurting his opponents is his passion – another Tyson trait.
All of which is a mightily intimidating prospect for the Briton who is next up to face the world's most dangerous fighter in Monaco on Saturday night.
If Martin Murray can upend, or simply upstage, fellow 32-year-old Golovkin in their WBA world title fight it will be almost as seismic a shock as the one that rocked Tokyo exactly 25 years  ago when no-hoper James "Buster" Douglas defied odds of 42-1 against to humiliate the world champion Tyson.
Monte Carlo may be a place where they like a gamble but unsurprisingly all bets are off, the academic odds ranging from 14-1 to 25-1 against the man from St Helens, such is Golovkin's scary reputation.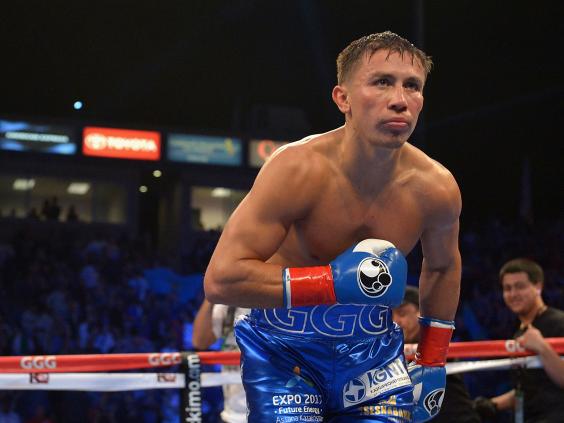 Like the Klitschko brothers, and the Russian Sergey Kovalev, the recent conqueror of Bernard Hopkins and last seen here ripping apart the hitherto unbeaten record of Nathan Cleverly in Cardiff, Golovkin is a chip off the old Soviet bloc.
He is part of an invasion which has freshened up boxing, exponents who are not braggarts, bullshitters or blasphemers like some we could mention. They come to seek and destroy, but above all to entertain.
Golovkin's manners are impeccable, his conversational English polite and respectful, in contrast to the clinical savagery he dispenses in the ring, to which another Brit, Matthew Macklin, will testify. He was ruthlessly pursued, cut, then cut down with a rapid-fire  combination of a sickening  right uppercut and left hook to  the body that left him gasping  for air.
In 350 amateur bouts and 31 pro fights the rampaging Kazakh has never been off his feet. He is reluctant to unravel the mysteries of his background, having left his home town of Karaganda after both his older brothers were killed while serving in the Russian army.
He has new-found popularity, first in Germany and now the United States, where he is proving a big draw. "I think it is because people like to watch me," Golovkin says. "They know they will see a great show with a lot of knockdowns. They will get action. They know something will happen but they are not sure when. But they know it will be exciting and dramatic."
All of which sounds like bad news for Murray, whom Golovkin describes as "a serious fighter who will give me a good test". But the good news is that Murray is resilient, never having been knocked down in his own 31 fights. His only loss came in hostile territory when the Argentinian Sergio Martinez had to climb off the floor to controversially outpoint him in Buenos Aires in one of Murray's two previous title tilts. Before that he had managed a draw against Felix Sturm in Germany, so he is no sacrificial lamb.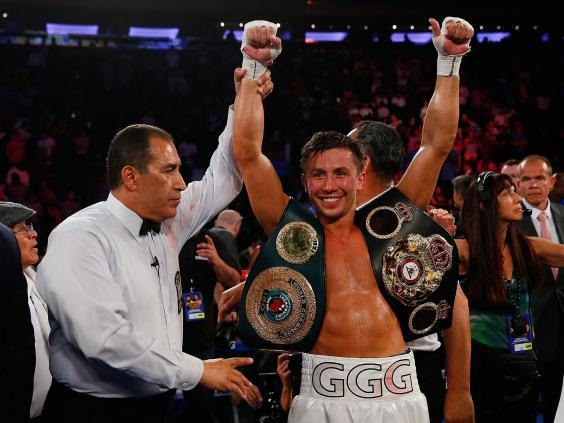 Murray will prove a hard nut to crack in every sense. He has known dark times, having served jail sentences for assault and robbery before finding redemption through a wedding ring and the boxing ring. The Prizefighter winner says he turned his life around after meeting his wife Gemma in 2005 and turning pro two years later.
"Obviously Golovkin has power but he puts you in the places he wants," Murray says from his training base in South Africa. "The trick is not to let him maneouvre you around the ring. It is not just about power, as technically he is very good too. But I don't need people to tell me what I already know, how hard a job this is. I know what I have to do."
While Golovkin may seem unbeatable, the opponent that another Merseysider, Paul Smith, takes on in a return match in Berlin the same night, Armenian WBO super-middleweight champion Arthur Abraham, is more vulnerable.
Smith, also 32, is convinced he can win the title at the second attempt after being granted a rematch because of questionable scoring in his unanimous points defeat last September. "I went into the first fight believing I could beat him, and this time I know I can," Smith says.
Golovkin v Murray is live on  Channel 5 on Saturday; Abraham v Smith is live on Sky Sports
Reuse content