Hopefully there is a 12-year-old boy somewhere getting ready to be the saviour of heavyweight boxing in 2024 when the old men who are keeping the division active right now will be lined up for slaughter.
In 1986, Mike Tyson put an end to eight years of mayhem, abuse and ring dishonesty in the heavyweight boxing world when he emerged snarling from the darkest shadows of the business to save the sport.
In 1978, Leon Spinks, a veteran of just six wins but a life so damaged on the streets that he would never really be a champion, beat the ambling relic Muhammad Ali to send the division on a near-terminal plunge; it was only saved from extinction when Tyson beat Trevor Berbick to win a version of the title eight years later. 
A total of 42 heavyweight title fights took place between 1978 and 1986 and no fewer than 15 different men held versions of the championship; the men, the time and the mess were perfectly summed up when Tim Witherspoon, who won and lost titles in the farcical descent, said they all belonged to a "lost generation". He was right.
Well, get ready because those days are back and there will be as many bad fights as there are good ones for the heavyweight title before that boy, a new model of the man-child that was Tyson in 1978, discovers the boxing gloves and his mission. 
Tyson, by the way, was being groomed at 12 and 13 by a cabal of shrewd boxing renegades and prepared for his job. He knew at the age of 15 just who it was he would be knocking out to win and defend the heavyweight title a few years later.
By the end of March it is possible that as many as eight world title fights could have taken place in a six-month period; it exceeds the levels held high and then decimated by the lost generation, which is a bitter-sweet footnote to have. 
The global scope of today's problem has the potential to make this version even more chaotic than the mess initiated by Spinks and ended by Tyson: just consider the case of a man called Ruslan Chagaev, once thrown out of the world amateur championships in Budapest in 1997 because he was a professional, who defends his WBA title against Australia's Lucas Browne in Grozny, Chechnya, in early March.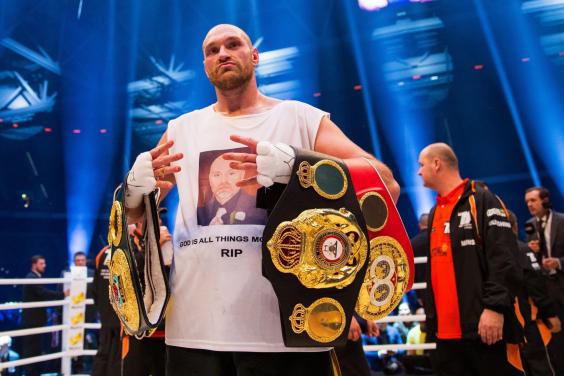 How about the Cuban Luis Ortiz, nickname the Real King Kong, who will defend his version of the WBA title in March. Ortiz is wildly entertaining but was suspended in 2014 after failing a routine drug test. Tyson Fury does have yet another version of the WBA's heavyweight title and he is likely to get back in the ring with Wladimir Klitschko in May, make a fortune and win in style. 
However, Fury has already had his IBF belt taken from him without much of a scuffle and risks losing another belt – he has the WBO in addition to the increasingly farcical WBA version – by the time he starts trading punches with Klitschko. He is not, it should be said, bothered and hopefully the millions he will clear in the rematch will secure him from feeling aggrieved.
On 16 January, two world heavyweight title fights will take place on the same night and in the same venue in New York, which has happened before but is rare. Deontay Wilder, who is unbeaten in 35 with 34 knockouts, fights a Polish émigré called Artur Szpilka in defence of his WBC title, while the unbeaten and unknown duo of Charles Martin and Vyacheslav Glazkov fight over Fury's IBF belt; two contests involving four fighters that could have fitted anywhere on any night during the lost generation years. 
It is safe to say that there will be close to 20 world heavyweight title fights in 2016 for a portion of the sport's diluted old glory. 
The true lunacy of the shattered linear path of the heavyweight championship of the world, which has been handed down from beating to beating since John L Sullivan and James J Corbett went 21 rounds in their blood, guts and splendour in 1892, will not end this year. That was a good year, 1892, with just the one real fight between the old man, the faded and fat king of the ring, O'Sullivan, 34 and unbeaten in 39 fights, and the playboy upstart, Gentleman Jim, 26 and unbeaten in 10 fights. It was, arguably, the Fight of the Century and there is no chance of that this year. 
But some things never change. I can guarantee blood and guts. Not so sure about the splendour, sorry.