Tyson Fury has said he is willing to hit the referee should he interfere too much during his world heavyweight championship bout against Wladimir Klitschko.
The Ukrainian's fights have sometimes been known to feature over-bearing officiating with challengers left complaining about referees who break their momentum. Fury, however, has an unconventional solution up his sleeve if the third man in the ring should impede him.
"I couldn't give a f***," Fury told Boxing News Online. "I'll hit him and all."
Steve Bunce's top five British boxers of the last 25 years
Steve Bunce's top five British boxers of the last 25 years
1/5 5) Nigel Benn/Chris Eubank

World champions at two weights and both in some truly unforgettable world title fights, including against each other.

GETTY IMAGES

2/5 4) Carl Froch

He took part in the best consecutive sequence in British boxing and holds a modern attendance record for his Wembley fight.

Getty Images

3/5 3) Joe Calzaghe

Retired unbeaten in 46 fights after 11 years as a world champion and now in the Boxing Hall of Fame.

GETTY IMAGES

4/5 2) Naseem Hamed

World featherweight champion, untouchable and avoided between 1994 and 2000.

Getty

5/5 1) Lennox Lewis

Olympic gold 1988, world heavyweight champion three times and in some of boxing's biggest fights.

GETTY IMAGES
The Bolton-based fighter believes he will need a knock-out if he is to emerge victorious from the Esprit Arena in Düsseldorf on October 24.
Fury's opponent, who is the reigning WBA, WBO, IBF and IBO heavyweight champion, is popular in Germany and the British hopeful is aware he will need to avoid the fight being decided by the scoring cards.
"I need a knockout to win," he said. "I ain't gonna win a decision in Germany anyway. Do you really think they're gonna give me a decision in Germany against a super champion who they love?"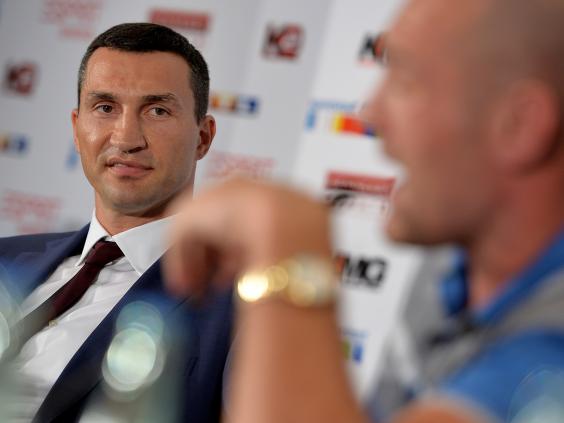 "Win, lose or draw I'm getting paid a lot of money for this so I'm there to entertain," Fury continued.
"I'll do my best to entertain, I ain't there to jib and jab around the ring. I'm there to hurt, to draw blood and to put on a good fight. Either I get knocked out or he gets knocked out.
Reuse content