Tyson Fury appears to have retracted his earlier 'retirement' from boxing by insisting he is "here to stay" and just wanted to "show you what the media is like".
The heavyweight champion of the world posted on social media on Monday that boxing was the "saddest thing I ever took part in" in a foul-mouthed tweet announcing his retirement from the sport.
However, his latest activity on Twitter suggests it was all a hoax by the 28-year-old to expose the media.
He said: "Hahahahaha you think you will get rid of the GYPSYKING that easy!!! I'm here to stay. #TheGreatest just shows you what the media are like. Tut tut.
"As soon as I get better I'll be defending what's mine the heavyweight throne."
The heavyweight champion pulled out of his scheduled heavyweight title rematch with Wladimir Klitschko after being declared "medically unfit" only for it to emerge he tested positive for cocaine.
The 28-year-old withdrew from his October 29th title defence on September 23rd, a day after he is alleged to have learned of his failed drugs test.
It was the second time Fury had pulled out of the rematch since taking the title from Klitschko last year. The pair had been scheduled to meet July but Fury suspended the bout after sustaining a sprained ankle.
There was speculation whether Fury would be stripped of his titles after failing to defend them for over a year and it had appeared he would relinquish them voluntarily by calling time on his career.
On Twitter earlier on Monday, he wrote: "Boxing is the saddest thing I ever took part in, all a pile of s***, I'm the greatest, & I'm also retired, so go such a d***, happy days."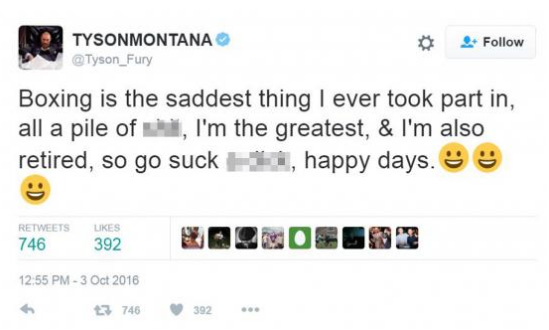 Fury was found to have traces of cocaine in his Voluntary Anti-Doping Association (VADA) test samples – a request by Klitschko in the build-up to the postponed fight.
The reports of the failed drugs test – which have been angrily denied by his uncle and trainer Peter Fury – emerged late last week and Fury appeared to mock the allegations by changing his Twitter picture to his head photo-shopped onto the body of Scarface character Tony Montana in front of a mountain of cocaine.
He also changed his name to TYSONMONTANA in reference to the character.
Fury is also facing a hearing into a charge of an alleged anti-doping violation in November which could lead to a lengthy ban and him being stripped of his titles.
The hearing refers to accusations that he failed a drugs test for nandrolone last year, prior to dethroning Klitschko as the heavyweight king and ending his 10-year unbeaten streak. 
Reuse content