The halo contraption was attached to Vinny Pazienza's skull by four screws, a metal cage for three months that reminded the boxer each day he looked in the mirror that his fighting days were over.
Pazienza was 28 when he was a passenger in a car that crashed with a van and at the time of impact he was also the WBA light-middleweight champion, a brawler with a following. He was diagnosed with two broken vertebrae in his spine and a third was dislocated; the halo followed, the prognosis was "limited movement" and hopefully he would, with help, be able to walk. As his family sat in a teary vigil there was no possibility of their Vinny ever fighting again.
In bed in the hospital Pazienza, who changed his name legally to Paz in 2001, listened, taking it all in and rejecting every single one of the statements that the spinal specialists uttered over his stricken body. The halo was in place, as intractable as Pazienza's will to walk, run and fight. "No way, no way was I finished," said Paz.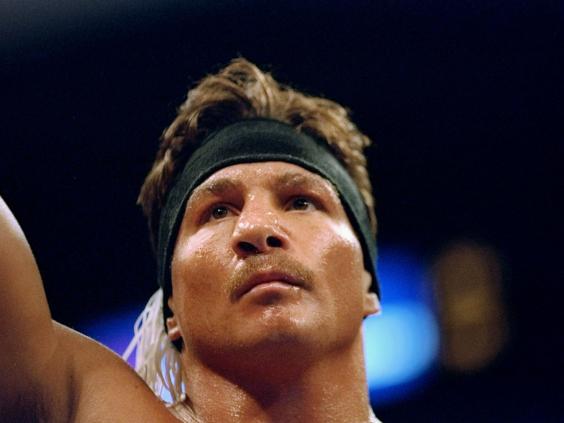 This Friday a film called Bleed For This opens in Britain and it tells the story of Pazienza's improbable rise from the hospital bed and back to winning a version of the world title; it was a journey in real life that saw him sink his fortune at gambling tables, test his recuperation against the stamina of porno stars and get back to the very top in the boxing business.  
"He was not a man for half measures," Kellie Maloney remembers. Maloney promoted his fight in London against Herol Bomber Graham in 1997. At the time Pazienza was living with a star of the adult film industry and she travelled with him to London. It inspired the promoters to strip Graham down to an awkward smile and a well-placed boxing glove for the fight's poster. The Taming of the Devil was the tag line and Pazienza was shown walking out of a fire with the severed head of a blonde in each hand. "We had some fun with that fight," adds Paz, who lost on points, but carried on winning for seven more years.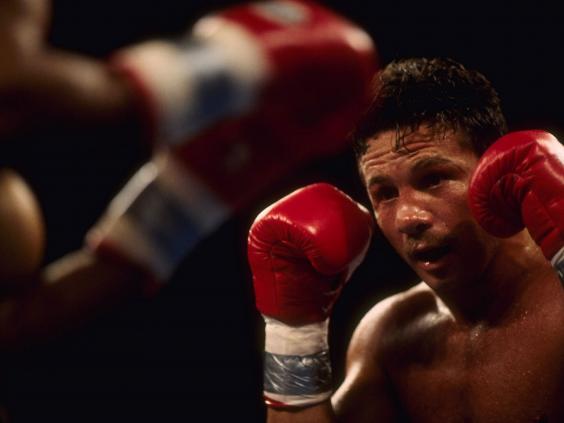 "I only ever knew how to fight and I was good at it," said Paz. "I was never going to accept anybody telling me that I would not fight again, would not walk again. That was never going to happen."
Pazienza was back in the gym with the halo in place lifting weights and getting his body ready for a miracle return. He was also back in lap-dancing clubs, back gambling and creating one of boxing's most excessive tales. The real test of Pazienza's bravery was the day the doctor removed the four bolts that attached him to the halo. "I thought he was turning the screws the wrong way, it was terrible," said Paz. After that, with his head clear of the metal rigging, he had to persuade a friend to spar with him and hit him. "It took a few rounds but then we started fighting and I was back," continued Paz.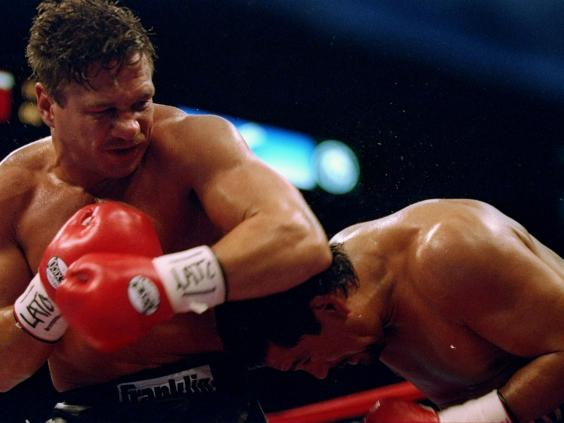 He fought again just 14-months after the crash, the halo had been on three months of the delay and his first opponent was hard. A few months later he was the main attraction when he won a real brawl with Lloyd Honeyghan in Atlantic City and then he beat Roberto Duran twice before losing to Roy Jones for a world title in 1995. The Pazienza story is real, he fought tough world-ranked men and could have so easily floated through the end of his career as a novelty attraction, a man with four bolt-hole scars in his skull and a growing library of private movies. He claims to have advised the actor playing him in the film, Miles Teller, to wear a banana in a scene in the film when he is wearing just skimpy briefs. "I want to keep it real," said Paz.
The problem with Paz is that his real, a concept lost somewhere between his broken back, metal halo, real world titles, porno experience, gambling and never knowing when to quit, is hard to measure. 
Reuse content