Wladimir Klitschko isn't going to rush into any decision over his future after he was sensationally stopped by Anthony Joshua in a thriller at Wembley Stadium.
The Ukrainian was stopped by the Brit in the 11th round of a compelling fight to suffer only the fifth defeat of his professional career, a second successive loss after going down to Tyson Fury in November 2015.
Klitschko thought he had done enough to put Joshua away in the sixth round but was powerless to respond as Joshua roared back late to maintain his unbeaten record.
Anthony Joshua's career in pictures
Anthony Joshua's career in pictures
1/20 Anthony Joshua's career in pictures

After 19 professional fights, Anthony Joshua boasts an unblemished career record

Getty

2/20 Emanuele Leo, TKO (R1) 2:47

In his first fight since turning professional, 23-year-old Joshua floored Emanuele Leo in a vicious two minutes and 47 second rout.

Getty

3/20 Paul Butlin, TKO (2) 0:50

Joshua's needed only two rounds to see off Paul Butlin in his second professional fight when the referee called an end to the tie 50 seconds into the second round.

Getty

4/20 Hrvoje Kisicek, TKO (2) 1:38

It was yet another second-round stoppage victory for Joshua, knocking out veteran Hrvoje Kisicek after a fiery flurry of punches on the ropes.

Getty

5/20 Dorian Darch, TKO (2) 0:51

Joshua demolished fellow Brit, Dorian Darch, landing multiple crisp blows in the opening minutes and leaving him the referee no choice but to put an end to the fight.

Getty

6/20 Hector Avila, (KO) 1 2:14

Joshua needed a mere 134 seconds to see off the challenge of Hector Avila in Glasgow and clock up his fifth win without defeat.

Getty

7/20 Matt Legg, KO (1) 1:23

Matt Legg was the next victim of Joshua's phenomenal run. A venomous uppercut to the chin floored Legg in only 83 seconds.

Getty

8/20 Matt Skelton, TKO (2) 2:33

Needing less than six minutes, Joshua delivered his trademark blow to 47-year-old veteran Matt Skelton taking his tally to seven on the trot.

Getty

9/20 Konstantin Airich, TKO (3) 1:16

Konstantin Airich became the next victim of Joshua's brutal run of fights. A third round TKO ended any chance of Airich spoiling the party.

Getty

10/20 Denis Bakhtov, TKO (2) 1:00

Joshua claimed the WBC International heavyweight title by destroying Denis Bakhtov in within two rounds showing he is one of the most exciting prospects in world boxing.

Getty

11/20 Michael Sprott, TKO (1) 1:26

Joshua needed less than 90 seconds to blast out veteran Michael Sprott and record his 10th successive knockout.

Getty

12/20 Jason Gavern, KO (3) 1:21

On this return to boxing, Joshua demolished American Jason Gavern in three rounds, flooring him four times in the process.

Getty

13/20 Raphael Zumbano Love, TKO (2) 1:21

Another second round knockout brought Joshua's up to 12-0 as he flattened Brazilian Raphael Zumbano Love.

Getty

14/20 Kevin Johnson, TKO (2) 1:22

American 36-fight veteran Kevin Johnson proved to be no match for Joshua who needed only 2 rounds to walk away with another knock out

Getty

15/20 Gary Cornish, TKO (1) 1:37

Joshua stopped Gary Cornish in 90 seconds to win the Commonwealth heavyweight title to the delight of The O2.

Getty

16/20 Dillian Whyte, KO (7) 1:27

Joshua battled to beat Dillian Whyte but eventually prevailed with a seventh round knockout, becoming the British heavyweight champion.

Getty

17/20 Charles Martin, KO (2) 1:32

Charles Martin hit the canvas twice as Joshua cruises through to claim the IBF world heavyweight title.

Getty

18/20 Dominic Breazeale, TKO (7) 1:01

Joshua defended his IBF world title in a seventh round stoppage win over Dominic Breazeale to continue his unstoppable run to the top.

Getty

19/20 Éric Molina, TKO (3) 2:02

And then it was 18! Joshua confirmed his tie with Wladimir Klitschko after thumping Éric Molina in three rounds, completing the defence of his IBF heavyweight title.

AFP/Getty

20/20 Wladimir Klitschko, TKO (11)

Faced by one the greatest heavyweight boxers of all-time Joshua produced an all-time performance, climbing off the mat after being knocked down in the sixth to power back and stop Klitschko with a violent barrage in the 11th round to earn the finest win of his young career

Getty
Even in defeat Klitschko proved he remains among the world's leading heavyweights, even at 41-years-old, and insisted he would take his time over what to do next refusing to rule out the possibility of a rematch with Joshua sometime down the line.
"I am not going to consider anything or be making any statements right now," he said. "It's too early; I actually feel pretty good, considering I lost. I will take my time. I have a rematch clause in the contract, which I can execute at certain times, and right now will not be making any decisions. If I'm going to fight it'll be a rematch, of course."
The Ukrainian, who has secured 54 stoppages from his 63 victories, spoke of his surprise that Joshua succeeded in recovering from such a heavy knockdown.
He also insisted that the 27-year-old champion remains "vulnerable" before, having long dismissed his points defeat by Fury in 2015 as an "off-night", saying he had no excuse this time around.
"I thought he wouldn't get up," Klitschko said. "He managed to get up: respect. From that moment I felt he was out of gas and concentration. He recovered through the rounds.
"I could have done more to finish him off after he went down, but I was pretty sure 'This is going to be my night' so I took my time.
"I got caught and the blood was streaming into my eye, and it was difficult to see due to the thickness of the blood. I recovered well, took a beating, but recovered well.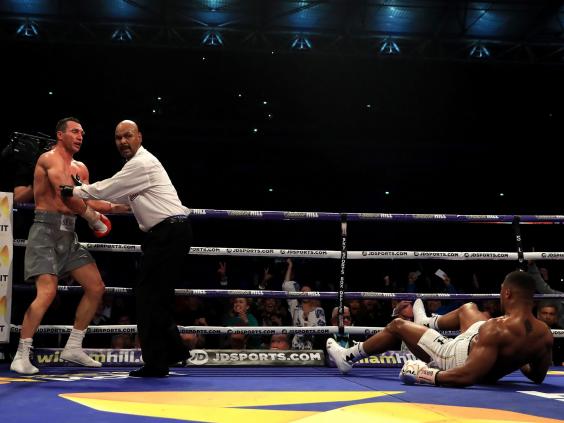 "I've always been a fan of AJ's talent since our sparring sessions. How he's going to develop, we'll see. He's vulnerable, and this may be something he will need to work on, but he's today's success.
"He's the unified champion, so you have to respect it. It was a good fight. The fans enjoyed it. I wish I'd been the winner. AJ did a good job. He was trying, was focused, and even if he went down, he got up, came back.
"He managed to see my left hook and block it, so he was well prepared. I didn't have an off-night. I was in tremendous shape. All respect to Joshua."
Klitschko was also asked about the video prediction he had recorded onto a memory stick and which he plans to auction, and he responded: "The prediction is right there.
"Only the buyer of the robe: it doesn't really matter. I'm sure there's going to be a person who'll buy it. If they decide to share it with us, he or she is welcome, but my prediction is right there.
"We both did great, we did a lot for the sport how we promoted this fight, respectfully treated each other. On the response from the fans, it was a great night. It was an exciting, exciting fight: I'm happy about that and that's what I'm taking with me.
"I don't feel as someone who lost. Tonight, we all won. Even if I didn't get the belts, I don't feel that I lost, in my name, my face, my reputation. I definitely gained, even if the result was not on my side."
Reuse content