The latest model of the British America's Cup boat has been revealed, as designers continue to shape the vessel that will compete in the 2017 competition.
The T2 Land Rover BAR can be seen being tested on the Solent, near the designers' base in Portsmouth.
Supposedly, having used the latest technology from both the aerospace and automotive industries, the T2 is 'the marine equivalent of a fighter jet.'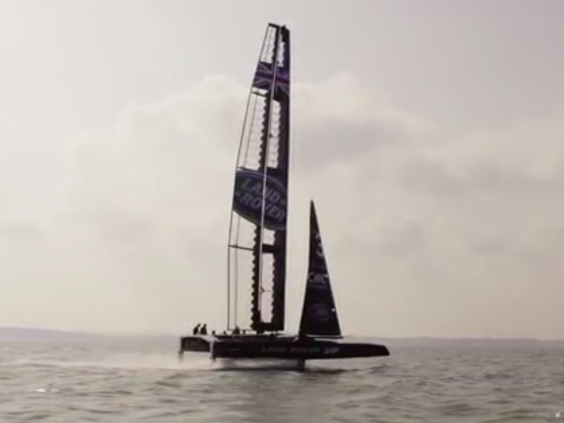 The T1 was released last October but key differences from old models include a wider and more powerful vehicle, as well as a cockpit for the crew and wheel steering for the helmsmen.
More intricate developments however are being kept in house, as the development race continues with rival Artemis and Oracle Team USA.  
The creators do report that the new model will 'fly on foils the size of wakeboards, whilst lifting the weight of a fully occupied taxi.'
Sir Ben Ainslie, the team skipper as well as winner of four Olympic golds and one America's Cup, certainly seems happy with the progress being made.
"T2 is an extraordinary achievement; everyone on the design, engineering and shore teams have put everything they have got into this boat," Ainslie said. "Power is nothing without control, and there has been no compromise in the pursuit of both. All of the sailing team are grateful and privileged to get the opportunity to test fly this unique craft."
Reuse content