A tantalising match-up between two of the most experienced and dynamic fighters in the lighter weight classes, will headline in Manilla, Philippines, this weekend for UFC Fight Night: Edgar vs Faber.
When the match-up was announced it immediately garnered much fan attention. Urijah Faber, leader of the successful Team Alpha Male, is the former WEC featherweight champion and No 3 ranked bantamweight contender.
His return to featherweight to face Edgar is a dream contest for UFC fans. Faber, a hugely popular fighter known as 'The California Kid', has never lost a non-title fight in his whole mixed martial arts career.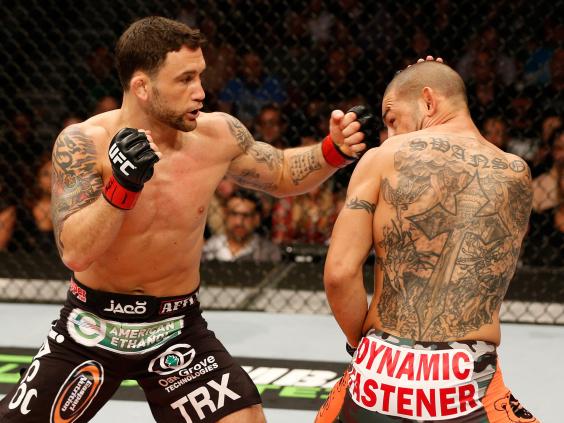 Frankie 'The Answer' Edgar, former UFC lightweight champion, has dropped to featherweight and is on the verge of getting a title shot, sitting currently in the No 2 position. A win over Faber will surely secure his position at the Octagon door on 12 July, for the winner of the Aldo vs McGregor fight.
Should Urijah beat Edgar, it would put him up amongst the elite at featherweight, and make for many interesting potential match-ups, should he continue to campaign in that division. The speed advantage he had at bantamweight will be even more prevalent against bigger fighters like Frankie.
Fighting out of Toms River, New Jersey, Edgar is part of the famed Renzo Gracie fight team. He holds a black belt in Brazilian Jiu Jitsu under former UFC fighter, Ricardo Almeida, and is an excellent NCAA Division 1 wrestler. On top of that, he has what I believe to be some of the best boxing skills in MMA today.
His footwork is very smooth, allowing him to slip his opponents attack and counter with a combination of head and body shots. Faber, on the other hand, is quite chaotic in his offensive. Sprinting forward with a flurry of punches to initiate a scramble, in which he often lands a good punch or scores a takedown. With eighteen choke variation wins on his record, he chases the neck, looking to constrict his opponents' airways and force the tap.
How they match up is yet to be seen. Neither fighter has a habit of moving backwards, nor do they move at regular speed. I'm expecting a fantastic display of MMA, from two of the most talented and experienced fighters active today. I don't really want to see either guy lose but I can't wait to watch!
A little earlier on the main card we have British Ultimate Fighter contestant, Luke 'Bigslow' Barnatt. His opponent, Mark 'The Filipino Wrecking Machine' Munoz, a long time standout in the middleweight division, will be making his final appearance inside the Octagon, having announced in advance that, win or lose, he will retire after this fight in front of his home crowd.
Munoz is a strong wrestler, with some of the best ground and pound in the middleweight division. His suffocating style and ability to generate power at any angle will cause problems for 'Bigslow' if he is able to close the distance and take the fight to the mat.
Barnatt, a towering 6ft 6in, will have a massive 11 inch reach advantage over Munoz. Using that wisely he should keep Mark on the outside using his long range weapons such as his jab and front kick. If Munoz looks to shoot for a takedown, Barnatt's rear knee will come in handy.
If Barnatt is forced to work in the clinch, his time at Alliance MMA, training alongside NCAA Division 1 wrestler, Phil Davis, should serve him well. Bigslow is also capable of taking Mark's back and working a rear naked choke, having already added three wins to his record with this submission.
It's a stiff test for the Brit but it is also a great opportunity. Munoz will surely be wanting to go out with a bang and retire on an impressive win, but this is combat and no quarter shall be given by either fighter.
To find out whether Munoz will be retiring on a high, or if the British Barnatt will ruin the perfect swan song, plus to catch the rest of the action from Fight Night Manila, tune in to BT Sport 1 from xx on Saturday.
Watch UFC Fight Night: Edgar vs. Faber live on the BT Sport app from 1pm BST on Saturday, May 16 (repeated later from 10pm on BT Sport 1) or catch the Early Prelims from midday, live on UFC Fight Pass.
Reuse content