It's been a big week for Mixed Martial Arts in Europe. We have been waiting for a top contender to bring UFC gold back to this side of the world for a long time – the America's have pretty much had every division tied up since MMA became a mainstream sport.
But last weekend, straw-weight kickboxing phenomenon, Joanna Jedrzejczyk, stepped into the Octagon on Saturday in Dallas, Texas, and couldn't have wished for a more perfect performance. Shutting down defending champ, Carla Esparza, in a one sided fight she sprawled and boxed her way to an impressive second round stoppage.
Esparza pushed hard for the take-down, but to no avail. Looking more and more frustrated as the minutes passed, she just couldn't handle the speed and pressure of the challenger.
A flurry of head shots in the final minute of the second, forced the referee to step in and save Esparza from any more punches. The new champion was crowned and her home country of Poland erupted in celebration. This determined but unassuming girl had sent shock waves through the division, letting them know that any challenger to her crown will need to do something pretty special to take that title away.
As the fight took place, I was sat in a hotel in the Polish capital of Warsaw, plugged into UFC Fight Pass. I've been out here traveling around this week, meeting the homegrown talent on the card for the upcoming April show in Krakow. Poland has a very strong MMA community, and the athletes here are training at a very high level. The debutants on the card, Izabela Badurek and Bartosz Fabinski, have the privilege of welcoming their opponents into an Octagon which is standing on home soil for the first time in UFC history.
The co-main event will feature British slugger, Jimi Manuwa and Polish standout, Jan Blachowicz. Although he is a huge star in his home country, only the hardcore MMA fans around the world will be aware of Jan's successful campaigning in his home country. His UFC debut lasted less than two minutes, as he stopped Ilir Latifi with a thunderous body kick.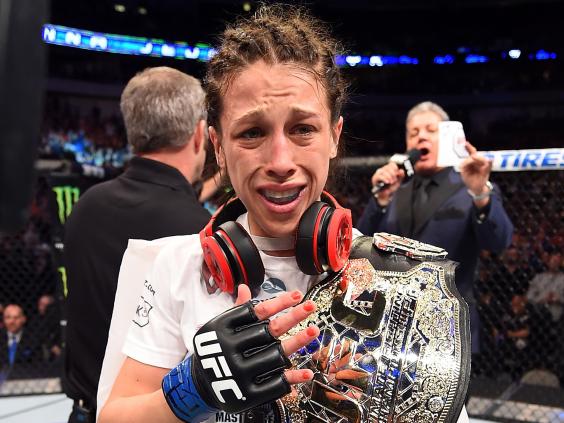 Adding an impressive win over Manuwa to his already strong record, would no doubt push him right into the spotlight. Chatting with him this week, he seems very relaxed and confident in his preparations. Knowing how dangerous his British counterpart can be, he has surrounded himself with some monstrous training partners, all of whom dwarf Jimi in both size and strength.
If he is able to get the win on April 11, and demonstrate his 'Legendary Polish Power' (as it says on all of his training shirts!), the fans will feel that Poland has truly arrived on the international scene. With Jan, Izabela, leg lock specialist, Marcin Bandel, and young prospect, Pawel Pawlak on the card, it will be a treat for local fans, and a chance for the rest of the world to see what Poland has to offer.
The natural toughness of this country's people, coupled with great coaching and a strong work ethic, could see Poland becoming a major player on the international MMA scene. The UFC are invested in Europe and it is clearly paying off. There is a deep talent pool here, to which we have not yet had full exposure but mark my words, Poland is on the rise, and every division needs to pay close attention to any new contenders emerging from this area of the world. As Joanna proved at the weekend, Polish MMA can not only hold its own in the Octagon, but it can bring belts back to Europe.
Tickets for UFC Fight Night: Gonzaga vs. Cro Cop 2, taking place in Krakow, Poland on 11th April, are on sale now via www.eventim.pl/UFC
Reuse content