Ben Rothwell has been one of MMA's most successful and notorious fighters since his debut in 1999, and the UFC's sixth ranked heavyweight is in the best form of his career after recent victories over Alistair Overeem and Matt Mitrione.
The 33-year-old will compete next month in Dublin when he fights Stipe Miocic in a bout which could determine the number one contender in the Heavyweight division. After 35 professional victories, Rothwell now makes history by becoming the first fighter to take part in The Independent's new UFC interview series, The Ultimate Eight.
You've been involved in martial arts for much of your life, but can you recall the first time you became interested in the sport?
When I was around four or five years old, I was known to be seen out in my parents' yard beating up the air. I used to pick up sticks and turn them into weapons, and I was all about movies like Bloodsport and Conan the Barbarian.
As I got older nothing changed, I always loved fighting. We didn't live near the city, so I could never find a place to train. At the age of 17, I finally got my own car, and was told by several people that I really needed martial arts because I had a lot of bad things going on in my life at the time.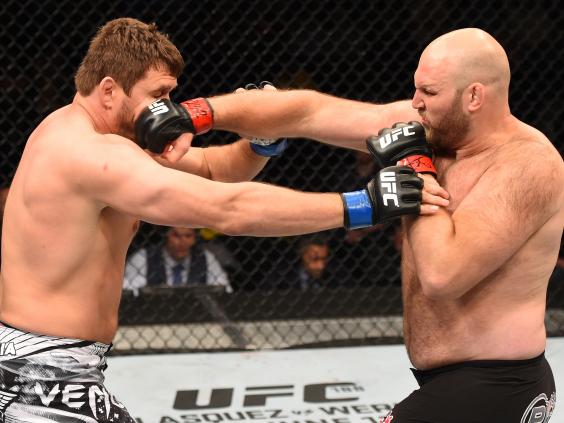 Not long after you first started training in martial arts you had your first amateur MMA fight. What are your memories of that experience?
I found a place to train, and then six weeks after I started, I fought twice in one night and won both of them. They say ignorance is bliss, and I didn't have any fears or cares, because I had no idea what I was getting into.
In my first fight I proceeded to beat up a real out of shape kid who probably shouldn't have been fighting. On the internet it's known as the 'worst MMA fight ever'. What the video didn't show, what that afterwards I had to fight a 30 year old who had just demolished his opponent.
Then the fear started setting in a little bit! He'd just whooped someone's ass and I was a bit scared, but you're there in the moment, and you can't not fight.
It took me three minutes and I ended up knocking him out. I knew then that I was destined for greatness, and this was my calling. 16 years later, I'm talking to you now and I'm about the fight the number three heavyweight in the world. Soon I'll be fighting for the UFC title.
Training is an arduous process which tests fighters to the limit, but is there anything about it that you enjoy?
I love the grind and watching my martial arts improve, but mostly I just love hitting people.
Talk us through your choice of walkout music, what do you like to listen to when you make your way to the cage?
I used to come out to Uprising by Muse, but then in my last fight I kinda caught everybody off guard because I walked out to an orchestrated song from the movie Dracula called Vampire Hunters. It was pretty dark and changed the entire atmosphere in the arena.
When I get into the cage it makes me feel like badass, and nobody in the world can do anything about it. I'm finally deciding to be myself, and that's why I'm fighting so good.
How do you like to relax away from the sport, do you have any interests or hobbies?
I don't have cable and we don't watch TV, so I am the most boring American around! It's because I am fully involved in fighting, me and my wife own a gym, and besides that we manage over 60 fighters, and I also promote Wisconsin Extreme Cagefighting.
What is the greatest MMA fight of all time?
Oh man there has been some good ones! Off the top of my head, and as bad as his name is in the mud right now, Jon Jones vs Alexander Gustafsson is one of the best fights I've ever seen.
With the exception of beating people up for a living, what is your greatest skill in life?
Anything strategy related, and my wife says anything I can win. I love chess, and strategy board games like Risk.
How are you going to defeat Stipe Miocic on October 24 in Dublin?
There is one answer, and it's not a specific technique, but I'm going to beat his fucking ass. You can imagine that in multiple ways of what I will be doing to make that possible, but just know that's what I'm going to do.
Reuse content