Britain are up and running at Chris Hoy's place. Opening day in the velodrome named after Scotland's greatest Olympian did not all go according to plan but come the end of the first night of the Track World Cup meeting another healthy treasure chest of British bullion had been stocked.
Shane Sutton, Britain's head coach, suggested before the evening session this was "not all about winning". It was, said the Australian, about putting on a show to mark the first proper use of this venue and celebrate this year of years. Britain's cyclists did both, and none more so than the women's pursuit team who carried in their ranks 18-year-old Elinor Barker, her GB colours marking her out alongside the world champion jerseys of Laura Trott and Dani King.
They are Olympic and world record holders as well and Barker proved she has the potential to one day thrive in such illustrious company. It may have been a performance that Trott later laughed off as "10 seconds slower than the Olympics", but it was nevertheless the race that brought the 4,000 full house inside the velodrome, tucked in the looming shadow of Celtic Park, to life for the first time.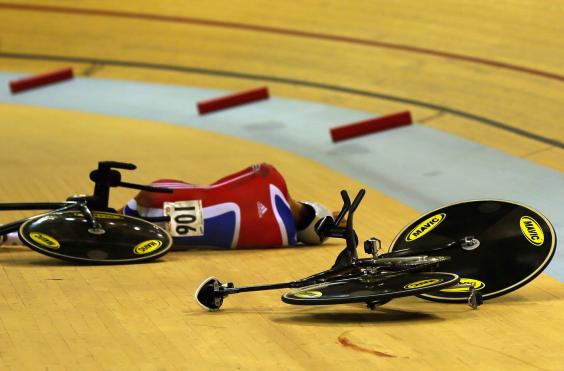 Barker, who had to abandon her A levels for a week following Joanna Rowsell's late withdrawal through illness, beamed after the trio won a rousing gold medal race against Australia.
Barker's promotion was an experiment forced through injury; the most anticipated tinkering was in the men's sprint where Ed Clancy, winner of pursuit gold in the last two Olympics, stepped into Hoy's shoes to join Philip Hindes and serial winner Jason Kenny. It ended with a silver medal – behind Germany – and a performance that will be poured over by the coaching staff in Manchester next week. It was a promising beginning.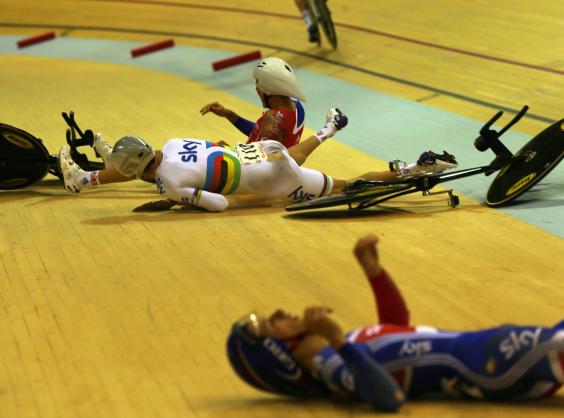 "Let's not get too carried away," said Clancy, "but it's a good place to start. There is an edge of disappointment [in not winning] but I think I did a reasonable job."
Jess Varnish put another gold medal between her and London as she and Becky James dominated the team sprint. That is two wins out of two in the World Cup and underlines the promise of this new pairing, formed following Victoria Pendleton's retirement after the Games.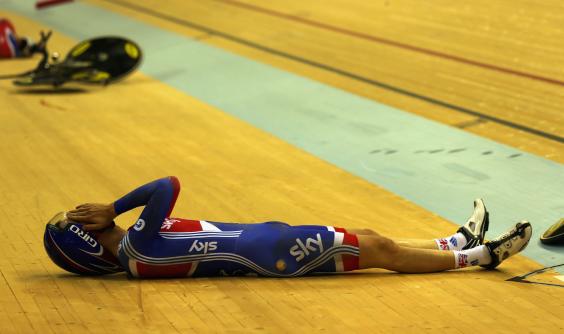 They had won the opening round in Colombia with James riding as man one but last night switched back to Varnish taking her preferred lead role. The two set a personal best and were under a second off the world record, impressive pace at this stage of the season.
A far more telling challenge awaits in Minsk at next year's world championships, the first time check on the road to Rio. A rainbow jersey there would be a statement of intent from either Varnish and James or Clancy and his new team-mates. "We've got to keep building on all this," said Varnish.
Britain had expected to feature on the podium in the men's pursuit but never made it to the evening session after a spectacular crash in qualifying that ended with Andy Tennant suffering a cut to the leg that required stitches.
Reuse content