Oh, and by the way, the men are having a Boat Race too. Such has been the overwhelming interest in the historic advent of the Women's Boat Race on equal terms on the Thames next weekend, scarcely anyone has given a damn about the men. The 161st challenge between the male crews of Oxford and Cambridge Universities is but a footnote to the far more significant drama of female equality's uprising on the Tideway.
This is entirely understandable. An island nation with such a rich tradition in exploits on water, from Horatio Lord Nelson to Sir Steven Redgrave, was always going to notice when the women – not before time – shoved their oar into one of Britain's most celebrated sporting events. Since 1927 the women had indeed competed but in a somewhat ramshackle fashion, on various bits of river, on different days, without proper training facilities and with sketchy funding. It was all a bit Captain Pugwash.
The 2015 version is fully liberated. The women's race, with full pomp and ceremony, sponsored by Newton, goes off first on the incoming flood tide next Saturday and it will be a wonder if the men's race that follows an hour later garners anything like the same number of headlines. You could imagine large, testy men in muscles and flip-flops stomping about in fury at the very idea.
The Boat Race 2014: in pictures
The Boat Race 2014: in pictures
1/10 The Boat Race

The Oxford crew celebrate their victory

2/10 The Boat Race

Following the controversial clash of oars, Oxford take a decisive lead as they pass under Barnes Bridge

3/10 The Boat Race

Cambridge's number 2 Luke Juckett loses an oar in a clash with the Oxford Boat

4/10 The Boat Race

As the crews go past Harrods Depository, the Dark Blues of Oxford begin to move clear

5/10 The Boat Race

The two crews are evenly matched in the opening stages of the race

6/10 The Boat Race

The Light Blues of Cambridge get off to a strong start

7/10 The Boat Race

Umpire Richard Phelps instructs the crews as he prepares to get the race underway

8/10 The Boat Race

Oxford's Isis crew celebrate victory in the reserve Race

9/10 The Boat Race

Oxford's dark blue Wellington boots are lined up ahead of the race

10/10 The Boat Race

The crews for the 160th Boat Race line up for the official photograph
"Certainly not," said the Cambridge president, Alex Leichter. "The girls deserve it.  They are working just as hard as we do for the same goal. They deserve the attention. I feel no envy or anything like that. This genuinely comes from the heart. From my perspective, it's a good thing for the men's team. It's very nice for our egos to get attention but it can also distract us from the big goal to beat Oxford. To some extent the girls are taking the pressure off us."
The men's race is almost 200 years old and has survived mutinies, sinkings, veerings, oars clashing and that Aussie chap getting in the way. Acknowledging equality is not such a stretch. On this, both Presidents are united.
But in other respects, the Boat Club leaders who will toss the gold sovereign that apparently survives from the first Boat Race in 1829 to choose on which side on the river they will row, present an intriguing comparison. Oxford's Constantine Louloudis, an Eton-educated  23-year-old Olympic medalist and three-time winner of the Boat Race studying classics at Trinity, exudes diligence and self-assurance going into the campaign.
"I come at this with confidence but a target on my back as well. It's easier being the underdog but  I've big confidence from a winning record."
One of his few avowed concerns is whether his father, a coin collector of some magnitude, takes more than mild interest in the famous gold sovereign. "He does go quite  far sometimes," Louloudis mused. Then comforted himself with the thought: "He's not  very quick."
On the other side Leichter, a 25-year-old Austrian studying Land Economy at St Edmund's who does a much-sought-after impression of Arnold Schwarzenegger, has never competed in the Boat Race before but has suffered two painful defeats in Goldie, the reserves, instead.
"Recalling those defeats is what drives me when I hit a tough spot in training or on the water. I remember how it felt to lose those races and then it helps me to push on.
"I think there is nothing in the world I want right now more than winning this race. I've literally  devoted everything to it. It's always my first priority. When I want to eat a slice of cake, I don't do it, because I feel it might compromise what I'm trying to achieve."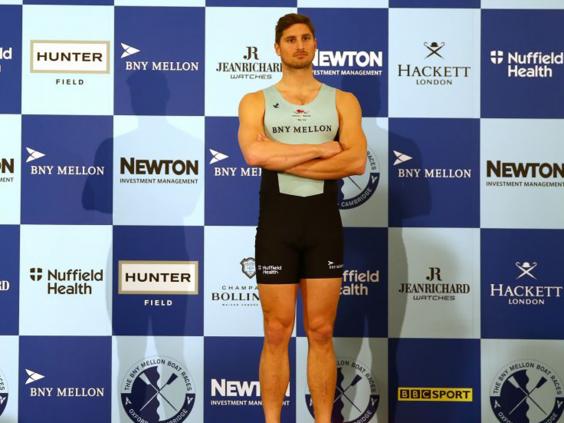 The official odds are against him. Oxford are favourites and holders, while Cambridge are heavier by 11lb 9oz. But this is a cultural event, watched by up to 270,000 people lining the Thames from Putney to Mortlake and millions more on TV for reasons probably they can't even explain, where any outcome is possible – even a dead heat, as in 1877, although the race judge was reportedly of pensionable age and blind in one eye.
While "Stan" Louloudis, a member of the Olympic bronze-winning GB eight at London 2012 might have water sports in the blood with a family that hails from the Greek Island of Andros, the birthplace of Leichter's rowing career was a fast-food restaurant in Vienna. "I was kind of recruited in a queue for lunch when I was 15 by a coach who just asked me if I would like to row." Already  6ft 4in and on the way to his current 15st 8lb, he looked a likely lad for a rowing boat.
"I was interested to give it a shot. That's very much how I am in general. That's why I applied to Cambridge. I had to give it a try. My highest international achievement has been the Under-23 World Sculling Championships. It doesn't compare to the Olympic medal for Stan. But having said that I don't think rowing experience  itself is necessary to be a good President and leader. It's also about being a good role model and having empathy. You have to get everyone on the same page so they know what is expected of them."
Schwarzenegger has become part of the bonding exercise. "I don't do it on purpose. I guess it's just my  accent combined with the right words. My classic is 'I'll be back!' But the guys always make me do: 'Get to the chopper!' I just go with it."
But with or without Arnie's vicarious encouragement, Leichter's name will now go down in sporting history thanks to this quintessentially – even quizzical – British event.
"I don't think it is eccentric. I'm very happy the Boat Race exists. In the sports world, it's a very unique event. With the  history behind it, the attention it gets, the values it  represents, I think nothing compares to it. I am very, very proud being able to be part of it."
Reuse content