With the news of the former middleweight Champion being almost ready for a return to competition, UFC fans are right to be excited. Anderson 'The Spider' Silva was, up until he met current champion Chris Weidman, looking like an unstoppable force in two weight divisions. From his time signing with the UFC he racked up a sixteen fight win streak, picking up the middleweight crown in his second fight in the organization.
As a fan, it was fascinating to see him evolve into the fighter UFC fans are familiar with today. Traveling between Europe and Asia to compete, he put together some great performances over tough opposition, with wins over UFC veterans like Lee Murray, Jorge Riviera and Tony Fryklund.
I was fortunate enough to be stood a few feet from all three of those above mentioned fights, and to watch him play with martial arts was quite amazing. I use the word 'play' because his approach was very experimental. His relaxed and confident style appeared almost childlike, toying with world class fighters like a cat with a mouse.
Even with a couple of minor slip-ups like his disqualification loss to Okami and the crazy flying heel hook that Chonan caught him in, you could tell that he was becoming a very special fighter. It wasn't until he signed with the UFC though that we saw him really come into his own. His debut against Chris Leben sent shockwaves through the middleweight ranks. Leben, riding a five fight win streak, looked to be the next challenger for the belt.
It didn't take Silva long to break his opponent down and finish him with a beautiful combination of pinpoint accurate strikes, finishing him with a cracking knee. Immediately he looked like a big player in an already stacked division. Using the same devastating clinch and knee game, he took the title off Rich Franklin with relative ease and then defended it several more times, breaking the UFC record for title defences.
At this point, it looked like the only adversary able to defeat Anderson was Father Time himself. Having already cleared out the division and fought up a weight class a few times to test himself further, Silva was looking practically untouchable. Chris Weidman, undefeated but with a fraction of the MMA experience of the champion, looked like a long shot.
The following two fights took everyone by surprise. Weidman, first catching Silva with a huge shot right at the end of the punches reach, clipped his chin and put the now former champion on standby for a few seconds. Even with that victory people believed that Silva would bounce back and reclaim his belt.
The unfortunate circumstance of the rematch had the potential to end Silva's competitive career. He had a low kick blocked by Weidman which fractured both bones in Anderson's leg. This blow has been a difficult obstacle for him to get past, but finally it looks like we will get to see his return to action. The question on everyone's lips though, is will the leg break affect him physically or psychologically?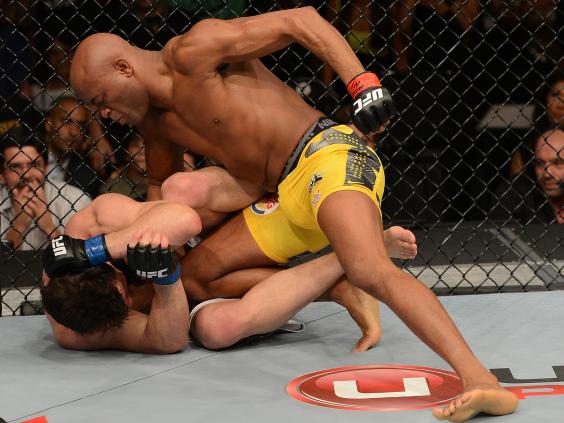 Only Silva knows if there will be any hesitation in his kicking game when stepping back into the Octagon. It's hard to believe as a fan and fighter that it won't be on his mind at least a little. However, Anderson is a special kind of athlete. He has overcome adversity throughout his entire career and although we've not seen anything comparable to this, it sometimes takes seemingly insurmountable odds to show true greatness.
I have no doubt that a martial artist like Anderson Silva will see this as an opportunity to shine. What comes next is anyone's guess. We know he has the skills to come back and shock the world, he appears to be in a strong place psychologically and you can bet he has had the best medical treatment available. Can he be as good as he was? Will he come back on another level entirely? What has this time away to reflect done for one of the greatest martial artists in the world?
With a super fight on the horizon against Nick Diaz, we know that Silva will be tested. If he is able to defeat Diaz in impressive fashion we could see a dawning of a new era in the Spider's career. Nick Diaz is a tough test for anyone, in any weight class. Everyone he has faced has either had a hard struggle to get the victory or has fallen victim to his relentless style. What will happen on the night? All we have to do is be patient and we'll find out… but right now, I just can't wait!
Reuse content