Former NBA star Dennis Rodman has confirmed that he is heading to North Korea on a five-day trip in order to help train the national basketball team.
Rodman has visited the country in the past and has expressed his latest journey is for "basketball diplomacy" and nothing more, with organisers confirming that Rodman hopes to organise a match between North Korea and a team of retired NBA players in early January to mark leader Kim Jong-un's birthday.
Rodman claimed that Kim was his "friend for life" and has distanced himself from any political reasoning ahead of his arrival, despite the North Korean leader currently under-fire for last week's execution of his uncle Chang Song-thaek.
The US State Department has also stressed that Rodman's visit is not a representation of the US government, despite Chang's death described by analysts as the biggest political shake-up since the death of former leader and Kim's father Kim Jong-il.
"I mean, whatever his uncle has done, and whoever's done anything in North Korea, I have no control over that," Rodman told Reuters. "I mean, these things have been going on for years and years and years.
"I'm just going over there to do a basketball game and have some fun."
Rodman remains the highest profile American to visit the country since Kim took over leadership two years ago, and the former Chicago Bulls forward said he spent time with Kim and his wife Ri Sol-ju during his last visit in September. Rodman also confirmed that the couple have a daughter named Ju-ae.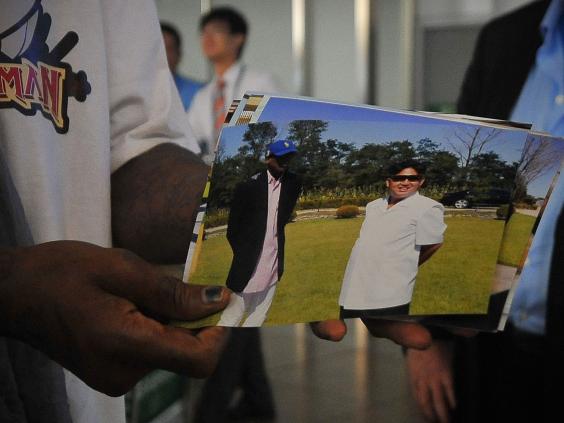 However, a spokeswoman for the US State Department wanted to make clear that the 52-year-old was in no way assisting the US government with his trip across the Pacific Ocean.
Marie Harf said on Tuesday: "Dennis Rodman is not a representative of the US government in his trip to North Korea."
"We need to focus on what's really important here when it comes to North Korea... the brutality of the North Korean regime he's going to meet."
American Kenneth Bae, known in North Korea as Pae Jun-ho, is currently being detained in the country after he was sentenced to 15 years' hard labour in May following his arrest in September last year. But Rodman has pointed out that his journey has nothing to do with the release of Bae.
"That's not my job to ask about Kenneth Bae," Rodman said following his September visit.
Reuse content