The first two months of 2015 for the Ultimate Fighting Championship (UFC) have been perhaps the most noteworthy 60 days in the history of the 22-year promotion. Amidst high profile drug testing failures, the Light Heavyweight division has been the most highly discussed weight category in the organisation, after two huge fights.
Firstly, champion Jon Jones successfully defended his title against Daniel Cormier in one of the biggest PPV events for many years. Then, a few weeks later, Anthony "Rumble" Johnson shocked Alexander Gustafsson by finishing his Swedish opponent less than a round into their Stockholm showdown.
A title fight between Jones and Johnson has been earmarked for UFC 187 in May headlining an incredible card which also features Middleweight champion Chris Weidman against Vitor Belfort, while Donald Cerrone battles Khabib Nurmagomedov.
With both Gustafsson and Cormier coming off losses, the Light heavyweight division is now wide open for a new title challenger, and The Independent caught up with two hopefuls who in April will fight each other in Poland as the co-main event of UFC Fight Night: Gonzaga vs. Cro Cop 2.
14-1 Jimi Manuwa is one of Britain's most successful MMA fighters, and the 35-year-old won his first three UFC fights in unique fashion, with each bout stopped by orders of the referee and doctors. Kyle Kingsbury, Cyrille Diabate and Ryan Jimmo were all outgunned, outfought and dominated by Manuwa, who later suffered his first UFC defeat last March to Alexander Gustafsson in London.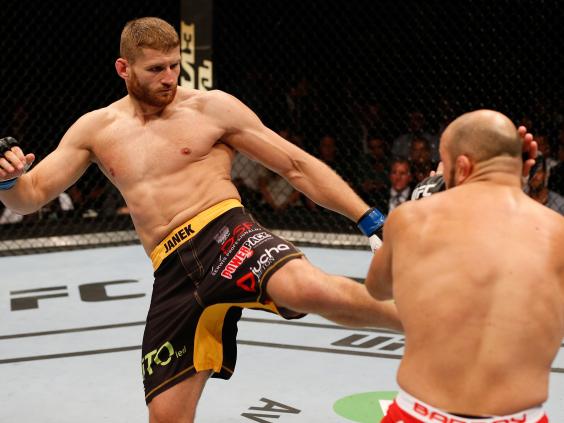 Manuwa faces Poland's Jan Blachowicz at UFC Fight Night 64 in Krakow, with Blachowicz enjoying home advantage. The 32-year-old fighter won his debut UFC contest with a ferocious TKO body kick finish of Ilir Latifi in Sweden last October, and he has won 14 of his last 15 fights. Speaking to The Independent at London's Gym Box facility, Blachowicz was full of confidence ahead of the bout.
"Right now I am focusing on stand-up because Jimi is a stand-up fighter and I have to prepare for that, but I am also training my wrestling and the ground game."
Fighting Manuwa is a headache for any competitor, because the Brit offers an unbelievable striking offence, as he utilises every legal limb with lethal aplomb. Blachowicz is not known for his offence on the feet despite his excellent win last time out, but he plans to fight fire with fire in Krakow.
"I want to fight stand-up with him! So it's not going to be an easy fight, but I would like to show him that my stand-up is better than his," he confirmed.
Manuwa, speaking in another room on the other side of the gym was cynical about the proposed plans of Blachowicz.
"I know for a fact he's going to be shooting for the takedown, he can say whatever he wants but he's going to try and take me down where he thinks he's going to be more dominant. I'll be defending it."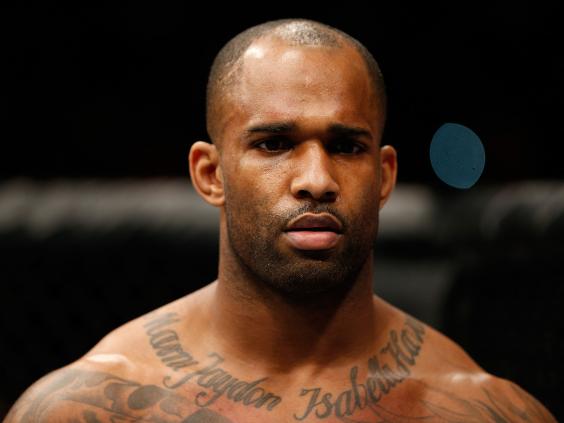 In 15 professional fights, Manuwa has never been past the second round, while Blachowicz has gone the distance seven times. Despite the discrepancy, the British athlete is not concerned about the statistics, and always welcomes an early finish.
"I'm happy my fights end early because it's stressful fighting in the cage! I want to get the job done quickly, and it just goes to show that when I put on my onslaught, people can't handle what I've got to give. When I put my combinations together and hit them hard, the doctors have to pull them out, their legs go, their heads go... I'm not a good person to fight."
A potential fight with the winner of the Jon Jones/Anthony Johnson title match could materialise for the conquerer in Krakow over the next 12 months, and Blachowicz shared his thoughts on who will reign victorious come May.
"I would like Anthony Johnson to win. I don't like Jon Jones and I would like to see the Champion change," before adding "I believe I could beat Jones. He's never fought against someone like me. I've got the heart of the warrior, the Polish Hussar, I am part of that and that's why I would win against him."
Jones failed a pre fight drug test in December for cocaine metabolites, beginning a string of UFC incidents including two positive steroid tests for Anderson Silva. In response, the company has announced a thorough drug testing policy which will begin in July. This announcement was met with praise from both fighters.
"I think it'll be very good for the UFC and very good for the sport. They have done a great job in bringing in the new rules. If you have to cheat you shouldn't be in the UFC, and this is the greatest sport in the world and to cheat and tarnish the image of it is a bad thing," explained Manuwa, while Blachowicz said "It's good, nobody will be cheating any more. I like the UFC doing this."
Manuwa is not looking past this April fight, but did admit that he wants to fight "three or four times this year, to be busy and get to the number one spot." The Brit will only have fought five competitive rounds since February 2013 by the time the bout takes place, and Blachowicz, who will train in Poland ahead of the fight has only been in the cage for one round since March 2013.
With so little Octagon time for both men, an early finish could be the most likely outcome. Manuwa is predicting "a stoppage. Round one or two," and his opponent revealed that "I want to win, it doesn't matter how. Decision, KO, submission. I visualise my fights so I've got an idea of how I'd like to win this one."
Whatever happens on April 11th, a new title challenger will emerge and the Light heavyweight division may never be the same again.
Tickets to UFC Fight Night: Gonzaga vs. Cro Cop 2 are now on sale via www.eventim.pl
Reuse content