It is one of the world's oldest sports, invented by Indian mystics who combined yoga with rigorous exercise, and even the young Buddha was said to be a keen player.
There was little in the way of spiritual enlightenment – or spectators – at the 02 Arena yesterday as kabaddi announced its arrival in the modern era, greeted by some of Bollywood's finest plus cheer leaders and bhangra dancers.
As the players entered the arena for the start of the World Kabaddi League (WKL) many looked bemused by the empty seats and the audacious experiment to catapult kabaddi from a rustic, grassroots sport played across the Indian sub-continent to a multi-million pound international roadshow.
This is not what they were expecting from the sport's new dawn. Many are accustomed to larger crowds in village tournaments.
The 20,000 arena was less than a third full but this did not diminish the players' commitment, with the opening match a gripping encounter as United Singhs beat Punjab Thunder by 68 points to 61. This was followed by Yo Yo Tigers, owned and named after India's most famous rapper, Yo Yo Honey Singh, beating Khalsa Warriors.
Apart from a small group of kabaddi aficionados, the majority of spectators seemed confused as they followed the action which primarily consisted of muscular players locking horns like wild bucks, grappling with their arms and legs, slapping each other's bodies and rolling around the floor.
There are references to kabaddi in ancient Indian and Buddhist scriptures and the passage of time has not changed what is a simple game, however chaotic it may appear. WKL officials insist that despite yesterday's disappointing start kabaddi still has the potential to reach a global audience.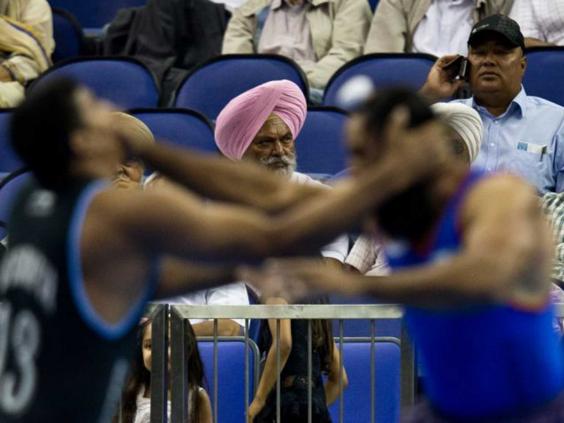 Pargat Singh, WKL Commissioner, said: "Anybody can follow kabaddi, it's very simple to understand. You don't have to be an expert to enjoy it. We are trying something new here and taking kabaddi to the next level and still learning."
Kabaddi is best described as a combination of the playground game British Bulldog, wrestling and rugby without a ball. There are two teams of 11 players each within a circle made up of attackers, known as raiders, and defenders, known as stoppers or antis. It is almost exclusively played and watched by men.
A raider enters the other team's half to try to tag an opponent and get back to his half within 30 seconds, earning a point if successful. If he is detained by a stopper and prevented from getting back to his own side then the point is awarded to the defending team. Matches are divided into four quarters of 15 minutes.
Some may remember kabaddi being televised on Channel 4 in the early 1990s, giving it a cult following, and judging by some of those at the 02 yesterday, it appeared that they had come along for the chance to recollect their misspent Saturday mornings in front of the television.
The WKL however is a far more serious matter. Around £10 million has been invested in the venture with eight teams taking part in a five month tournament across England, Dubai, USA, Canada and India.
The WKL hopes that the showbiz glamour and cash will do for kabaddi what the IPL has done for cricket.
The winning team will receive £350,000, and top players stand to earn a maximum of £150,000, which may seem modest by the standards of international sport but is unprecedented for kabaddi.
The eight teams have been bought by leading Bollywood actors such as Akshay Kumar, who performed at yesterday's launch, by other leading Indian celebrities, and by UK and Canadian Asian business groups. The tournament has an added edge with the Pakistani government funding a team called the Lahore Lions.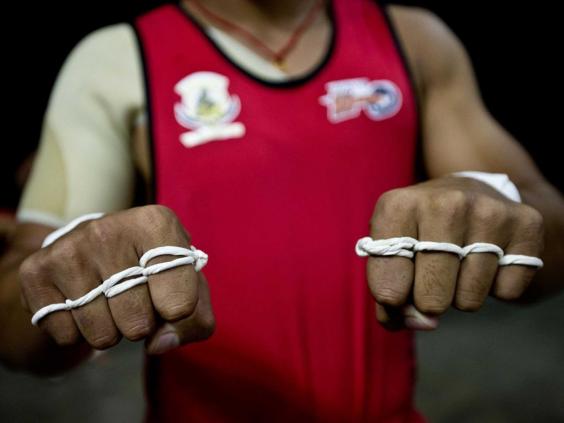 Kabaddi is already popular within some sections of the British Asian community, with the UK season running from May to July. Matches take place each Sunday in predominantly Asian areas but are generally chaotic affairs and the sport is haphazardly organised.
Kabaddi is undergoing a major revival with a high profile domestic tournament currently underway in India backed by Rupert Murdoch's Star TV, the country's largest satellite television group. According to some reports they have invested £60 million into the venture which attracted almost 100 million television viewers in its opening week.
The WKL bandwagon moves on to Birmingham later this week followed by matches in India, Canada and America. Organisers will be hoping that things improve drastically otherwise kabaddi will return to its humble roots and remain the quirky sport that it is has always been.
Raider: Player who goes into the opposition half, tries to tag an opposing player and get back.
Terms of the game
Stopper/anti Defending player who tries to stop him returning.
Jappha When a player is pinned to the ground to stop him returning.
Kanchi Meaning "scissors": holding an opponent with the legs.
Double touch If a raider touches two stoppers he earns a point.
Circle The field of play which has a radius of 22 metres
Mid Line The line that divides the playing field into two
Thapar Slapping the upper body to prevent a player from returning.
Reuse content