How do you surpass the two distance golds at London 2012 or the double double achieved at last year's World Championships? For Mo Farah, victory in the London Marathon would trump both.
It would, he said, be the greatest achievement of an already illustrious career, and it is hard to find fault with the argument. It is not merely the magnitude of winning a debut marathon – a feat not even achieved by the great Haile Gebrselassie on the same course back in 2003 (he finished third) – but it is the fact that Farah will have to achieve it against the greatest marathon field ever assembled.
The only name really missing is Kenenisa Bekele who, perhaps wisely, recently opted for a less high-profile marathon in Paris for his debut, which he won.
All the rationale would suggest that victory tomorrow is beyond Farah. He lacks the experience of the elite field and is planning to be paced to 62min 15sec for the opening half of the race, 30 seconds behind the target time pacemaker Gebrselassie is planning for the leaders.
But then again Farah's coach, Alberto Salazar, who has been virtually ever-present around his star athlete for the past month, is not so much obsessed with times as finishing places. Such priorities have clearly held Farah in good stead on the track and no stone has gone unturned in the build-up to the paved roads of London.
Steady pacing has been Farah's mantra all week, a facet that worked for Tsegaye Kebede in the race a year ago when he came from a minute down to overtake Emmanuel Mutai for victory. So don't be alarmed to see Farah well off the pace, at least initially – an unfamiliar sight for the British public – before he aims to up the tempo in the final six or seven kilometres.
By then he will be well and truly into unfamiliar territory. Should he pull off the win, he says "it would be the greatest thing I've ever achieved, not just in terms of the London Marathon but in terms of the field and the people in it. To come away with the win would be up there. It would be incredible."
But he and Salazar have genuinely no idea how he will fare... it is the great unknown of his athletics career to date.
"At the London Olympics, I'm sure most people thought that if I had a bad day I would finish third or fourth," Farah added, "but here no one can say that I'm going to finish here or there. We don't know what's going to happen.
"I am confident of where I am, it's all gone to plan; it's just now in terms of the field what's going to happen. That's the question. I don't know. I'm as clueless as everyone else. The only way to find out is to race."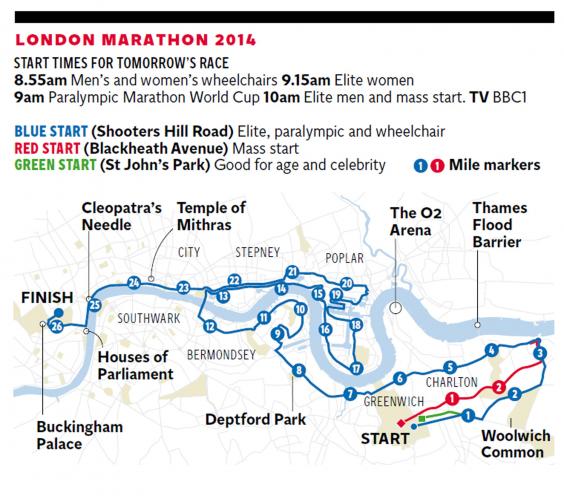 A gargantuan effort has gone into one of the most eagerly awaited marathon debuts of all time. Planning was first formulated in Salazar's office at Project Oregon in Nike headquarters, where a team of 25 staff has worked on creating the "Sub two", a running shoe aimed at helping the wearer dip below two hours for the marathon. With Wilson Kipsang's world record at 2:03.23, that is a pipe dream for the foreseeable future.
In Farah's quest for victory, most of 2014 has been spent away from his wife and three children training at the High Performance Centre in Iten, Kenya, a breeding ground for many of the athletes he faces tomorrow and has previously faced on the track.
The question is: can he do it? He is hopeful, though his rivals remain doubtful, while Paula Radcliffe, the women's world-record holder for the distance, has wavered in her opinion. Initially, she was wary of his long, loping stride – physiologically better suited to the track than the road – but she has since warmed to the idea. "I think he's capable of winning the race but I think there are another six or seven people capable of doing it," she said.
That list includes Kebede, Kipsang, the Mutais (Geoffrey and Emmanuel – no relation), the Olympic and world champion Stephen Kiprotich and 18-year-old Tsegaye Mekonnen, who was a revelation when winning his debut marathon in Dubai in January.
The minimum requirement for Farah is the British record, a time of 2:07.13 set by Steve Jones at the 1985 Chicago Marathon. Jones, who will be in the grandstand tomorrow, said: "It wouldn't be a surprise if he went out and shattered the British record. It wouldn't surprise me if he won the race." Should the British record tumble – and it should – then Farah would astonishingly own every British record for Olympic distances from 1500m to the marathon.
While wet behind the ears in marathon terms, he has some experience of running on the streets of London, having run just half the distance in last year's race, for which he was heavily criticised. But this is only his third event since completing the Olympic-World double double in Moscow last summer.
His sole competition of 2014, the New York Half-Marathon, was far from ideal, Farah falling and then collapsing across the line in second place. The sight of him being taken away in a wheelchair hardly sent out a strong message to his London rivals. But the 31-year-old dismissed that as little more than a hiccup, one of a few along the rocky road to the capital, another being his difficulty grabbing drinks bottles in training.
It has been five months of sacrifice to get to this point, even turning down an invitation to watch his beloved Arsenal play their FA Cup semi-final against Wigan today to focus on the race – "it would be wrong to go, I've got to rest, I've got 26.2 miles waiting for me".
It is a race he has dreamt about since he was a young boy. Aged 14, he finished second in the mini-marathon. There would be no disgrace in a repeat tomorrow.
Weir stakes all on a record seventh victory
The Paralympian David Weir is confident he can seal a record seventh London Marathon victory despite a recent chest infection.
The 34-year-old is tied with Dame Tanni Grey-Thompson with six wins but will take the record outright if successful tomorrow.
Weir had been looking to double his efforts and target victory in London and Boston a week later, but will now forgo the North American leg of that double because of recent illness.
"I need to put all my efforts into London," he said. "Every single bit of me will be on Sunday's race."
After winning quadruple Paralympic gold in London 2012, Weir eased off his training and could finish only fifth a year ago but is adamant he can  return to winning ways.
"I've got my hunger back for training now," he said. "The next couple of years are busy ahead of the Rio [Paralympics]. I'm not retiring, even if I don't win on Sunday I'll keep going."
Grey-Thompson is resigned to the likelihood that the record she has shared with Weir since 2012 will be his outright come tomorrow. "I think he'll do it," she said. "He's had a really strong season so far. He just needs to stay out of trouble."
Reuse content