As paying spectators, fans have the right to boo, yell and cheer but, amid the chaos of this weeks' NFL action, there is a growing consensus that it's gone a little too far.
With instances in San Francisco, Houston and, to an extent, New England, there's plenty not to admire about the state of America's game and its supporters growing attitudes to both their own team and opponents.
However, aside from the actions of a few that will tarnish the reputation of many, Tom Brady delved into his magic hat and pulled a win out of nowhere and Andy Reid's magic is still working in Kansas, but let's begin with the fans.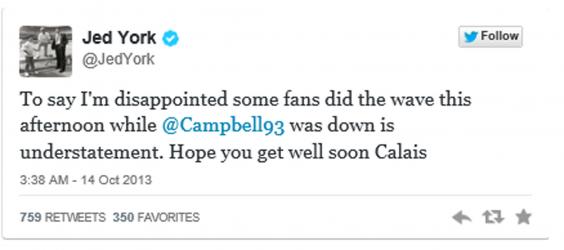 Jed York, the 49ers CEO, tweeted the above following his side's win over the Arizona Cardinals, clearly unhappy at the fans' decision to seemingly mock an injured player as he lay prone on the turf. Perhaps fortuitously, the early signs are that Calais Campbell's injury isn't serious, but it's hardly an association York will want lingering around the club.
Thankfully for him though, more attention will probably be paid to the Houston Texans and their despondent fan base following their ugly loss to the St. Louis Rams.
After booing Matt Schaub throughout the game due to his recent poor form, the Texans' crowd made their feelings explicitly clear when he was replaced by T.J. Yates.
Cheering loudly as Yates entered the field to replace the stricken Schaub, the widely deplorable actions comes hot on the heels of an apparent harassment at the quarterback's home and the lack of support for their own player was plain to see, even by the opposition.
"If you were at Reliant Stadium and cheered Matt's injury, you are a poor representation of your fanbase and a bad example to young fans" tweeted Rams defensive end, Chris Long. His sentiments were later echoed by Texans' receiver Andre Johnson, who was frank in his assessment.
"You don't cheer about nobody being injured. I don't care who it is. Guys lay their bodies on the line out there on that field, and some guys get injuries and it affects their whole lives" he said.
No time, no worries
Meanwhile, in New England, the Patriots fans that left early were left to rue their haste as Tom Brady, struggling through the season at present, reminded us all of why he is a two-time league MVP and multiple Super Bowl winner.
The New Orleans Saints, who had taken a 27-23 lead with just over the three minutes remaining, may have thought the game was secured following a Keenan Lewis interception on the Patriots first snap but, with the ball in Brady's hands, New England believed there was still time.
Beginning the 70 yard drive, with no timeouts left, Brady – who finished 25 of 43 with one touchdown - threw to Julian Edelman, Austin Collie and Aaron Dobson as he marched his men down the field before spiking the ball to stop the clock.
Following two incompletions, he then threw to Collie before finding Kenbrell Thompkins in the corner of the end zone to secure the win, with only seconds remaining.
Following last week's morale-sapping loss against the Cincinnati Bengals, the win serves as a welcome boost to New England who now head in to next weeks' divisional clash against the New York Jets full confidence and, with Brady beginning still searching for his best form, serves as notice that Bill Belichick's men are still improving.
The Saints however will have left scratching their heads, perplexed at how their unbeaten streak came to end at the hands of a team who struggled so mightily last week.
Deafening
A few weeks ago Seattle enjoyed the loudest support ever recorded at a sporting event. On Sunday, eager to keep their momentum with the chance of equalling the franchises second best ever start to a season, the Kansas City Chiefs crowd reached 137.5 decibels as they roared the Chiefs on to a 24-7 win.
The win, which came despite falling behind after Denarius Moore hauled in a 39 yard score to give the Oakland Raiders a second quarter lead, was, in part, down to the predatory instincts of a defence that has improved hugely since last year.
Turning three Terrelle Pryor interceptions into 17 points, the Chiefs defence also recorded 10 sacks as they harassed the Raiders signal caller all game as they continue to live up their billing as the leagues' best defence.
However, while they may be unbeaten at present, the lacklustre nature of the Alex Smith led offence is cause for concern and if he continues to struggle when under pressure, the Chiefs may come unstuck sooner rather than later.
Finally a sad note on the unfortunate circumstances surrounding Adrian Peterson and the death of his two year old son.
The boy, who passed away on Friday following a disturbing series of events – for which 27 year old Joseph Patterson has been arrested – was initially in hospital when the Minnesota Viking indicated his intention to play in the Viking's game against Carolina.
Suiting up, grateful for a "good supporting cast" around him, Peterson had a quiet game as the Vikings looked horribly out of sync on both sides of the ball in an ugly 35-10 loss. 
Having indicated his intention to play, Peterson said he'd never had second thoughts about not playing while speaking to www.nfl.com
"I just prayed and asked God to give me the strength to get through the game and remain focused" he said.
"It's tough. It's a crazy situation.
"Anytime you lose a child, no matter the circumstances, it hurts. I can't describe it. But I've got a good supporting cast surrounding me."
Reuse content